Bella Thorne, an ex-Disney channel star, has had her fair share of boyfriends and girlfriends over the years, and it's safe to say it's sometimes hard to keep track of them. However, one relationship fans aren't too clear about is whether or not she dated the late rapper Lil Peep. So, did she capture his heart?
Bella Thorne did date Lil Peep for a short amount of time during 2017. The couple were publicly seen kissing in LA back in September 2017, just months because the rapper passed away due to an accidental drug overdose on his tour bus.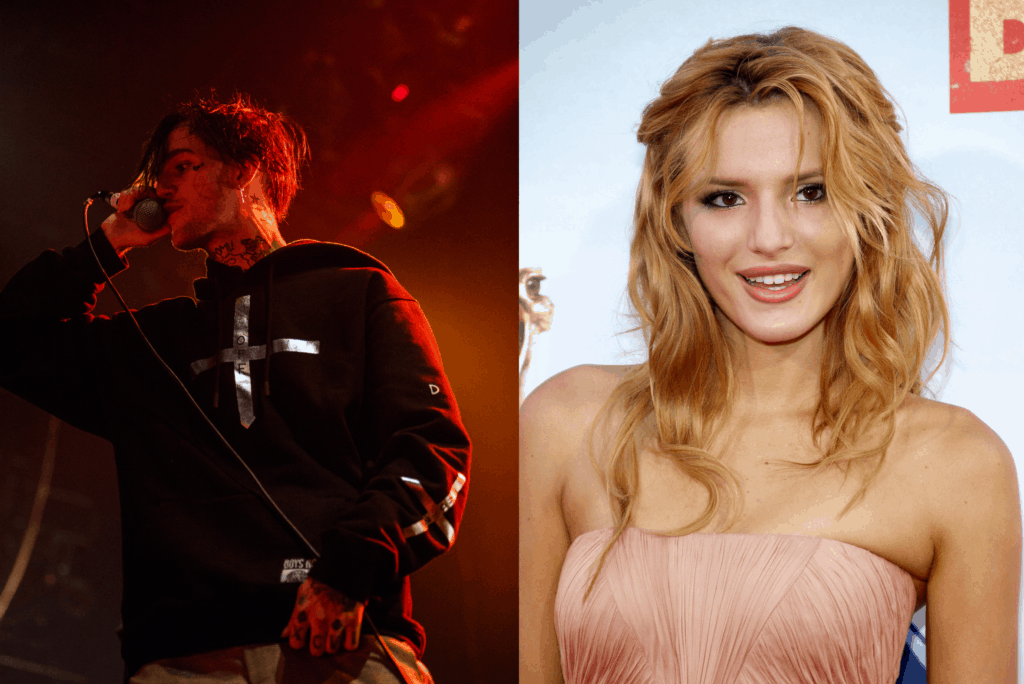 To find out more about their relationship, what happened during the months they were together, and how Bella dealt with the tragic loss of one of the modern day's most popular young rapper, scroll on.
Lil Peep and Bella Thorne Explained
Lil Peep, born 1st November 1996 in Allentown, Pennsylvania, USA, had the birth name Gustav Elijah Ahr. Lil Peep was known as an 'emo rapper' throughout the music community and released two studio albums under the name, Come Over When You're Sober, but had a Part One and Part Two variation.
Both albums reached Gold and Silver on the RIAA and the BPI, respectively, and peaked in chart positions around the world, including 4 in the US, 3 in Sweden, 4 in Canada, and 19 in the UK. He has also featured on the compilation album 'Everybody's Everything' later in 2019.
Bella Thorne, Annabella Avery Thorne, was born on 8th October 1997 in Pembroke Pines, Florida, and is known for being an actress, director, singer, and model. She's perhaps best known for her starring roles in Disney shows, including the hit show Shake It Up, for which she won several awards and nominations.
She's also been seen in productions like Alvin and the Chipmunks, Blended, Amityville: The Awakening, and Famous in Love. She has even branched out of acting and started her own music career, where she has released a single in 2011 titled Watch Me, which hit number 9 on the Billboard Top 100.
According to WhosDatedWho, Bella and Lil Peep dated for around a month during September 2017 but were very close to each other on either side of their 'official' dating timeline.
The two were seen publically kissing in LA, as reported by the Daily Mail, and fans of both celebrities were thrill with the news.
There was some slight controversy since Throne had just recently split with her more-recent boyfriend, rapper Blackbear, but it didn't materialize. At the time, Lil Peep had also just come out as bisexual. The two appeared to be coming out of a recording studio, images of which were shared on Bella's Instagram story.
The Tragic Passing of Lil Peep
Unfortunately, Lil Peep passed around just two months after being seen publicly dating Bella. The news hit the internet on the 13th November 2017 that Lil Peep had been found dead in his tour bus at just 21-years-old, which was later confirmed to be an overdose of Xanax and a hardcore drug known as fentanyl.
Lil Peep had been nightclubbing in Tuscon when his manager found him on his tour bus but unresponsive. Medical attention was given on scene, but they were unable to revive him. There was an investigation, but drug paraphernalia was discovered on the bus, meaning there were few chances of it being suspicious circumstances.
A ton of tributes poured in from Lil Peep's family, the people he worked with, friends, loved ones, and fans. Sarah Stennett, the chief executive of First Access Entertainment, the label signed with Peep in 2016, stated to E! News;
"I am shocked and heartbroken. I do not believe Peep wanted to die; this is so tragic. He had big goals and dreams for the future, which he had shared with me, his team, his family, and his friends. He was highly intelligent, hugely creative, massively charismatic, gentle, and charming. He had huge ambition, and his career was flourishing."
Many believe that they saw his death coming. On the day's approaching his death, Peep had shared several concerning images of himself via Instagram posts, one of which he spoke about taking six Xanax pills in a day.
When the news hit, many were shocked, and a flood of tributes came, including from Bella herself.
Bella's Tribute
Bella's first tribute came just hours after hearing the news, where she Tweeted;
"F–k I don't know what to say. Peep you deserved more out of life. Life didn't do your greatness justice."
She later posted a video on Instagram, where she said;
"Anybody out there who is a Lil Peep fan, you guys know how talented he was. You guys know how great he was. Well, he was even more f–king great as a person."
She put up several image posts and shared personal photos on her Snapchat after his passing, and it's clear to see she was left speechless and as shocked as everyone else at his passing.
Despite only being together a month, it's clear that Lil Peep will always hold a very special place in Bella's heart, and the two had a connection in this crazy world like no other.