Gustav Elijah Ahr, or Lil Peep as you likely remember him, was a talented rapper, singer, songwriter, and model who passed away from an accidental fentanyl and Xanax overdose just two weeks after his twenty-first birthday. His untimely death has left fans with many unanswered questions, but one of the biggest is: was Lil Peep religious?
The specific religion that Lil Peep followed has never been revealed, but he was definitely religious and undoubtedly believed in both God and the devil. He expressed his complex relationship with religion through his tattoos, social media posts, fashion statements, and explicit lyrics.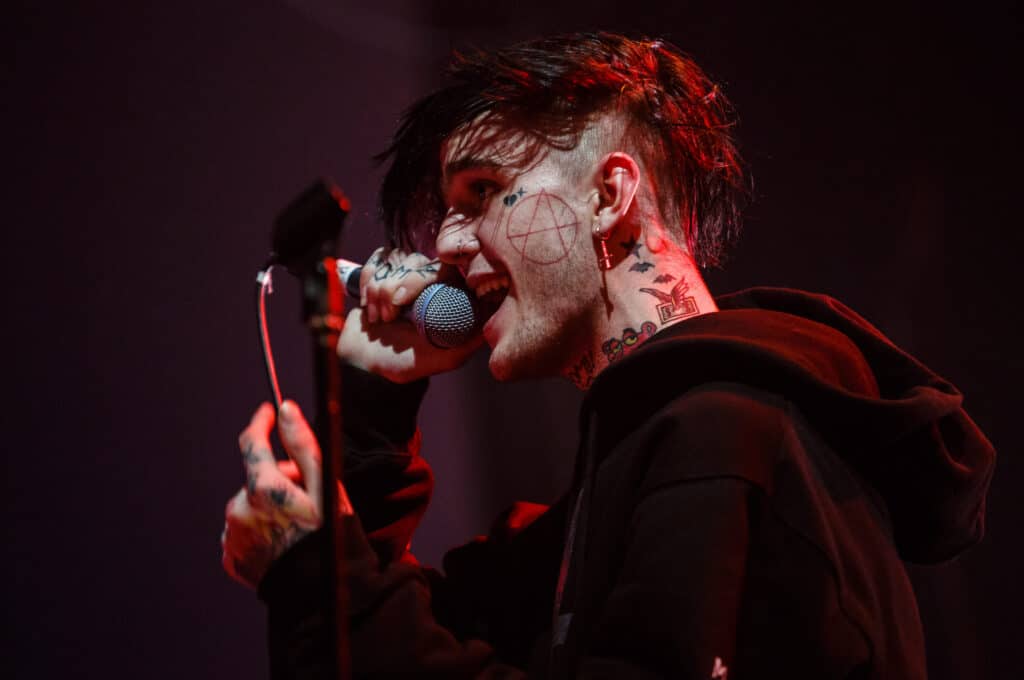 Unfortunately, the tragic death of Lil Peep did not come as a total surprise to his friends and followers as the troubled emo-rap star was open about his excessive drug use and battle managing his depression, bipolar disorder, and suicidal impulses. Let's find out whether Lil Peep believed there was peace waiting for him on the other side.
Lil Peep's Religious Expression
Lil Peep had an extremely complicated relationship with religion. For starters, he called himself 'Hellboy' and his username on Twitter as well as the name of his first posthumous EP release was 'Goth Angel Sinner'.
In his music, the rapper was not shy to talk about God and the devil. In his song 'Haunt U' he sings about "Satan letting me down" while in 'High School' his lyrics say "please pray for me", "tell heaven 'don't wait for me'", "Satan waitin' at the gate for me", and "And if you want me to, I'll kill myself but I'm already in hell for it".
In the song 'Problems', Lil Peep sings "I made a deal with the devil" and "take what the devil offers" and the chorus in 'Skyscrapers' includes the line "she fell in love with the devil, the worst". He also refers to himself as God in his collaborative track with Lil Tracy 'GODS' by saying "I ain't talking religion baby, but I'm a God".
Lil Peep would often use his social media pages, specifically Twitter, to post about religious icons like Jesus and state that such icons enjoy recreational drug use. Just 14 days before his death, Lil Peep was asking for prayers on Twitter by posting "21 still depressed pray for me :)"
Artistic expression was something that Lil Peep has mastered as at the time of his death, he had 59 tattoos. Amongst these 59 tattoos were a tiny cross next to his left eye, a large Celtic cross on his right shoulder, a large Cross of Saint Peter on his left shoulder, and a star tattoo behind his left ear as well as underneath his right eye — all of which have intense religious connotations.
What Religion Was Lil Peep?
So, he undeniably had intense ties to religion as a whole, but what religion did the rap star follow? Was Lil Peep a Satanist, a Christian, or something in between?
It seems as though Lil Peep himself did not know the answer to that question. His unabashedness about frequently mentioning the devil in his lyrics leads many to suspect that he was a Satanist, but the actual lyrical references to the devil aren't positive at all.
On the other hand, or shoulder rather, Lil Peep's tattoos make people wonder whether he was a Christian. The Celtic Cross tattoo on his right shoulder is a type of Christian cross, while the star tattoos he had could represent religious affirmation, and finally, the Cross of Saint Peter that featured on his left shoulder — that is often used as a symbol in Satanism — could indicate that he was experiencing feelings of spiritual unworthiness.
Neither himself nor his family has ever confirmed his religious beliefs, and as you can tell from the above it can be difficult to ascertain this information from what the young entertainer left behind. Regardless, his fans find comfort in the fact that he believed in a higher power — whoever or whatever that may be.
Lil Peep's Death
On 15 November 2017, Lil Peep decided to take a nap to ensure he was rested for that evening's performance. Instagram videos from that day show him claiming to have ingested cannabis concentrate, psilocybin mushrooms, and six Xanax pills.
When his manager went to wake him, Lil Peep was unresponsive and he was pronounced dead at the scene by paramedics who arrived shortly after the discovery.
Lil Peep's official cause of death was an accidental overdose of Xanax and fentanyl. But the toxicology report also revealed that cannabis, cocaine, Tramadol, benzodiazepine alprazolam, hydrocodone, hydromorphone, oxymorphone, and oxycodone were all present in his system.