One of the 90s' most iconic Hollywood couples met at the Ziegfeld Theater, New York City. It was 1989, at the premiere of Great Balls of Fire! — a biopic starring Dennis Quaid as the famous American musician/rock n' roll star Jerry Lee Lewis. Winona Ryder played Lewis' young wife, Myra Gale Brown. At the time, Johnny Depp was a TV idol with popularity from the 21 Jump Street series. He was 25 and she was 17, but they instantly fell hard for one another.
Their chemistry was explosive and they had similar interests. Physically, they were a perfect match — both of them had dark hair and pale skin. Johnny Depp and Winona Ryder eventually dated after their fateful meeting and stayed together for four years.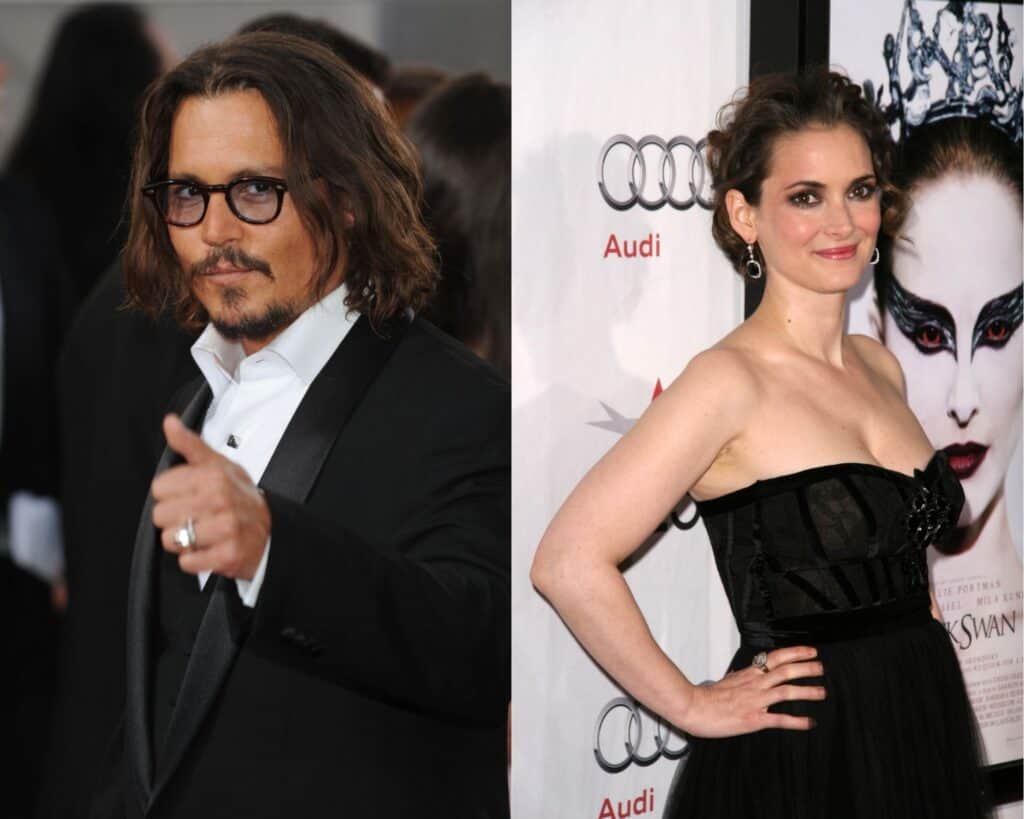 Edward Scissorhands
In 1990, they co-starred in Tim Burton's fantasy romance movie Edward Scissorhands. Depp's character, Edward, is an incomplete artificial humanoid with scissor-bladed hands. Orphaned after his scientist-creator died, a suburban family took him in.
Dianne Wiest played the mother (Peg) who takes Edward into her home, where Edward falls in love with her teenage daughter Kim (played by Ryder). They became a real-life couple and even got engaged during this time.
Winona's First Love and "Winona Forever"
At 19, Ryder's first real relationship was with Depp. According to her interview with InStyle Magazine, Johnny was Winona's first in everything–from her first "real" kiss to her first engagement for marriage. And for this reason, he will forever stay in her heart.
The couple loved to read beat poetry and enjoyed listening to records. "Crazy For You" by Madonna was their song. Johnny Depp, being so smitten, even got "Winona Forever" tattooed on his arm. Ryder described their romance as a "fiercely deep love." It seemed that nothing in the world could go against them. They were inseparable.
The Split
Like most Hollywood couples, though, the two were unable to sustain their relationship, primarily due to complications and pressure brought about by their celebrity status.
In an interview with the Los Angeles Times, the Pirates of the Caribbean actor shared his frustration with the difficulty of keeping a relationship in Hollywood. He alluded to having too many other people getting involved in their personal lives.
He also had his tattoo modified from "Winona Forever" to "Wino Forever." Edward Scissorhands Director Tim Burton described that Depp was "never the same" after his breakup with her and that the actor would even cry on the set during the filming of Ed Wood in 1994.
In an interview with Elle UK in 2009, Ryder mentioned that her break-up with Depp was such a devastating heartbreak for her, so terrible that she plunged into depression.
In another interview on the subject, she mused about the irony of depression despite having everything anyone could ever have (or so many of us think). Her career was peaking, and yet inside, she was lost.
She resorted to seeking relief in sleeping pills and, once, had fallen asleep with a cigarette in hand, where she almost burned in flames.
The speed with which the couple fell in love was absent after parting ways. It was evident that both parties had taken the breakup roughly.
Their Relationship Today
It is not confirmed whether they kept a close friendship after they split, even if many years have already passed since. However, upon discovering Depp's affair with Amber Heard while he was still in a relationship with Vanessa Paradis (the mother of his children), Ryder was reportedly against it.
Ryder has joined other friends of Depp in defending the Golden Globe Award-winning actor against the domestic violence accusations hurled at him. Ryder stands by her own experience with Depp, attesting to his gentleness and caring nature, the complete opposite of what he was being accused of.
Other celebrities who have spoken out about their support for Depp include Vanessa Paradis (mother of his children Lily Rose and Jack), Penelope Cruz and Javier Bardem, Sia, and Paul Bettany among others.
At some point, we root for our favorite celebrity couples, like Sonny Bono and Cher, Justin Timberlake and Britney Spears. But during their time, Johnny Depp and Winona Ryder were one of the most adored and unforgettable celebrity couples in Hollywood. Their whirlwind romance lasted from 1989 to 1993. They were engaged, but never got married.
Who knows? Maybe, someday, they will reconnect — but only time will tell.