Alice Cooper is the Godfather of shock rock who has been shocking suburbia with his black make-up and on-stage theatrical stunts since he first came onto the scene. He may come across as fearless, but the rock n' roll legend has a fear so great that it has prevented him from getting a tattoo.
Alice Cooper doesn't have any tattoos whatsoever, but it's not because he doesn't like tattoos or want one, it's because he has been terrified of needles since his childhood! Because of this intense phobia, a tattoo is one thing he'll never get.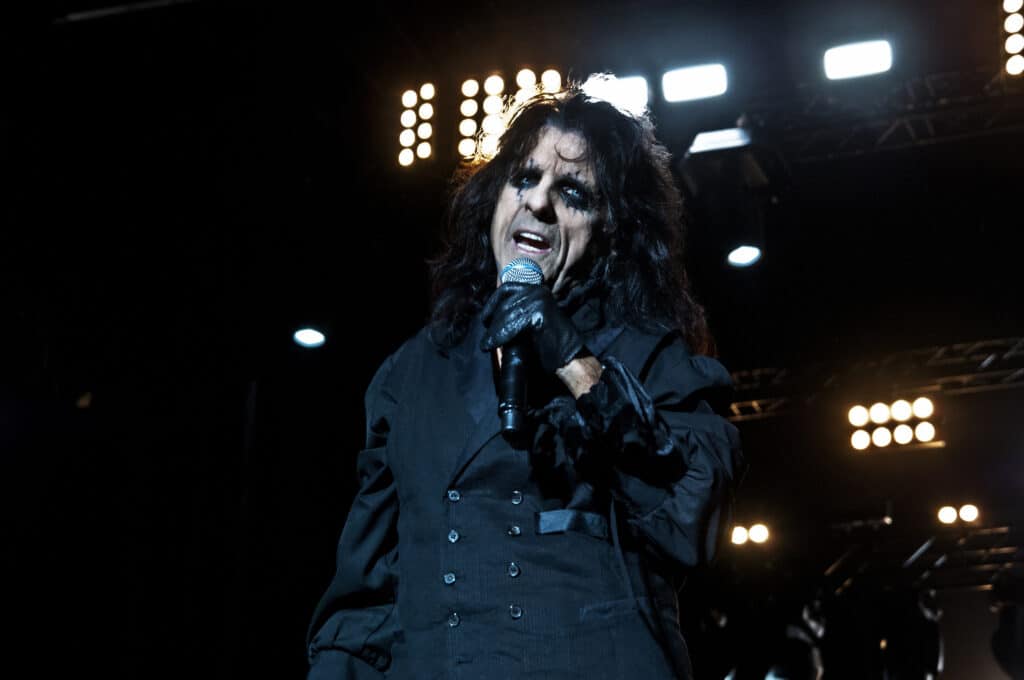 Tattoos and rock 'n roll have gone hand-in-hand for quite some time, but not for Alice. Let's find out more about Alice Cooper's thoughts on tattoos, his phobia of needles, and whether any other members of the bands are inked.
Why Alice Cooper Doesn't Have Any Tattoos
Because Alice is a rock 'n roll legend, people automatically assume he is covered in tattoos like many other rockers. But Alice doesn't have a single tattoo on his body — and for a valid reason.
According to Ultimate Classic Rock, when asked what his greatest fear is, Alice responded "Needles" without a moment's hesitation.
He went on to describe his fear, "I can't do a blood test. I can put my head in a guillotine, I can put a 20-foot boa constrictor around me — my show's so dangerous, everybody gets stitches in my show. But a blood test, and I'm like…"
But his fear isn't tied to pain. Alice said, "It has nothing to do with the pain, it has everything to do with the idea of a needle going in your arm."
His fear of needles has in no way disappeared with age. He told Courant, "I'm afraid of being tattooed. You will never see a tattoo on me. You could put my head in a guillotine or make me walk across spikes, but you will never see me getting a tattoo."
Even though he doesn't have any tattoos of his own, he appreciates them — especially when they're linked to him or his music. He often shares photographs that feature tattoos that his fans have gotten to his social media pages.
Alice Cooper's Fear of Needles
So great was Alice's fear of needles when he was younger that he failed to alert his parents of a medical emergency. Despite being in intense pain, he was "possessed with the fear that I would be carried to the doctor's office for an injection" and suffered in silence.
Eventually, Alice's condition deteriorated so rapidly that he was rushed to hospital after being found in his bedroom lying in a pool of his vomit. It turned out he had peritonitis and his appendix had burst a week before his hospitalization.
Other than preventing Alice from getting a tattoo, there are other ways in which his fear of needles has impacted his life — and his work.
His authorized biography is called 'Alcohol and Razor Blades, Poison and Needles: The Glorious Wretched Excess of Alice Cooper, All-American' and he has made references to needles in his song 'Posion'.
He also revealed to James Corden that he has not had a shot in "30 or 40 years". Despite his fear and shoddy shot record, he still went ahead and got his COVID-19 vaccine and said "it was the most painless thing I'd ever felt in my life."
Do Any Alice Cooper Members Have Tattoos?
Alice doesn't have any tattoos, but what about the other members of the Alice Cooper Band? None of the original members have any tattoos, but their reasons for not inking aren't clear.
As you may well know, the Alice Cooper Band has had many members over the years. While most of the rockers are tattoo-free, there are some that have been tattooed.
Nita Strauss has a 'Star Wars' themed tattoo, Eric Singer has Animal from the Muppets and Woody Woodpecker tattoos which he regrets getting, and Jason Hook has numerous tattoos that he plans on removing.
Al Pitrelli has a sleeve of tattoos, and Tommy Henriksen has a tattoo that reads "NOT FOR SALE" above his belly button and the dates '1-1-2015' and '3-2-2013' tattooed on his arm.
Chuck Garric is covered from neck to toe with tattoos. His first tattoo was done by a "biker guy" in his garage and he and his friends referred to it as a "girl-getter."
The rock bassist has tattoos that honor his mother, father, and daughter as well as those that depict what he "was into" at various stages in his life.