Alice Cooper is an accomplished singer, songwriter, actor, radio host, restaurant owner, chocolate milk producer. and frontman extraordinaire. He's undoubtedly a man of many talents, but can he count guitar playing as one of these talents?
Alice Cooper can play guitar, but it's not clear how proficient a player he is. The outlandish frontman started playing the guitar when he was twenty years old but put down his axe because — in his professional career — there was "no reason" for him to carry on playing.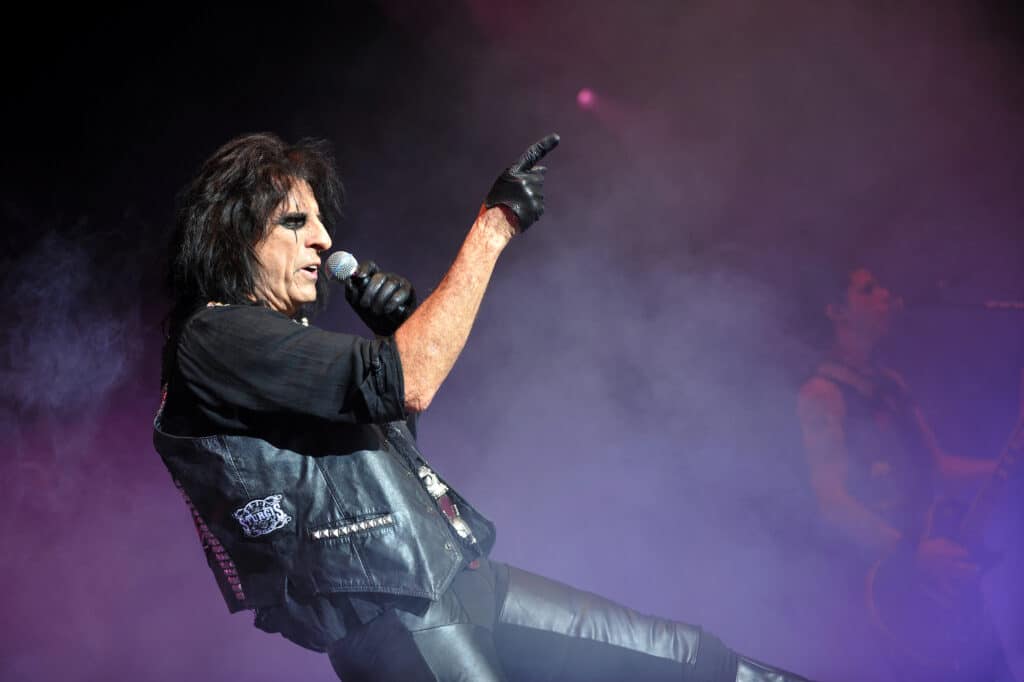 Let's find out more about Alice Cooper's guitar playing abilities, what other instruments he can play, and what his thoughts are about guitar — and guitarists — as a whole.
Can Alice Cooper Play Guitar?
Alice, who was once known as Vincent Damon Furnier before he legally changed his name, is known for his raspy voice and incredible songwriting ability. His penchant for on-stage theatrics caused the emergence of the Shock Rock subgenre of music.
It's difficult to imagine his hands clutching a guitar instead of a blood-spattered ax, but it must be done because Alice can indeed play the guitar.
Alice picked up a guitar when he was between twenty and twenty-one years old. At the time, he was a member of Alice Cooper — the band — and he had easy access to not one but two guitars.
But Alice cut his time learning how to play guitar short and instead devoted this time to perfecting his on-stage persona and writing lyrics. His reasons for putting down the guitar are relatable.
Alice told Ultimate Classic Rock "I've always totally surrounded myself with really accomplished guitarists, there was no reason for me to play."
As it turns out he regrets this decision and said "So I wish I would've continued on guitar, but I spent much more time on the lyrics and the character. So, to me, I was a bit of a quitter."
Alice Cooper's Thoughts on Guitarists
Considering that the band Alice Cooper has had more than 12 guitarists, it's safe to say that the Godfather of Shock Rock has met his fair share of guitarists. But what does he think of these guitarists?
When speaking about the original members of the band, he says "Glen was very futuristic, and when he was on, he was as good as anybody. Michael Bruce, on the other hand, was a great rhythm and riff player — he laid the foundation, while Glen went into outer space."
He describes Orianthi as "one of the best guitar players around" and Davey Johnstone — who was Elton John's guitarist — as "a very sophisticated player."
Steve Hunter and Dick Wagner were once described by Steven Tyler as "the dream team" and Alice agrees with this sentiment. He says "Both were spectacular lead players. I think Steve might've been the better soloist, but Dick was the better writer."
Alice says of the band's most recent guitarist, Nita Strauss, as "an incredible guitarist and a solid person" who has "a great personality and has a lot of pride in her work without all the ego."
Outside of the band's near-constant stream of guitarists, Alice has performed alongside many celebrities. One of these celebrities is Johnny Depp.
He says of Johnny "I think he'd rather play guitar than act. I told him not to lose his day job, because we can't pay him $25 million a show, but I think he loves playing guitar and he loves being up on stage."
What Instruments Does Alice Cooper Play?
When he and his bandmates first got together, only one of them — the late Glen Buxton — knew how to play an instrument. After astounding success miming playing instruments in their high school talent show, they were inspired to learn how to play for real.
Although his focus has always been on singing and writing songs, playing instruments came surprisingly easy to Alice. He is an extremely talented harmonica player, a percussionist, and he sure knows his way around a synthesizer.