Throughout a career spanning four decades, Alice Cooper has shocked the world with gory stage antics and a persona that emulates Bette Davis in Whatever Happened to Baby Jane? With references to the occult, does Alice Cooper follow any type of religion?
Alice Cooper's religion is Christianity. He was raised as a Christian, however, upon entering the world of rock 'n' roll he lost his way. After getting sober in the 1980s, Cooper returned to Christianity and now considers himself a born-again Christian.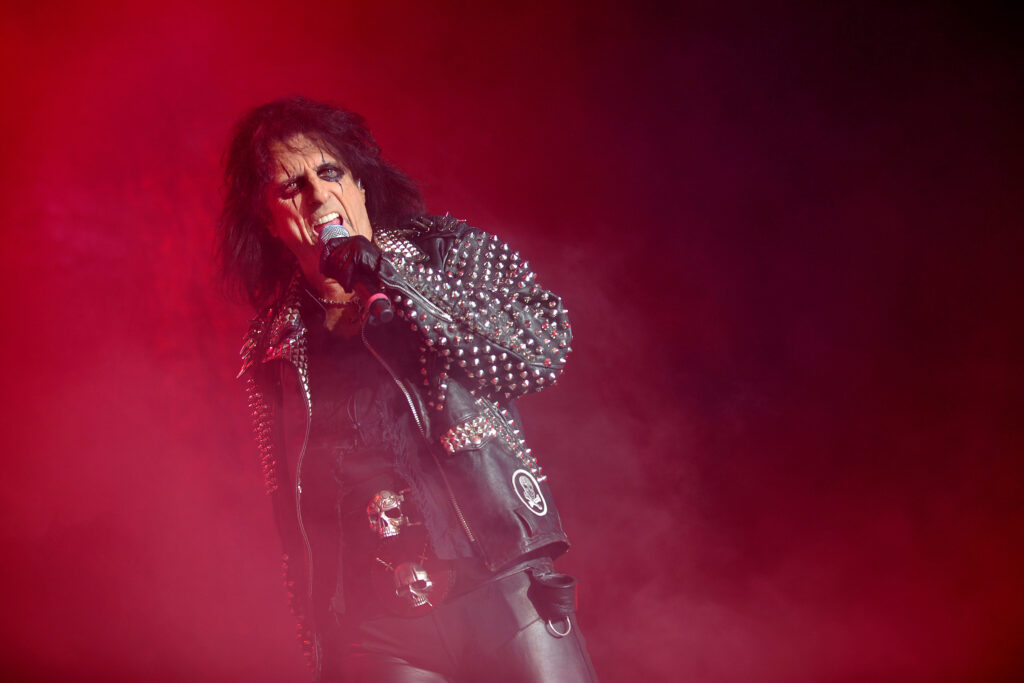 Scroll down to read more about Alice Cooper's struggles with addiction, his divine intervention, and what he does for his Christian religion today.
Alice Cooper's Alcoholism
In the 1970s Alice Cooper (born Vince Furnier) became addicted to alcohol. It's no secret that many rockers of the 1970s and 1980s struggled with drug use and addiction.
In the case of Cooper, his drugs of choice were alcohol and cocaine. However, he wasn't initially into doing cocaine; he was only interested in alcohol.
At the peak of his alcoholism in the 1970s, he has said that he was drinking a bottle of whiskey a day. He didn't think he had a problem though.
In an interview with CTV, Alice Cooper said that "I didn't realize that I was an alcoholic until I realized that the alcohol was not for fun anymore. It was medicine."
He checked into rehab in 1977 and walked out sober never having to attend an AA meeting. However, he relapsed only four years later after making the mistake of taking a sip of some of his wife's wine.
Over the next two years, Cooper's addiction increased and he began to use cocaine. His health started to deteriorate and he became an emaciated version of himself.
Finally, when he was near death, his wife Sheryl took him to the hospital where he was diagnosed with cirrhosis of the liver. Alice Cooper was told that if he didn't quit drinking and doing drugs he would be dead within a couple of months.
On top of this, Sheryl had taken his daughter away and filed for divorce. It was time for him to clean up his act.
You can watch Alice Cooper talk about his addiction and his music in the below video from VH1's Behind the Music.
Divine Intervention in Cooper's Life
After cleaning up his act, Cooper and his wife Sheryl did reconcile and they did not move forward with the divorce. He was sober for good now.
While Alice Cooper has said that he didn't rediscover God through rehab, he has said that he felt not ending up in Alcoholics Anonymous was divine intervention or a gift from God. In his eyes, God gave him another chance to really live his life.
He has even stated that he feels God said "Look I don't mind you being a rock 'n' roller at all but also be a Christian."
It was this mentality that led him back to his roots as a shock-rocker in the late 1980s. He now had full faith that God was okay with his created persona as long as he helped others and stayed sober.
In an interview with the Huffington Post, Cooper said that during his years of addiction he wasn't a Christian because he wasn't living the lifestyle, but he did still fully believe in the religion.
Alice Cooper's Christianity Today
If you read the entire Huffington Post interview above, it's very clear that Alice Cooper is a devout Christian. He can pull Bible stories straight from memory to emphasize the points he is trying to make and he even says that he believes every word of The Bible to be true.
In his efforts to serve those around him, he tries to take pictures with every fan and sign anything that he's asked to.
Today, he is a member of the Evangelical Covenant Church and also runs the Solid Rock foundation. It is a faith-based foundation that encourages youth to pursue creative journeys in music and stay away from drug and alcohol abuse.
Solid Rock has a center in Pheonix, Arizona, and Cooper holds several concerts each year to fundraise for his foundation. He is also a firm believer in keeping his faith separate from his work not wanting to be a celebrity who uses his position to convert others to his religion.
Nowadays, Alice Cooper's faith in God is unwavering and he does all he can to be a good Christian.