Ashley Graham may well be the world's most famous plus-size lingerie model. She is known for her beauty, but being a model generally means that you can't have a ton of visible tattoos.
Ashley Graham has two known tattoos. In 2018, she had the letters 'je' tattooed onto her neck by the famous tattoo artist Jon Boy. The 'je' stands for her husband Justin Ervin. She also has another tattoo on her hip that she has flashed for fans on her Instagram. Graham also had a tattoo artist present at her 2019 baby shower.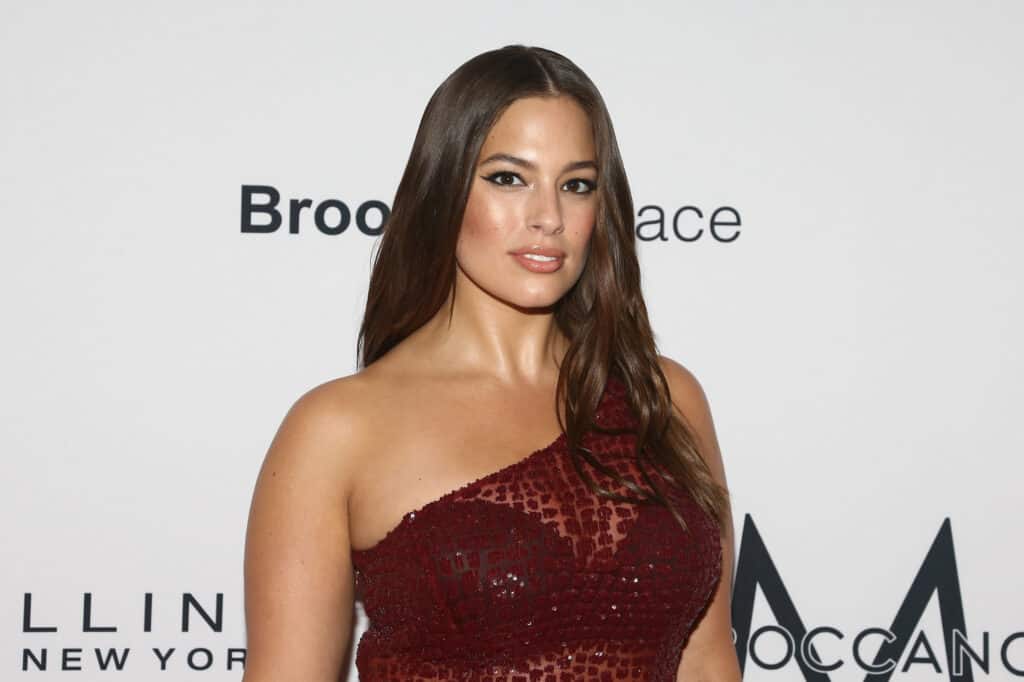 You can read more below about when Ashley Graham got her 'je' tattoo, what the tattoo on her hip is, and all about her baby shower.
Ashley Graham's 'je' Tattoo
Ashley Graham met her now-husband, Justin Ervin, back in 2009 while she was at church. According to Oprah Magazine, Graham moved to New York City when she was just 17-years-old and had joined the Journey Church.
It was at the very beginning of her modeling career before anyone knew who she was and she was volunteering with the church every Sunday. Graham would stand inside the church's elevator and bring people up to the eighth floor.
It was while she was working in the elevator that she met Ervin and his friend. He ended up saying "Hey Girl" to her and then rode the elevator up and down with her chatting and then eventually asking her out on a date.
Their first date didn't go so well after Justin asked Ashley to split the bill. He eventually got her to go on a second date explaining that he didn't want to go out with a shallow beautiful woman who used him for his money.
Well, he clearly picked the right girl to go out with because it was only a year later in 2009 that the two were engaged. They then married in 2010.
It was in 2018 during the Revlon Live Boldly Campaign launch party that Ashley Graham decided to get inked. The famous tattoo artist Jon Boy, who has inked other models like Kendall Jenner and Bella Hadid, was in attendance to give guests their permanent goody for attending the party.
So it was that Ashely Graham decided to get her hubby's initials inked onto her upper neck a little below her left ear. The tattoo is quite small and all in lower case.
You can watch Ashley Graham get her 'je' tattoo in the below video.
Graham's Hip Tattoo
Although her now hubby wanted to make sure she wasn't the shallow type back when they first started dating, through her actions Graham has proven time and again that she is anything but shallow.
One clear sign is her continued advocacy of the body positivity movement. As a plus-size model, she was the very first woman that wears a size 16 to be featured on the cover of the Sports Illustrated Swimsuit Issue.
This was back in 2016 and some models were not happy with the choice of Graham as the cover model. In fact, during an interview with Naomi Campbell, Ashley Graham recalled being given shade by Cheryl Tiegs, although she didn't outright name the other model.
While her hip tattoo was photoshopped out of that Sports Illustrated issue and the two others she appeared in, in 2017 and 2018, it can be seen in other swimsuit photos. It is very clearly visible in the photo for this article from The Hawk surrounding the body-shaming she received for her SI cover shoot.
While this tattoo is not seen by the public very often, Graham does flash it for her fans every once and a while via her Instagram and Snapchat accounts. As The Daily Mail has reported, this tattoo is of her star sign, Scorpio.
Ashley Graham's Baby Shower
In 2019, Graham announced that she was pregnant with her and hubby Justin Ervin's very first child. Like many people in the spotlight, her baby shower was anything but conventional.
At the shower on November 8, 2019, Graham had three stations set up for the guests in attendance. The manicure station is something that makes you think "Okay, I can see that being at a baby shower", but the other two were a little more out there.
On top of the manicure station, she also had a tattoo station and a piercing station. Guests were invited to get both tattoos and piercings to celebrate the coming of Baby Ervin.
It was only a day earlier that Ashley Graham was on The Ellen DeGeneres Show and announced that she was the soon-to-be mom of a baby boy.