William Sanford Nye is an American television presenter, science communicator, and mechanical engineer who is better known as Bill Nye the Science Guy. His contributions to science have earned him worldwide fame, but have they earned him a Nobel Prize?
Bill Nye does not have a Nobel Prize, nor does he have any prize or award relating to the STEM field. But he has racked up 19 Emmy Awards, six honorary doctorate degrees from leading universities, and two Netflix shows — so he's doing okay, Nobel Prize notwithstanding.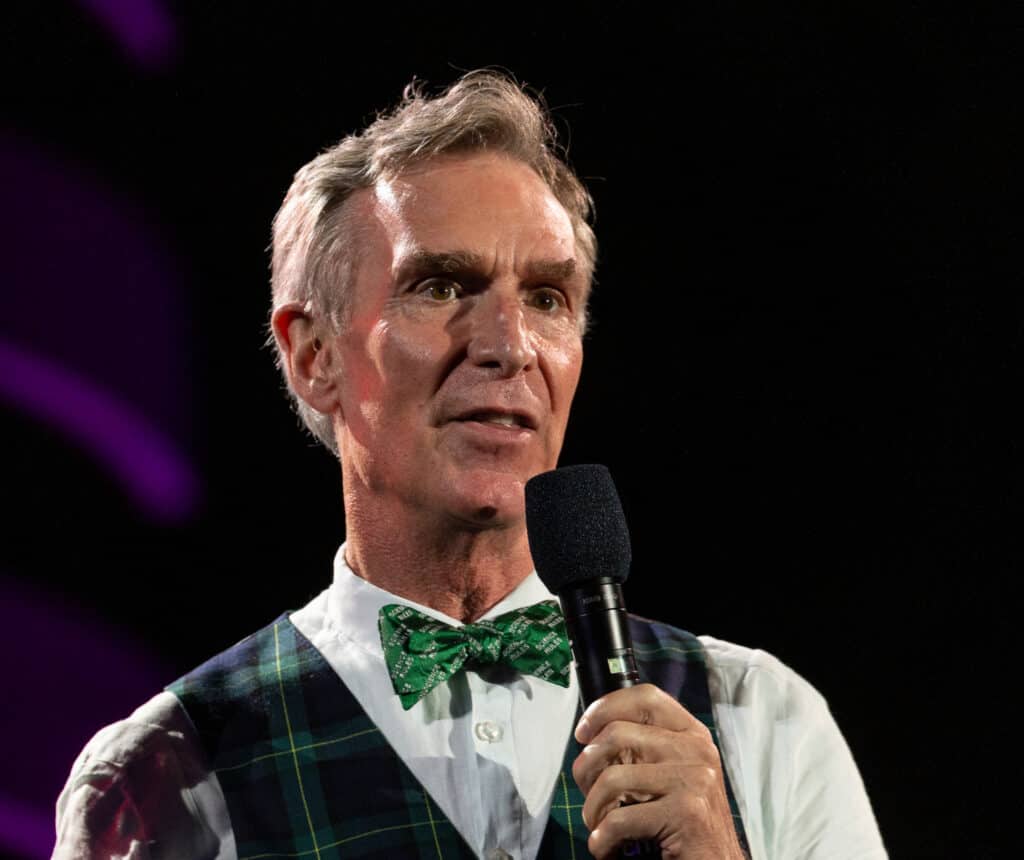 While he isn't a Nobel Prize winner, he has won many other awards and the important role he plays in both the scientific community and the entertainment industry is not doubted. In true Bill Nye style, let's get to learning.
Who is Bill Nye?
On 27 November 1955, Jacqueline Jenkins-Nye and Edwin Darby 'Ned' Nye welcomed their son, William Sanford Nye, to the world. For the most part, his upbringing was normal.
Bill's parents were extraordinary. His mother was a WWII codebreaker and his dad was a contractor who was kidnapped and spent four years living in a POW camp in Japan.
Bill was born and raised in Washington, D.C. The scientist slash comedian was a student at Alice Deal Junior High before heading to Sidwell Freinds on a full scholarship.
Bill had always had a keen interest in science, but his passion for the subject was ignited when he was a student at the Sibley School of Mechanical and Aerospace Engineering. He graduated from the school in 1977 with a Bachelor of Science in Mechanical Engineering.
After graduating, Bill began working as an engineer for the Boeing Corporation. While he was a Boeing employee he started moonlighting as a comedian and would eventually quit his job to pursue a career in comedy.
In 1993, he decided to create his own show. Bill's passable credentials, enthusiasm for the subject, boundless energy, and natural comedic flare proved to be a winning formula.
What Impact Has Bill Nye Had on Science?
While working at Boeing, Bill invented a hydraulic resonance suppressor tube for Boeing 747 airplanes that is used to this day. He was working on the project in between comedy shows.
No matter what he was doing, Bill's love for science prevailed. Over the years he has designed and developed many different inventions.
He currently holds three US patents and one design patent to protect his inventions. These inventions include ballet pointe shoes, a throwing technique trainer, an educational lens, and a digital abacus.
Bill also assisted in the development of MarsDial, the sundial used in the Mars Exploration Rover missions.
Throughout his career Bill has worn many different hats. He's adopted all kinds of roles from a "Science Explainer" for the Pacific Science Center to the CEO of The Planetary Society.
Bill has also published several scientific papers and authored many books. His notable works include 'Undeniable: Evolution and the Science of Creation' and 'Unstoppable: Harnessing Science to Change the World'.
But above all, Bill's greatest contribution to science has been getting children interested in it. He says, "There's nothing I believe in more strongly than getting young people interested in science and engineering, for a better tomorrow, for all humankind."
What Awards Has Bill Nye Won?
There's no denying that Bill and his numerous contributions to science are incredible. Though Bill may not have won a Nobel prize, he has many other accolades to his name.
He's a legend in the entertainment industry. Bill has won 19 Emmy Awards, two Shorty Awards in the 'STEM' and 'Best in Science' category, and a Washington Award.
In addition to his long list of awards, Bill has been recognized in other ways. He has been the recipient of honorary degrees from Rensselaer Polytechnic Institute, John Hopkins University, Willamette University, Lehigh University, Rutgers University, and Simon Fraser University.
He was also awarded the Committee for Skeptical Inquiry's highest award, the 'In Praise of Reason' award, as well as the American Humanist Association's 'Humanist of the Year' award.
As if all of the above isn't impressive enough, Bill has not one but two Netflix shows. He hosts 'Bill Nye Saves The World' and tells the story of his life and his future in 'Bill Nye: Science Guy'.