Bill Nye has been a voice for climate change awareness and action for over a decade now. Since veganism is strongly associated with reducing climate impact, does that mean Bill Nye is a vegan?
Bill Nye is not a vegan. He has heavily reduced his consumption of animal products but he does still eat meat and animal by-products. Nye has stated he may try to be completely plant-based but has yet to fulfill that promise.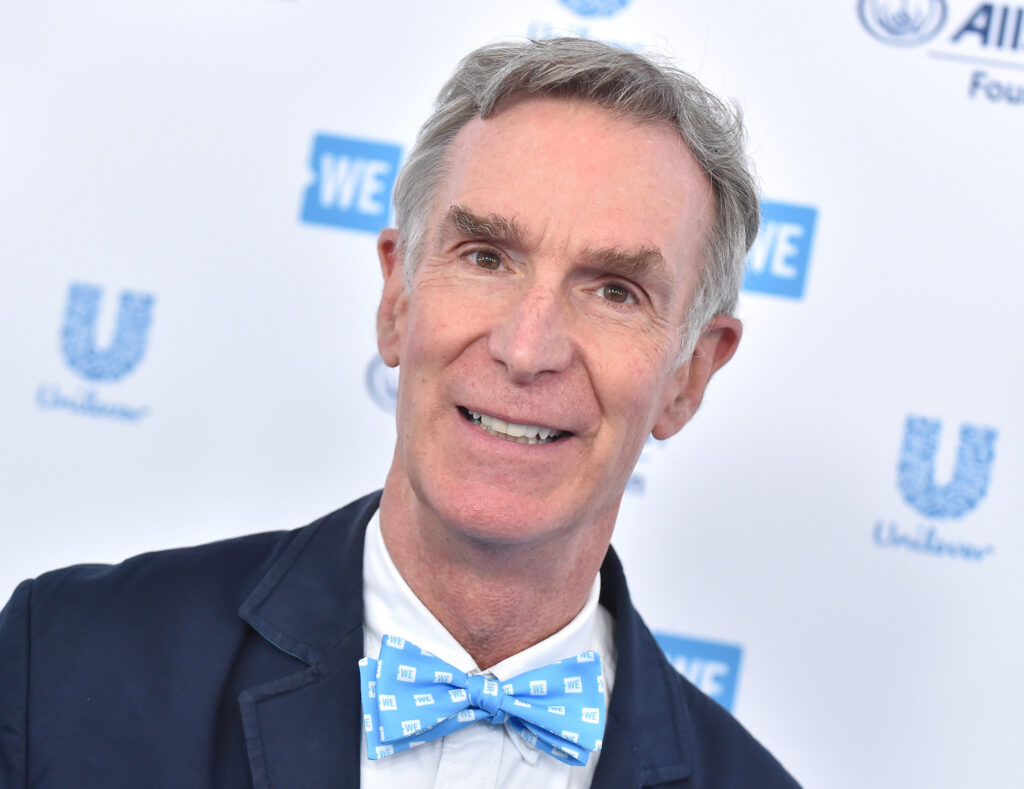 You can read more below about Bill Nye's past comments on diets and veganism.
"Plant-Based Diets Are the Future"
The above sentence is one that Bill Nye has said on more than one occasion. The most notable time that he talked about this was during a Reddit Ask Me Anything in April 2017.
When he was asked by u/DownAndOutInLondon about his opinion on the promotion of vegan diets as a way to counter climate change, Nye responded:
"Plant-based diets are the future. I look forward to food preparations that are not 'derivative bits', as we say in comedy writing. Instead of 'coconut bacon', for example, I hope there is just delicious stand-alone coconut preparations. Cooking is a competitive business. I look forward to the emergence of new plant-based dishes."
With different plant-based meats being created like 'Beyond Meat', there are more and more varieties of dishes available to choose from.
About a month before his Reddit AMA, Bill Nye was on an episode of Big Think where he was asked about the methane emissions that farm animals create. He talks about how animals create methane in their bodies and then he says that this doesn't happen with a vegan diet.
He then says to check in with him in a few months because his diet is becoming more and more plant-based. However, he has not come out with anything since that implies that he has made the move to a vegan diet.
In fact, he even posted a video ad to his Instagram in October 2020 that promoted Chipotle restaurants. The video was about eating chicken.
You can watch Bill Nye on Big Think in the below video from their YouTube channel.
Bill Nye's Stance on Other Diets
The word 'diet' has become a collective buzzword in recent years due to the complete politicization of what we eat as humans. Bill Nye also hasn't been immune to the triggering effect diet seems to have.
When his 2017 television show Bill Nye Saves The World was released on Netflix, it received mixed to poor reviews across the board. Its overall rating on IMDb is only a 3.6 out of 10 and 53% of people liked it on Google reviews.
Many in the scientific community were quick to point out some of the holes in his arguments and later actions have even had some scientists completely denounce him (as can be read about in this Scientific American letter). That's not what we are focusing on though.
It was his episode that discussed the Paleo diet that seemed to anger more than one person in the health and science community.
Trevor Connor, the founder of the Paleo Diet and a scientist whose Master of Science focused strictly on the effects of the Paleo diet on autoimmune disorders, was a big detractor from Bill Nye. In his article titled Bill Nye, The Science Guy?, he explains how he was a Bill Nye fan until his episode on the Paleo diet.
He explains that he was a fan of some of the corny ways that Nye has always used to make science fun so that more people are interested in it. However, he was unable to ignore the holes in Nye's argument.
Connor points out that Nye provided misinformation about hunter-gatherer health and age, as well as a proper explanation of what the Paleo diet actually is and its nutrition.
On the flip side, some journalists have come to the show's general defense and debunked a lot of the criticism surrounding it. However, overall many in the scientific community have pointed out that he is an entertainer first and foremost and what many in the community would loosely define as a scientist.
This point has many wondering if he will ever choose to actually go vegan or if he is just saying he will in order to appeal to more viewers.