If you're not familiar with Bill Nye and his flagship science-themed shows or have only seen him appearing briefly in other media, you might be wondering how qualified the presenter and comedian is to comment on various scientific subjects.
Bill Nye is an actual scientist in the sense that he has a Bachelor of Science in mechanical engineering. There is some debate about whether or not that qualifies him to be called a "scientist."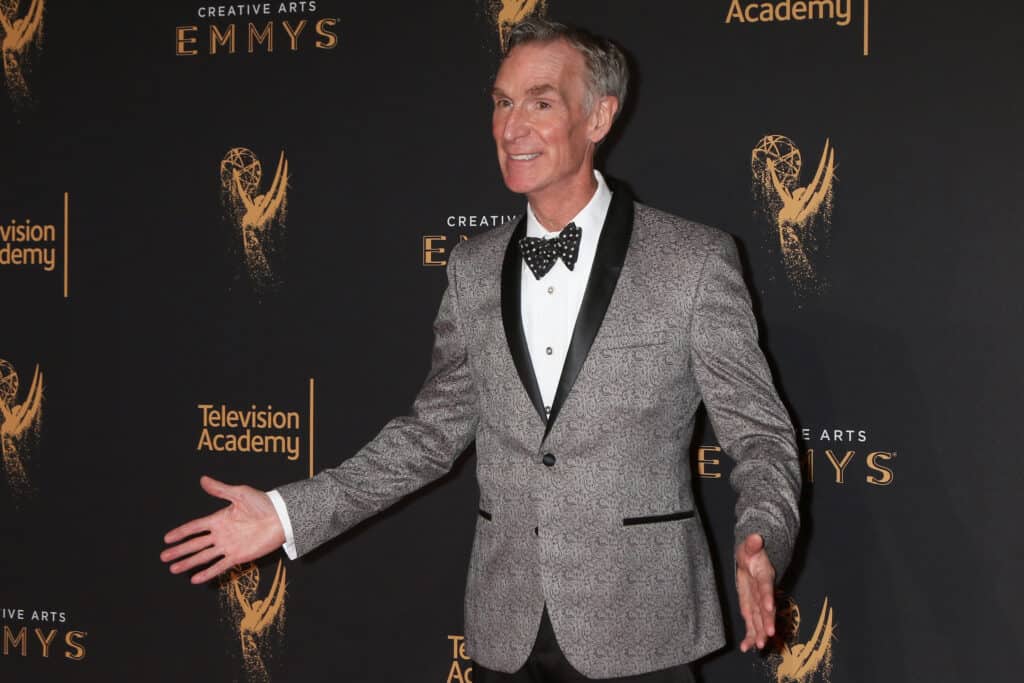 Depending on how you define "scientist," it's really up to personal opinion if you consider Nye to be a true scientist. One thing that can't be argued is that he's always had a love for science, as we're about to find out with this look through the progression of his education and life.
Early Organisms
Bill Nye is quite the character, sporting his unique bow-tied charm as easily as his apparently vast scientific knowledge. In the hearts of any children that had the fortune to have access to PBS, Nye will forever be known by the moniker derived from his show, Bill Nye the Science Guy.
When you're equally as handy in front of a camera as you are slinging beakers around in a laboratory, you can't be too surprised when your viewers start to wonder whether you're more a scientist or more a presenter. To get the answer to that question, we'll have to go all the way back through Nye's history and have a look at where he started.
We're going to rewind time, long before he ever had any idea he'd be the star of the show in Bill Nye Saves the World or Bill Nye the Science Guy. Back to his school years, to a time where Nye and his ambitions are almost unrecognizable in comparison to today.
At least one part of him is still familiar, however: His signature bow tie!
Under The Microscope
In high school and his time at Cornell University, STEM (science, technology, engineering, and mathematics) fields were always Nye's area of interest. For Bill Nye the "science guy," it was specifically engineering that appealed to him the most.
This first love of engineering was also the field that he obtained his Bachelor of Science in, with the specific degree being a BS in mechanical engineering, which he obtained in 1977. To most people, that alone likely qualifies Nye as being an "actual scientist".
The problem is though, what does being a scientist truly mean? To many in the scientific community, the term "scientist" implies not just having the relevant degrees, but having them at a high level with years of contribution and research to the field as well.
That's one of the most common complaints you'll see in regards to Bill Nye positioning himself as a "scientist" or "the science guy." Accusations all follow a notion that he simply hasn't contributed enough to his field to have earned the privilege of holding either of those titles.
In the case of the argument that implies a lack of contribution, the point made has a degree of truth to it depending on how you measure contribution. Nye has certainly raised a lot of awareness for different issues and piqued the interest of many children, who have no doubt gone on to pursue a life dedicated to the sciences.
Personal contributions beyond that are harder to measure, however. Though he did spend some time working in the field that he studied for, Nye's life changed course when he discovered his talent for comedy.
Evolution
He even quit his job to pursue that new career, one that was turning out to be incredibly successful for him. His initial interest in the sciences and his newfound passion for comedy ended up aligning when he had a conversation about a potential TV show with none other than Carl Sagan.
Sagan had already been a huge influence on Nye, who had taken one of his classes prior. That influence stretched even further, as it was Sagan's advice regarding Nye's future television show which truly transformed Nye into the "science guy."
The advice Sagan gave to Nye was to keep the show purely scientific and to trust in the fact that children would resonate with that kind of content. Wise words, it seems, as they helped not only shape the show into what it became but also gave Nye the reputation as the science guy!