Elton John is an undisputed pop icon and one of the best-selling music artists of all time. He's an international megastar who's released 30 studio albums to date, but does he write his own songs?
Elton John is one half of the genius songwriting team behind his many hits. He has collaborated with lyricist Bernie Taupin since 1967, in a partnership which sees Taupin write the lyrics, and John put them to music.
Read on to learn more about Elton and Bernie's songwriting process, as well as Elton's enduring career.
A Perfect Partnership
Sir Elton John is a music legend, but there's another creative genius behind his greatest hits.
Elton John responded to a newspaper ad calling for talent in 1967, placed by NME. As legend goes, the manager of Liberty Records at the time, Ray Williams, gave Elton a "random" envelope of lyrics written by Bernie Taupin, who had answered the same ad.
Elton then read the lyrics on his train home, thought "these are really good", and started writing as soon as he got home. In an interview with iHeartRadio, Elton explained that he has a "god-given gift to write music to written words" and the stories held in Taupin's lyrics inspire the melody.
Conscious of the hugely serendipitous nature of the collaboration, Elton expressed, "can you imagine if I had had someone else's lyrics? I wouldn't be sitting here. Luck has played a huge part in my success".
The process has remained the same throughout their relationship, with Bernie first providing lyrics and Elton then creating the music. Working separately gives their process an element of excitement.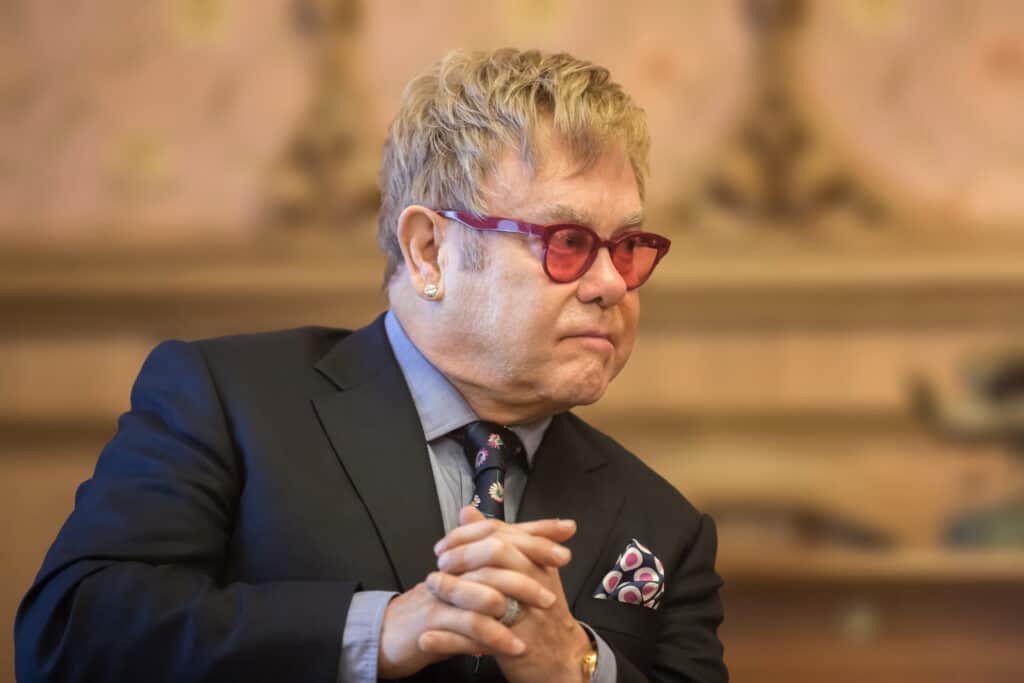 Speaking to Rolling Stone, Bernie explained the delight they both take in the process: "I still get a kick out of it, the same he gets a kick out of seeing a new batch of lyrics, so we're both like kids on Christmas."
The pair have been asked many times about the enduring nature of their partnership, and why they think it still works. Elton told ABC that, "we've never ever had an argument professionally or personally which is extraordinary because most songwriters sometimes split up because they get jealous of each other and it's exciting because it's never changed from the first day we wrote songs." Both Bernie and Elton agree that the separation their writing process offers is also probably part of their staying power.
Watch Elton talk about his songwriting partnership and friendship with Bernie Taupin in the YouTube video below.
'Rocketman'
Bernie and Elton have been working together for over five decades, and have produced an extraordinary amount of material in that time. They've written over 30 studio albums together and this shows no signs of slowing.
Their relationship and work is depicted in the 2019 musical film 'Rocketman' produced by Paramount Pictures, which is a biography of Elton's life named for his 1972 song of the same name.
Taron Egerton was cast as Elton, who said to GQ of the Hollywood star, "I was immediately taken by his special quality of masculinity mixed with warm kindness", showing his approval.
In turn, Egerton spoke of Elton in awe, saying "he's a fascinating man. He can be simultaneously very intimidating and very, very vulnerable. I mean, everyone can be different things very quickly, but he has that in extremity."
For the film, Bernie and Elton worked on a new song titled '(I'm Gonna) Love Me Again', which Elton performed with Taron Egerton. As usual, Bernie wrote the lyrics first and Elton went from there.
He told IndieWire that he knew it had to be uptempo, adding "Bernie's lyrics are always like a bolt of lightning for me, full of cinematic and thematic inspiration. The melody just pours out of me when I'm enlightened by his poetic words." The song would win numerous awards, including Best Original Song at the Oscars.
In 1992, Elton and Bernie were both inducted into the Songwriters Hall of Fame, for their epic contribution to music.