If you asked someone to name a performer, and you gave them the hints that he's a piano maestro with the zaniest fashion sense, you'll likely almost instantly get back the answer that it's the British-born singer-songwriter, Elton John. Amongst all the wild and wacky outfits he has put together, why are sunglasses always a staple of his look?
Elton John began wearing glasses as a tribute to American rock and roll superstar Buddy Holly. As time went on, John began to develop nearsightedness and ended up wearing the glasses out of necessity.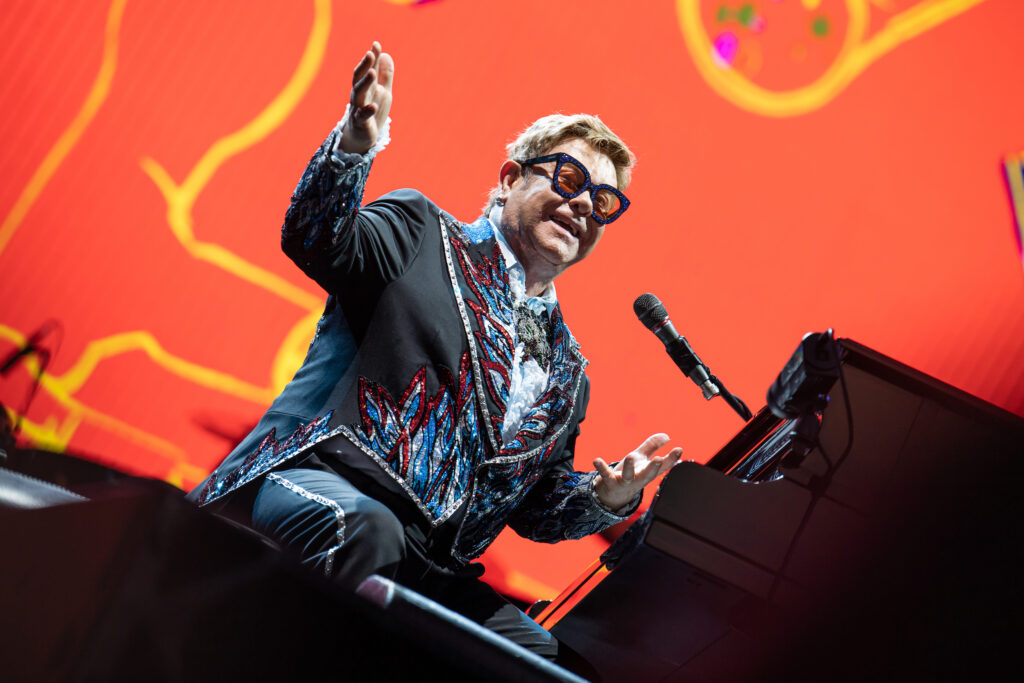 What started out as an homage to a beloved performer during his teen years, John's penchant for wearing glasses slowly developed into a solution for a problem that he didn't even know he had.
Since he's been wearing them out of style since before he was famous, and wearing them for his sight afterward, you'll be hard-pressed to find a single photo of John without his signature sunglasses.
John's Myopia
John has been asked previously about where his love for glasses and sunglasses first started, and that's where we learn about his admiration of Buddy Holly and his myopia that subsequently developed.
If you aren't clued up on your rock 'n roll history, Buddy Holly and his contributions to the genre essentially turned him into an icon. The puzzle pieces all fit if we look at Holly as an inspiration to John, for far deeper reasons than just the glasses.
Holly made himself famous for his sensational ability to play the music, sing, and put on a performance, all at the same time. It's not just John that drew inspiration from the rock 'n roller, but plenty of other future stars as well.
According to John, he believes that it was as a result of constantly wearing prescription glasses that he didn't need which caused him to develop the condition. The science seems to disagree with John on that one, so it's more probable that he simply developed the issue over the course of his teen years.
Whatever the case may be, it's been anything but a disability for John. The signature glasses in combination with his clothing choices injected his on-stage presence with that extra bit of flair that made his performances so memorable.
Over the years we've seen John wearing every shape, size, and color of glasses imaginable. Attempting to predict what kind of glasses John may be worn during a performance or era is borderline impossible, as they've been quite frankly outrageous at certain points of his career.
Speaking of outrageous, let's have a quick look through some of the more defining moments in John's love affair with his optical accessories. We've certainly got a lot to choose from, look at the size of that collection!
A Unique Style
He's definitely had a unique fashion sense through every single decade of his career, but it's safe to say that the 70s and 80s, in particular, treated us to some real doozies when it comes to his choice of glasses.
Among some of the more extravagant choices, there are also a couple of that are bordering on being horrific. One standout in that regard is the glasses with awnings, which despite intending to be an amusing novelty almost give them the creepy appearance of having eyelids of their own.
If you fancy going on a tour of some of the choice outfits and glasses he's had over those years, then the movie Rocketman should probably be your first stop. The biographical musical, as well as tracking the various rise and falls throughout John's career, did a good job at showcasing some of the special outfits he wore on stage.
They say that imitation is the sincerest form of flattery, and John has been something of a trendsetter in that way. Millions of fans across the world now understandably want to adopt a pair of out-of-this-world glasses themselves in support of their favorite artist.
It has almost turned into a business of its own, with various opticians selling a multitude of John's "greatest hits." So if you fancy trying out one of John's iconic looks for yourself, there are plenty of avenues to go about doing so.
Might be a bit hard to pull it off though. After all, there's only one Elton John.