After she played the sweet and straight-laced character of Lizzie McGuire on the Disney Channel, it's hard to think that Hilary Duff would have any tattoos.
Hilary Duff has over fifteen tattoos. Her tattoos are located on her arms and she also has two on her ankles. She is a fan of getting tiny tattoos that are easy to cover up with make-up or clothing. Some of the tattoos have a deeper meaning while others were just for fun.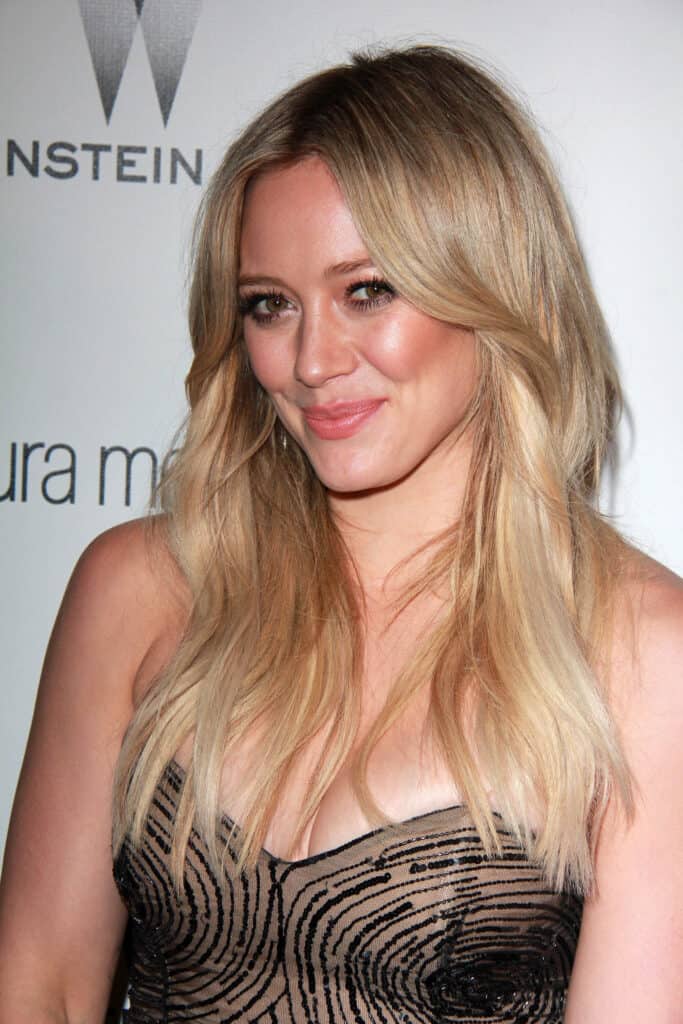 You can learn more below about all of the different tattoos Hilary Duff has and what tattoo artists she goes to.
Hilary Duff's Many Tattoos
When you hear that someone has over fifteen different tattoos on their body, you would probably think that means they are covered in ink. That's not the case with Hilary Duff though. She loves tattoos but she only likes to have small ones on her body.
An older tattoo she has is a bird on her arm that appeared in 2012. She has a quote from one of The Beatles' songs on her foot, "let it be". An anchor is tattooed to the ankle of her opposite leg. She even has a tattoo on her hip that no one can tell what it is nor does she talk about it.
On her right arm, she has an arrow on her bicep that points towards her hand. The arrow is shooting through a crescent moon with stars surrounding it too. She has had it for some time now because it has faded a lot.
Above the arrow, she had two budding roses tattooed onto her bicep in 2016. This happens to be one of her largest tattoos and the meaning behind it is unknown.
She has a tattoo of a symbolic sun. She has this tattoo and another tiny star symbol put onto her arm in 2019. On her inner right arm, she also has another tattoo that reads 'stand by me' this could be about the famous song or the 1986 film based on Stephen King's book The Body.
Her wishbone tattoo that sits near her wrist is one of her older ones. It appeared in 2011 and while she never really explained it, many think that it is to represent luck.
You can watch Hilary Duff talking about life and her tattoos with Ellen DeGeneres on The Ellen Show in 2015 in the below video.
Hilary Duff's Tattoos with Friends and Family
After her son Luca was born in 2012, Hilary Duff had his name tattooed on her wrist with a tiny heart by it. Although no one has seen any tattoos of her daughter's names, it is still possible that Duff has tattoos for her daughters, Banks and Mae, too.
One of the oldest tattoos that Hilary Duff has is on the inside of her right forearm she has the words 'thick as thieves'. This tattoo is a matching tattoo that she has with her older sister Haylie Duff. Fans had known that she has this tattoo for a while but she didn't reveal the connection to her sister until she was on Ellen in 2015.
She has two shared tattoos with her best friend Alanna Masterson. The first one they got in 2013 and it is a two-cent coin. The other one they got together was in 2014 and it is a ghost that has the words "ride or die" written into the bottom of the ghost's skirt.
Her only tattoo in color is a little red heart on her wrist. Hilary Duff also has the letters BK tattooed on her arm referencing Brooklyn where she shot Younger.
Finally, Hilary has the words "Take Fountain" tattooed on one of her arms and this is a Bette Davis quote. Davis said it when she appeared on The Tonight Show with Johnny Carson. When asked what advice she would give to young women, Davis said "Take Fountain" about taking the faster back way into Hollywood versus Santa Monica Boulevard.
The tattoo artists that Duff goes to almost exclusively are Dr. Woo and Daniel Winter. Dr. Woo is famous for inking celebrities since he rose to fame working in the tattoo shop shamrock.
Daniel Winter is another go-to tattoo artist for celebs who is known for his fine-point style and attention to the tiniest details. Looking at all of Hilary's tattoos tit makes sense she also goes to winter with her love of tiny detailed tatts.