Hilary Duff has been in the public eye for most of her life since she was cast as Disney's Lizzie McGuire. The scrutiny of the world can be tough, and that's why most celebs feel the need to alter their appearance in some way or another. So, does Hilary Duff have veneers? And are her pearly whites enamel or porcelain?
Hilary Duff decided to get veneers in 2005 after chipping her front teeth on a microphone during a live performance. Her first set of veneers was noticed for all the wrong reasons, as they were not proportionate to her mouth.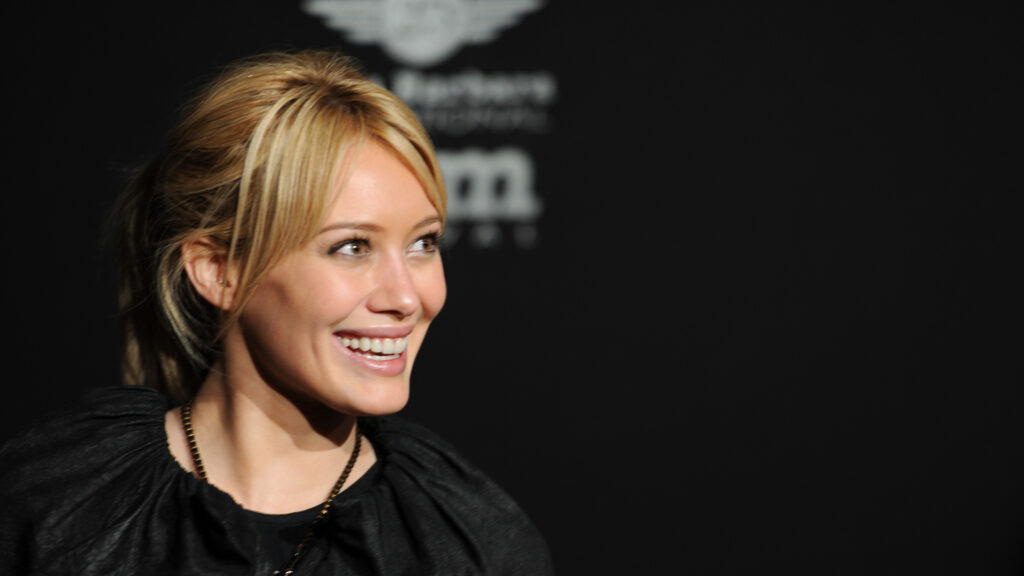 A smile is one of the first facial features that is noticed when meeting new people. Having your picture taken every time you step outside means there are many opportunities for strangers to fixate on your less than pearly whites. Keep reading to find out what events lead to Hilary Duff changing her smile forever.
Does Hilary Duff Have Veneers?
Veneers are the answer to the tooth woes of many people. Hilary's teeth were in great condition until 2005 when she reportedly chipped her teeth in what must have been a wild live performance. This resulted in her getting porcelain veneers to fix her smile.
Hillary's first set of new chompers was mismatched to her original set from birth, and the media wasted no time letting the world know about her "horse teeth". Many trips to the dentist have fixed her smile and returned her to the natural beauty fans know her to be.
Her teeth problems didn't end there though, as Hilary told Ellen DeGeneres in her sit-down interview that one of her front teeth fell out on the morning of her wedding to her now ex-husband Mike Comrie. It just so happens that Hilary hired the best wedding planner because her brother-in-law's best friend came to the rescue to fix her teeth with his dentistry skills before she tied the knot.
Has Hillary Duff Had Any Cosmetic Procedures?
In a world where perfection is not only thought to be attainable, it is often demanded, celebrities have to work hard to keep their looks current all while avoiding the dreaded question "Have you gone under the knife?" Hilary Duff is one celeb that denies ever having anything but her teeth done.
Hilary attributes her glowing skin to her dermatologist, Dr. Harold Lancer, who does her microdermabrasion treatments. It also helps that Hilary has the money to spend $1,244 on her skincare routine which helps keep her skin bright and tight.
When rumors were going around about Hilary having lip injections after she shared a selfie, she firmly denied the allegations and tweeted saying "Same lips I've always had… In this case it's just red lipstick and a fancy angle."
Which Other Celebrities Have Fixed Their Teeth?
The thing about being a celebrity is that many people know what you looked like when you first started out in showbiz. This makes it difficult to deny rumors of changes to a face that is so recognizable. When it comes to smiles, however, the world seems to be a lot more forgiving to alterations.
Lindsay Lohan has put herself through some difficult times in her years in the spotlight, and her teeth were worse off for it. In the 2010s, Lindsay was photographed with a less than sparkling set of teeth, but after cleaning up her act, she cleaned up her smile with veneers.
Niall Horan rose to fame at a young age as one member of the teen heartthrob boy band One Direction. Dental work comes at quite the price but Niall spared no expense for his transformation. From whitening to braces, Niall went through the ringer to show off his pearly whites.
Victoria Beckham rose to stardom long before her teeth were her shining glory. Although not often spotted due to her iconic pout, Victoria had her teeth redone at a pretty penny. Her veneers have given her the smile her fame so deserves.
Last on this list is Celine Dion. Her previously misaligned and off-white chompers have been given a new lease on life with porcelain veneers. Her new smile has been whitened, straightened, and widened to improve the appearance of her already lovely facial features.