Hilary Duff is a child-star turned singer, songwriter, businesswoman, and actress. The mother of two has committed to living a more sustainable life but — for now — that life does not include following a vegan diet.
Though she does more than her fair share for the environment, Hilary Duff does not follow a vegan diet — far from it. The 'Lizzie McGuire' star loves cow's milk, turkey burgers, grilled chicken, steak, eggs, and cheese, and all these ingredients play a big part in her diet.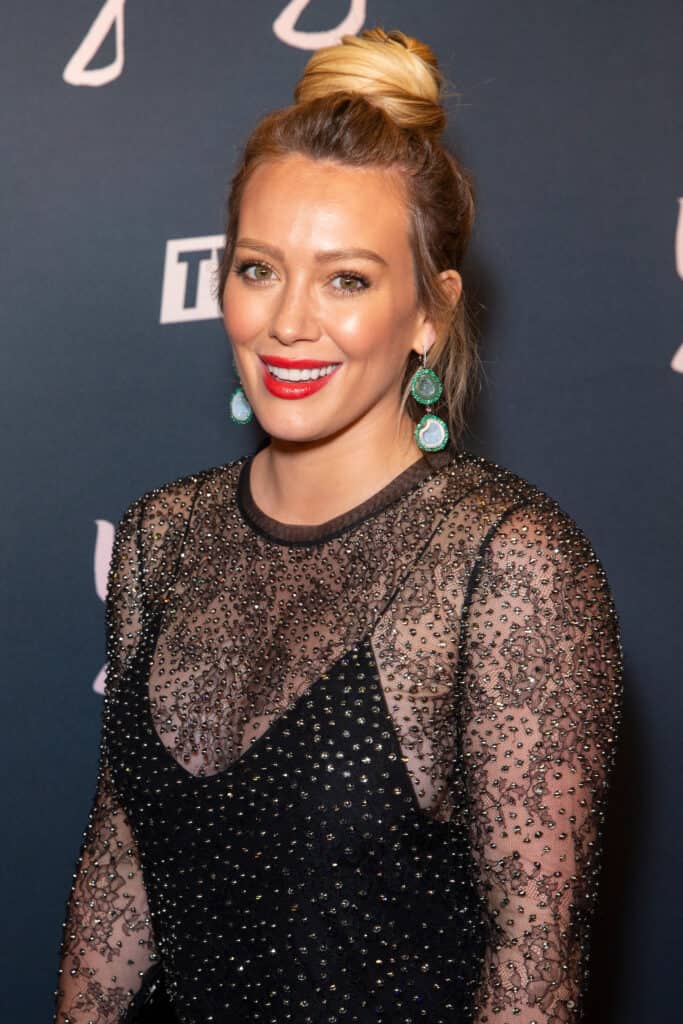 Are you looking to find out more about Hilary Duff's diet and how she helps make the world a 'greener' place? Then you've come to the right place because this article will fill you in on all that — including just how far from vegan Hilary is.
Hilary Duff and Veganism
While it's not clear where the rumors started, it is clear that Hilary is not vegan. She's so far from vegan that she even drinks cow's milk, which is a big no-no for those adhering to a vegan lifestyle.
Hilary dished the details to Delish "I drink cow's milk; it's so rebellious. I feel like everyone's like, 'cow's milk?!'. But I love it." And Hilary doesn't just limit herself to drinking animal products, she eats them too.
While speaking to Health.com she admitted, "This is kinda gross for some people, but I love to roast chickens, so I'm not grossed out by the skin and stuff."
Hilary also revealed "I'm a Texas girl, so I love a good steak. I like a very rare steak, so a lot of my friends don't like sharing steak with me."
She's no vegan, but Hilary most certainly is an advocate for healthy eating. She's extremely knowledgable on all topics related to the subject — from meat preparation to spotting dodgy produce.
Hilary Duff's Diet
Like most people, Hilary is well-aware of the fact that breakfast is the most important meal of the day. She bounces between three go-to breakfast dishes of toast, a shake, and oatmeal.
She'll add almond butter, maple syrup, and golden raisins to her oatmeal. When it comes to her toast, she opts for Ezekiel bread topped with avocado and tomato or egg whites and cheese.
Hilary loves shakes of both the green and protein variety. For her green shakes, she'll juice up some celery, cilantro, romaine lettuce, spinach, apple, pear, half a banana, and lemon.
For her protein shakes Hilary mixes cow's milk, almond milk, blueberries, ice, a vanilla-flavored egg-white protein powder, and the occasional avocado "to add some fat".
Whether she's at home or on set, Hilary's preferred lunch is a salad topped with either a sprinkle of chopped-up fruit or a protein. Her favorite protein is either a turkey burger or a piece of fish.
Hilary also enjoys a side of fresh potato chips with her salad. She said "I love French fries with salad. If I'm ordering a salad and it's really healthy and clean, I'll always be like 'and can we have an order of French fries for the table?'"
The star's approach to dinner time resembles that of ordinary folk. Her favorite dinner ingredients are paleo scallops, grilled pineapple, rice, and buttered noodles — with a side of "two, or three" beers or glasses of wine.
Hilary Duff: The Environmental Buff
Hilary may not be vegan, but she goes out of her way to reduce her carbon footprint. In the business world, she released a vegan, cruelty-free make-up palette called Nudestix Day Dreamer Face Palette.
The actress teamed up with Walmart and Unilever for their 'Bring It to the Bin' campaign in hope of educating and encouraging consumer recycling. She told Mind Body Green "I care about the planet and the future of what it looks like for my kids…and generations to follow us."
When she learned that a mere 9% of all plastic is recycled, Hilary took a hard look at her household. She said, "I try to do what I can, and we've made major changes in the house after learning some of the statistics."
Some of these changes include switching to reusable zipper bags, grocery bags, and water bottles. She's also mindful to recycle goods from other areas of the house, like the bathroom.
Hilary's efforts aren't only bettering the planet, but her children too. When speaking about her son, she says "Luca knows why we're doing it. He's very touched and freaked out by animals and thinking about trash going into our oceans — it really stresses him out."