Ian Somerhalder is an American actor famous for his role in The Vampire Diaries. He is also known for his dashing features, allowing him to pull off any look with great ease. Does he have any tattoos to show off as well?
Ian Somerhalder has a tattoo on his arm. It's a simple design but has a deep meaning for the actor, however.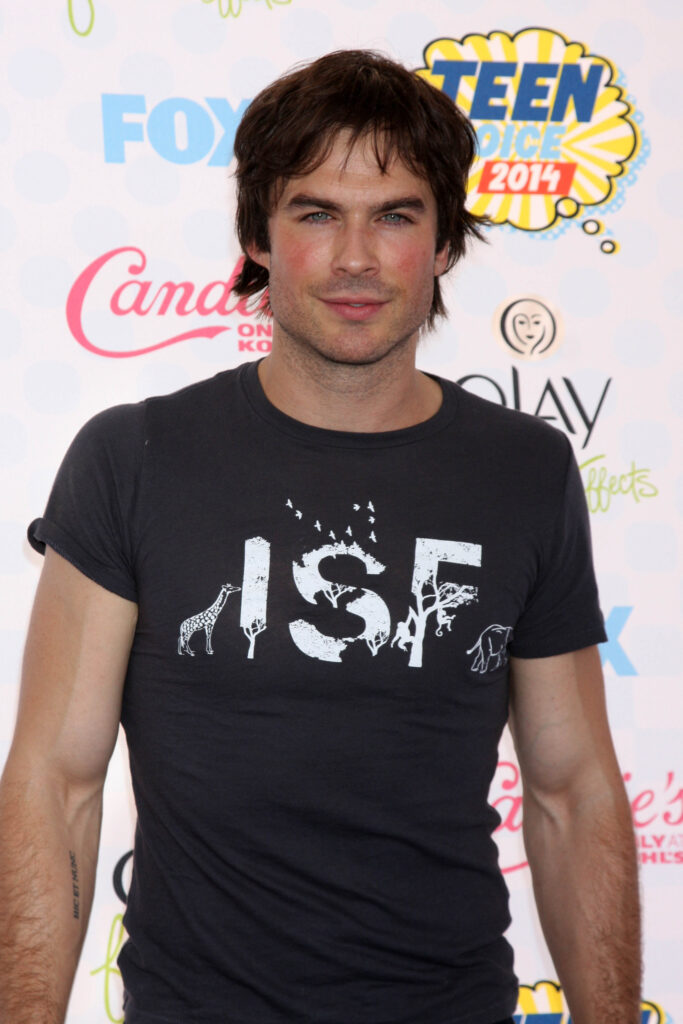 Who Is Ian Somerhalder?
Ian Somerhalder, born on Dec. 8, 1978, to Robert and Edna Somerhalder. His father was an independent contractor while his mother was a massage therapist.
Before Ian Somerhalder started acting, he tried modeling from when he was 10 until he turned 13. When he was 17 years old, he decided to try out acting.
Acting Career
His debut came in the summer of 2000 when he was cast for a series called Young Americans, which aired on WB. The series was a spinoff of Dawson's Creek, but it was short-lived. However, Ian Somerhalder's fame after the series wasn't cut short, as he landed more roles.
In 2002, Ian made another major television debut when he starred in Roger Avary's The Rules of Attraction. He acted as a bi-sexual character, alongside Jessica Birl and Shannyn Sossamon.
Despite the movies he starred in between 2000 to 2002, he didn't get his breakthrough in Hollywood until 2004.
Ian Somerhalder played the role of Boone Carlyle in Lost. People loved him so much that even after his character died in the 20th episode of the first season, he still appeared on the show in seven other episodes. Those episodes aired around 2005 to 2010.
Ian Somerhalder was also in the series finale. When the actor eventually left the show, ABC signed him for a one-year contract. It was indeed a great experience as that was his acceptance into Hollywood.
Then in 2009, he was cast as Damon Salvatore, a vampire on The CW series, The Vampire Diaries. The show got many positive criticisms and reviews as people received it warmly. It even went on to become the highest-rated series on The CW since the network was created.
How Many Tattoos Does Ian Somerhalder Have?
Ian Somerhalder doesn't have ink around his body except for the one tattoo on his arm. The tattoo reads "hic et nunc," which is Latin for "here and now."
What Is the Meaning of Ian Somerhalder's Tattoo?
The Lost actor is heavy on mindfulness because he has been captured meditating during yoga. When you are mindful, you must constantly remind yourself that you are in the present. His tattoo "here and now" could be indicative of the importance of remaining in the present no matter the situation.
The tattoo is located on his left forearm and is not so big. You may need to look closely to find it before reading it. The Latin tattoo is written in cursive and is not always visible in pictures.
Ian Somerhalder indeed went after a minimalistic tattoo.
Who Else Has Tattoos on The Vampire Diaries?
Apart from Ian Somerhalder, other actors in the series The Vampire Diaries have tattoos. Paul Wesley, who played the role of Stefan Salvatore in the series, has a rose tattoo on his shoulder. He played a lot of shirtless scenes in the movie, but the directors never hid his tattoo.
Another character with a tattoo is Candice King, who played the role of Caroline. She had a tiny bird on her right wrist and a star outline on her right foot.
It turns out that Ian Somerhalder isn't the only Latin-inked actor on The Vampire Diaries, as Kat Graham also has a Latin phrase on her wrist. She starred as Bonnie, and her tattoo reads: "nosce te ipsum." It means "know thyself," another mindfulness reminder.
Steven R. McQueen, who played Jeremy Gilbert, also has a tattoo. It is a drawing of a dragonfly and bird with his mother's initials. The tattoo is a tribute to his mother, although she was still alive.
Matt Davis has a snake tattoo on his shoulder, which he got to hide another one he got to cover an "om." He got the "om" when one of his ex-girlfriends ended their relationship. The actor said he wants some of the tattoos on his body covered as he got them when he was "stupid."
Conclusion
Ian Somerhalder embraces simplicity and minimalist ideas. So he has a minimal tattoo on his left forearm, "hic et nunc" to remind him to be "here and now." He embraces mindfulness, and the tattoo is a sign for him to stay in the present.