"S-s-s-s-s-mokin'!"—is the famous line from The Mask starring Jim Carrey. Does the movie star ever spark one up?
Jim Carrey has smoked. It's not known for certain if he regularly smokes cigarettes (or anything else) to this day, but he has been seen smoking in the past. He's also talked about smoking marijuana in the past.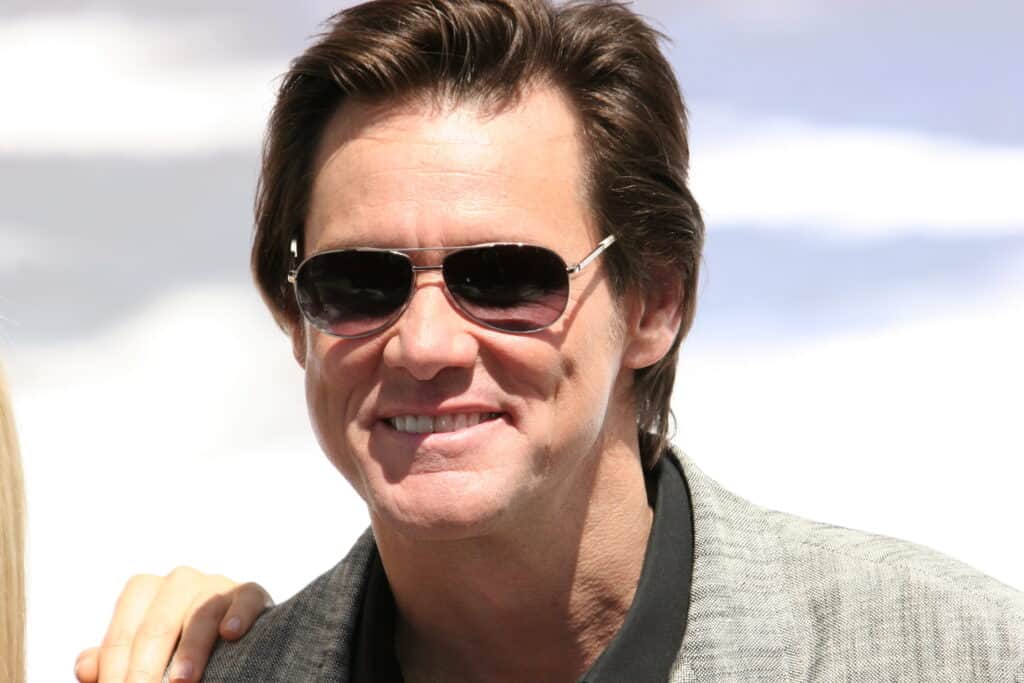 Keep reading to find out more about Jim Carrey's smoking habits.
The Early '80s
Jim Carrey appeared on Jimmy Kimmel Live! to talk about his 2017 Showtime comedy-drama series I'm Dying Up Here.
During the interview, Jim talked about seeing Robin Williams and Eddie Murphy trying out new material at The Comedy Store club.
He also brought up how he once smoked marijuana with renowned comedian Richard Pryor in the parking lot after performing their routines.
"We were passing a joint one night, and he said, 'Careful with that, I don't remember 40 years of my life,'" Jim recalled.
Carrey remembered being close to the late comedy great, saying, "He was so encouraging, such an amazing person."
So, not only is Jim not a stranger to tobacco, but he's also tried at least a few puffs of the green goodies.
1994—Chain-Smoking Marlboro Lights
In a 1994 interview with Entertainment Weekly for his then-upcoming movie The Mask, the interviewer describes Jim Carrey as "chain-smoking Marlboro Lights, sprawled in a chair in a Hollywood photographer's studio."
So, the star definitely liked to smoke when he was in his early 30s. This is also when the actor coined the infamous catchphrase, "S-s-s-s-s-smokin'!"
1999—He Came on Stage Smokin' Up
At the 1999 MTV awards, Jim Carrey fooled the audience into thinking he was a free-spirited hippie resembling Jim Morrison.
He thanked his "new biker friends" and also MTV for "an excuse to party one more time."
As part of his gig, he came up smoking a real lit cigarette and could be seen blowing smoke, much to the concern of the award presenters.
Watch the strange and humorous clip in the video below.
2000—On the Set of How the Grinch Stole Christmas
In 2014, on The Graham Norton Show, Jim Carrey talked about filming the 2000 classic Christmas film How the Grinch Stole Christmas. The costume and makeup that Carrey had to wear for long days on set was like "being buried alive every day."
Producers had the idea to hire a man who trains CIA operatives to endure torture. The advice to Jim included watching television, having someone smack him in the head, or punching himself in the leg.
Other advice was to "smoke—smoke as much as you possibly can." Carrey talked about needing a "giant cigarette holder so the Yak hair wouldn't go on fire."
He remembered chain-smoking cigarettes and punching himself in the leg at the same time while repeating in his mind, "It's for the kids. It's for the kids."
He was filming the production for months and had to don the makeup a total of 100 times.
The 21st Century
So, there are plenty of anecdotes to confirm that Jim Carrey enjoyed smoking at least semi-regularly in the '80s '90s and the year of the millennium, but does he still spark one up these days?
In a 2004 interview, Jim revealed that he was on "Prozac for a long time" for his depression. He then said that he rarely drinks coffee and consumes "no alcohol, no drugs"—indicating that he was not consuming marijuana at that time.
However, in 2013, he shared the following comments in a tweet:
He mentions that he's had no "drugs" or "tbco" (tobacco) for three days, meaning that three days prior he was probably indulging in such things.
So, it seems that at least on occasion, the actor was still consuming these stimulants before trying to give them up and go sober.
What's the Verdict?
Does Jim Carrey still smoke (cigarettes or anything else?). The answer is unclear. It seems the star battles with his mental health and may turn to the temporary relief of tobacco and other drugs from time to time.