The Big Bang Theory star Kaley Cuoco became a household name with her breakout role in the hit CBS sitcom and is universally known as a sweet, innocent girl next door. But is Cuoco hiding tattoos under her prim, proper, and professional demeanor?
Kaley Cuoco has four tattoos located all over her body. She has a cover-up tattoo of a moth on her upper back, a Chinese symbol on her lower back, a mysterious tattoo on her left side, and a small paper airplane on her calf.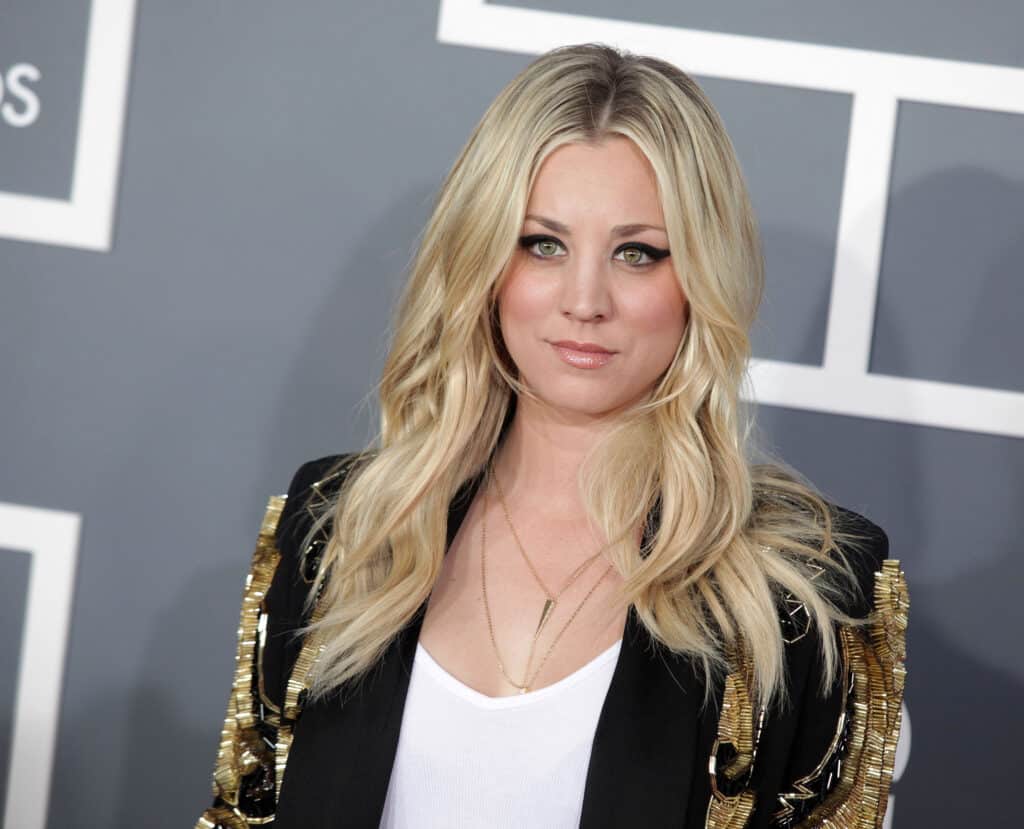 What does each tattoo mean and what is the story behind them? Cuoco has been very candid about what each of her inkings stand for.
Cuoco's Career
Kaley Christine Cuoco is best known for her work on shows like the ABC comedy 8 Simple Rules and the runaway CBS show The Big Bang Theory.
The actress first got her start in the 1995 thriller Virtuosity before moving onto shows like Ladies Man and the TV film Growing Up Brady. Her career began to take off in 2002 when she portrayed Bridget Hennessy on 8 Simple Rules for Dating My Teenage Daughter.
Cuoco would take on a few other notable TV roles until 2007 when she landed a starring part in The Big Bang Theory, a series that turned her into one of the highest-paid and biggest stars on all of television.
Since The Big Bang Theory's completion, Cuoco has spent her time playing the titular lead on the animated series Harley Quinn and the HBO Max drama The Flight Attendant.
Her Cover-Up Tattoo
Cuoco has been very honest and frank about the work she has received on her body, including one she considers a major mistake.
Cuoco and her former husband, tennis pro athlete Ryan Sweeting, were married on December 31, 2013. Unfortunately, the marriage wasn't meant to be and the couple split in 2016.
Immediately after their wedding, Cuoco got a tattoo to signify the special day. She got her wedding date, written in Roman numerals, engraved on her upper back.
After the divorce, Cuoco was intent on covering up the ink and decided to get a moth illustration to hide the original work. She publicly said the wedding tattoo was a mistake and claimed she got a replacement moth because it had "Wings. Big wings."
Cuoco documented the cover-up process on her Instagram account and even posted a caption with a picture of her getting the work done. The caption read "Note to self – do not mark your body with any future wedding dates."
The Chinese Symbol Tattoo
Cuoco has been public and open about a Chinese tattoo she got on her lower back during her youth. While some may be embarrassed about the ink that they get in their teens, Cuoco owns the tattoo and how silly it may seem.
The Chinese symbol on Cuoco's lower back means faith. The actress got the work done when she was only 17.
Cuoco joked about the ink, openly calling it a "tramp stamp" and saying she was "trying to be cool" when she got it.
Although she has said the tattoo is "dumb" it doesn't bother her because she often forgets it's even there.
The Mysterious Tattoo
Kaley Cuoco has a mysterious, uncertain tattoo on her left side that many have seen but few have knowledge of. To this day, Cuoco hasn't publicly remarked on the work inked on her side or what it means.
The vague tattoo has been seen by paparazzi and fans alike but no one has been able to get a clear look at it. Some have speculated that it's a grasshopper or perhaps some cursive writing but no one is positive about its identity or origin.
The tattoo in question has also appeared on the Instagram account of her ex-husband, Ryan Sweeting, but he never commented on what the ink was.
Since Cuoco hasn't revealed what this evasive tattoo is and seemingly has no plans to, it may forever remain a mystery.
The Flight Attendant Tattoo
Cuoco's fourth tattoo is a matching piece she got with co-star Zosia Mamet. The two starred together on the HBO Max series The Flight Attendant.
To symbolize the work they did together and their friendship, Cuoco and Mamet visited a New York parlor to get a pair of paper airplanes sketched onto their skin. Mamet received the tattoo on her lower ankle while Cuoco got it on her calf.
The actress was forthcoming about the tattoo and took to social media to comment on it. She called the ink a "special tribute" to the show and her relationship with Mamet.
The two stars grew incredibly close while filming the series and said they felt like they had known each other for years.