Kaley Cuoco is an American actress and producer who first came to national attention for her work on the popular sitcom The Big Bang Theory. Since then she has established herself as a charming and funny comedy superstar.
Kaley Cuoco's ethnicity is a mix of Italian on her father's side and English and German on her mother's side.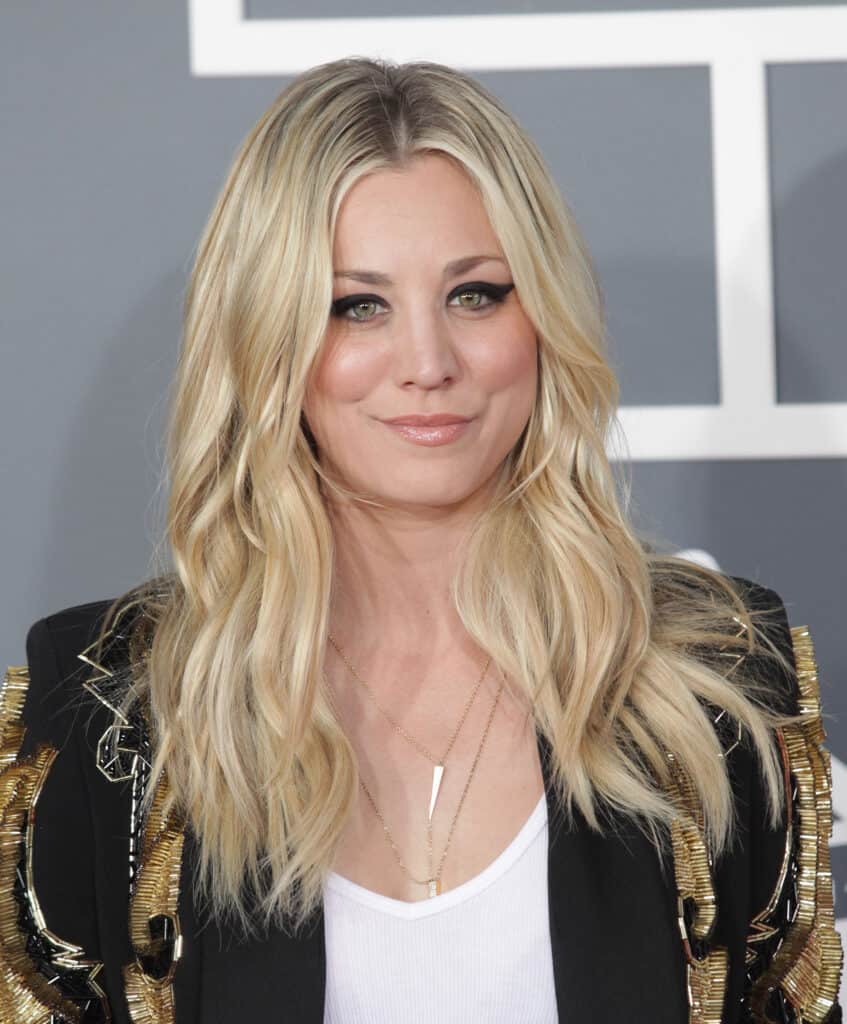 The actress has continued to achieve and improve her standing in Hollywood after the conclusion of The Big Bang Theory.
Early Life and Family
Kaley Christine Cuoco was born on November 30, 1985, in Camarillo, California. She is the older daughter of Layne Ann and Gary Carmine Cuoco.
Kaley's mother was a homemaker and her father was a realtor.
Kaley has a sister named Briana, who is also an actress and singer who appeared on the fifth season of NBC's The Voice.
Growing up, Kaley enjoyed school and sports and was a talented tennis player. She was regionally ranked and took up the sport when she was only 3 years old but she gave it up when she was 16.
Career
Kaley Cuoco made her first film appearance in the 1995 action thriller Virtuosity. From there, she landed a role on the CBS sitcom Ladies Man and starred in the TV movie Growing Up Brady in 2000, portraying The Brady Bunch star Maureen McCormick.
Her first big break came when she was cast in the 2002 ABC sitcom, 8 Simple Rules for Dating My Teenage Daughter. That series ran for a few years before being canceled.
She also landed major roles in the miniseries 10.5 and the ABC Family film Crimes of Fashion. She took on other bit parts on other television programs and movies.
Breakthrough
In September 2007, Cuoco was cast in the CBS sitcom The Big Bang Theory. She was cast as the character Penny, an aspiring actress who lives across the hall from the main characters and quickly becomes a love interest.
The show became a major smash, one of the biggest hits of the decade. Cuoco's star immediately rose and her career breakthrough was undeniable.
When she was cast on the series, she made $60,000 an episode and by 2010, she was making $200,000 per episode.
When the show was being filmed in 2014, Cuoco was making an estimated $1 million an episode, making her and her costars the highest-paid actors on television. They became major cultural figures and Cuoco was soon a household named because of her work on the series.
Throughout the run of The Big Bang Theory, Cuoco was often praised for her comedic timing and bright personality and look. She received multiple Teen Choice Awards and People's Choice Awards nominations.
In 2013, Cuoco was awarded the Critics' Choice Television Awards Best Supporting Actress in Comedy Series. The next year she won the Favorite TV Comedy Actress at the People's Choice Awards.
She would win that same People's Choice Award again two years later.
Starring on the major hit also provided Cuoco other career opportunities such as starring in the spoof film Killer Movie and The Penthouse.
She also landed a lucrative advertising deal when she was hired by Priceline.com for her commercials, starring alongside William Shatner. The advertising campaign proved to be majorly successful.
The Big Bang Theory concluded in 2018 as one of the biggest shows on television and left Cuoco posed for much more success on TV and film. She took the opportunity to expand her horizons and attempt voice acting as well as producing too.
Current Career
In October 2017, Kaley Cuoco became involved as producer and star of the HBO Max series The Flight Attendant, based on the book by Chris Bohjalian.
The series premiered on November 26, 2020, and garnered strong reviews right away. Cuoco was specifically called out for her impressive work on the show.
The Flight Attendant was renewed for a second season on December 18, 2020.
In late October 2018, Cuoco was chosen to voice the title character on the DC Universe animated series Harley Quinn. The show was a very adult and mature take on the character despite it being animated.
Harley Quinn was a major hit and was renewed for a second and third season before it moved from DC Universe to HBO Max.
Cuoco continued to expand her producing career when she signed on to helm the CBS comedy Pretty. She was also cast in the feature film The Man From Toronto, which will star Kevin Hart and Woody Harrelson.