Whether she's carelessly tossing her long surfer-style beach blonde waves over her shoulder or framing her face with a sharp pastel-hued pixie cut, Kaley Cuoco's hair always looks incredible. But what is the American actress's natural hair color and why does she dye it so often?
Kaley Cuoco's natural hair color is warm blonde. The Californa-born beauty has had blonde hair for most of her life and, thanks to her playing tennis outdoors since the age of three, the sun has naturally lightened her already-light hair.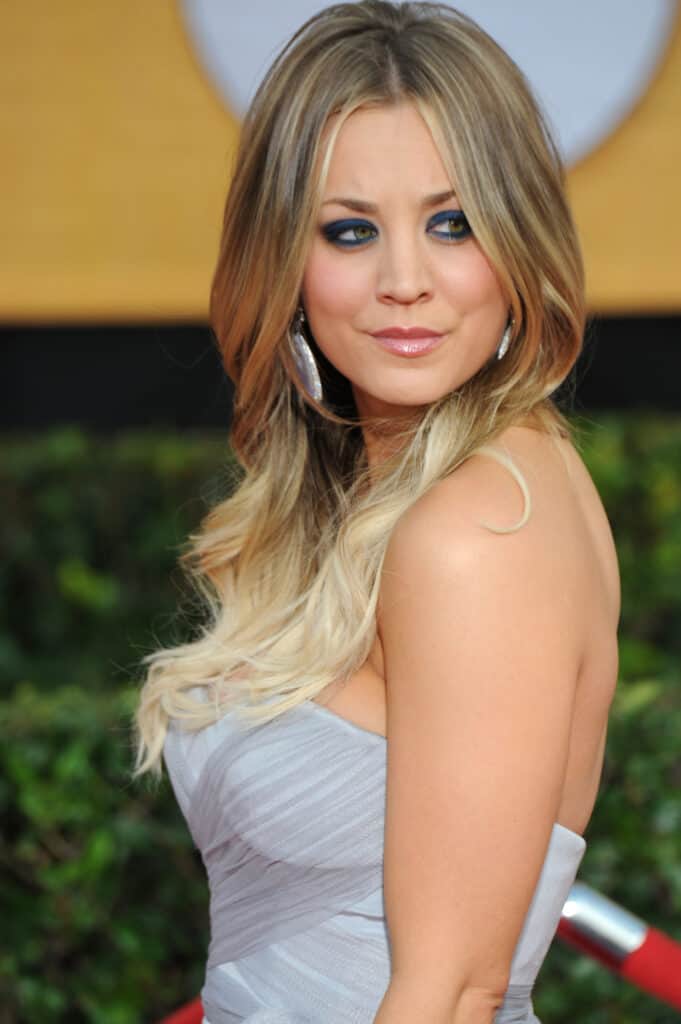 The award winning actress and producer is certainly not shy to change things up and, when it comes to coloring her hair, she sure knows how to pick shades that compliment her eyes and skin tone. Here's a look at what Kaley Cuoco's natural hair color is, as well as her history with hair colors, cuts, and styles.
Who is Kaley Cuoco?
Kaley Cuoco is an American actress who was born and raised in Camarillo, California. She was the first child of Gary Carmine Cuoco and Layne Ann until they welcomed her sister, Briana, three years later.
Many are surprised to hear that Kaley began playing tennis at the tender age of three and by the time she retired from the sport at the age of 16 she was regionally ranked. After this, Kaley devoted herself to becoming a successful actress.
She rose to fame portraying the ever bubbly and lovable Penny on CBS's The Big Bang Theory. Before landing the role that changed her life forever, Kaley had a number of appearances on the big and small screen alike in productions including Ladies Man, Alley Cats Strike, 8 Simple Rules, and Charmed.
The Big Bang Theory propelled Kaley into stardom and she is now a household name. In addition to her award-winning performance as Penny, as well as starring in other shows and films, Kaley is also the owner of a film and television production company called Yes, Norman Productions which has seen her produce The Flight Attendant and Pretty.
Kaley is praised for her easygoing attitude, her natural beauty, having a killer sense of style, and her hair often makes headlines.
An Experimental Flair
When Kaley Cuoco steps out of her house, you can never really know what her hair will look like. The fan-favourite celebrity has dyed her hair cotton-candy shades of pink, purple, silver, and blue, as well as various shades of blonde.
During the early days of her career, Kaley kept her hair medium to long in length and usually wore it with thick blonde highlights. While on set filming The Big Bang Theory, Kaley always kept her hair past her shoulders — until she didn't!
Fans were shocked to discover that Kaley — along with her onscreen persona — had gotten a drastic haircut. Gone were her long wavy warm blonde locks and in their place was a sleek and sophisticated ultra-short white-blonde pixie cut.
From there, she let it grow out into a sharp layered bob before opting for a soft long bob. Kaley kept her hair short for quite some time and was a big fan of wearing it in a pompadour style.
Once her hair had started growing past her shoulders, she decided she didn't want to suffer through those awkward-length growing pains and put a full set of extensions in instead.
Kaley's take on her hair is refreshing. Speaking to US Magazine, the natural blond said "Just blink and it might be blue or something! I always do something stupid to it. It's hair! It grows back".
Sticking to Her Roots
While Kaley Cuoco is no stranger to experimenting with different hair colors, cuts, and styles, it is safe to say that she sticks to her blonde roots for the most part. In saying that, it seems as though Kaley has chopped and changed to every shade of blonde imaginable — from dreamy caramel hues to tones of icy white blonde and every blonde in between.
Kaley often opts to sport platinum blonde locks in both long and short styles, but she is also known to let her roots grow out and she loves showing off her regrowth on her Instagram page. As her character Penny in the show that rocketed her to fame, The Big Bang Theory, Kaley sticks to various shades of blonde hair throughout the show's 12 season run.