Megan Thee Stallion is an American rapper, singer, and songwriter who is known for her easy-going nature, explicit lyrics, and for bearing all to her millions of followers. Does Megan Thee Stallion have any tattoos that she's managed to keep hidden from her eagle-eyed fans?
Megan Thee Stallion does not currently have any tattoos and she likely won't change that anytime soon — if ever. There's a reason why she abstains from inking and that reason is simple: her late mother didn't want her to.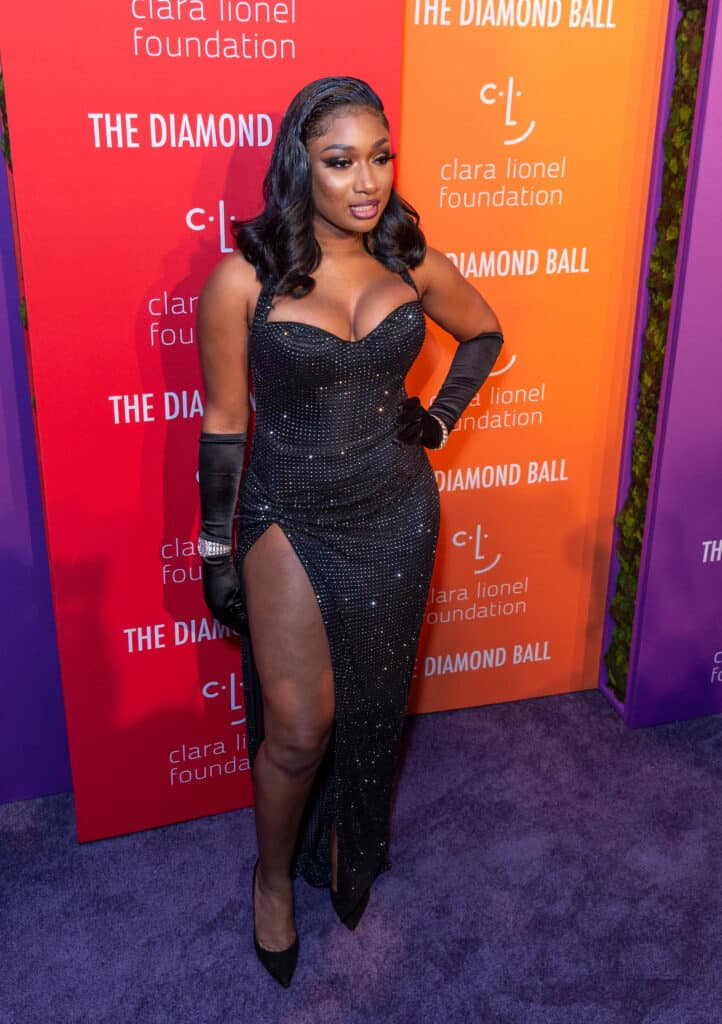 Let's find out more about why Megan Thee Stallion doesn't have any tattoos, what she thinks about permanent fan art, and learn all about her late mother. Plus, let's find out whether she's the only player in the rap game that is ink-free.
Why Doesn't Megan Thee Stallion Have Any Tattoos?
Megan doesn't have any tattoos and for a long time, her fans were speculating why. Luckily for those fans, Megan revealed exactly why she doesn't have tattoos in a 2020 segment for GQ.
She replied to a fan on Twitter with, "Girl, no, I don't have any tattoos. I've always been scared to get a tattoo because my mom was like 'Don't you get a f***ing tattoo, I'ma whoop your ass' and I'll be like 'Damn, all right'."
Her late mother's warning has stuck with Megan way into her adulthood. Megan went on to say "So it's just always been in the back of my head. Tattoos equal whooping."
Because of this, it's unlikely that Megan will ever get a tattoo. But that doesn't mean that she doesn't appreciate tattoos, especially those that involve her.
When a fan got a huge portrait of Megan's face tattooed on her arm, Megan responded on Instagram saying "WOW REAL HOT GIRL SH*T!!! I gotta find this hottie and do something special for you."
Who Was Megan Thee Stallion's Mother?
Megan had a very close relationship with her mother, Holly Thomas. Holly was a small-time rapper who went by the name 'Holly-Wood' and was part of the 'Screwed Up Click' collective.
Growing up, Megan would spend her days with her mother in the studio instead of in daycare. Megan says of the time "I thought everybody's mom was rapping!"
Despite Holly being a rapper herself, she did not want the same for her daughter and convinced Megan to wait until she was 21 years old before pursuing a career in the industry.
Once she reached the appropriate age, Megan went for it with the full support of her mother behind her. When her career began taking off, Holly became Megan's full-time manager.
Sadly, Holly had a longstanding battle with a brain tumor that ended in her untimely death. Holly passed away in early March and Megan announced the news on 22 March 2019 via a now-deleted post on her Instagram page.
Is Megan Thee Stallion A Lone Member of The No-Tatt Rap Club?
The rap industry is dominated by artists that are covered in body art. From Cardi B and her 11 tattoos to Lil Wayne, who has 25 — just on his face! — it seems that rap and tattoos go hand-in-hand.
Megan may be one of the most prominent tatt-free rappers around today, but she is by no means the only one. Though they are the minority, there are a few rappers without tattoos.
Joining Megan in the 'no-tatt rap club' are Ice-T, Big Sean, Common, J.Cole, YBN Cordae, Will Smith and his son Jaden, T.I, as well as Lil Baby.
Ice-T says of his tattoo-lessness, "I have zero tattoos. Have never smoked weed or cigarettes. And don't drink alcohol… Now THATS Gangsta…".
On the other hand, Big Sean simply can't make up his mind. He says "I have no tattoos. I'm too indecisive. I'll decide on something and then next week I'll be like, d*mn, I'm glad I didn't get that."
Lil Baby says "I ain't got no tattoos because I always knew I was going to run my money up, and I was going to have to go sit in front of people to do something with my money. And I didn't want them to look at me like a dope boy. I had to keep my appearance straight."