Megan Thee Stallion has trademarked 'Hot Girl Summer' and she calls her entourage the hotties. As a hottie, what kind of diet does she eat?
Megan Thee Stallion is not vegan. She was a vegetarian for a while but she no longer is. She also considered a vegan diet for a while but she never followed through. In 2021, she decided to go on a health and fitness journey and eat healthier.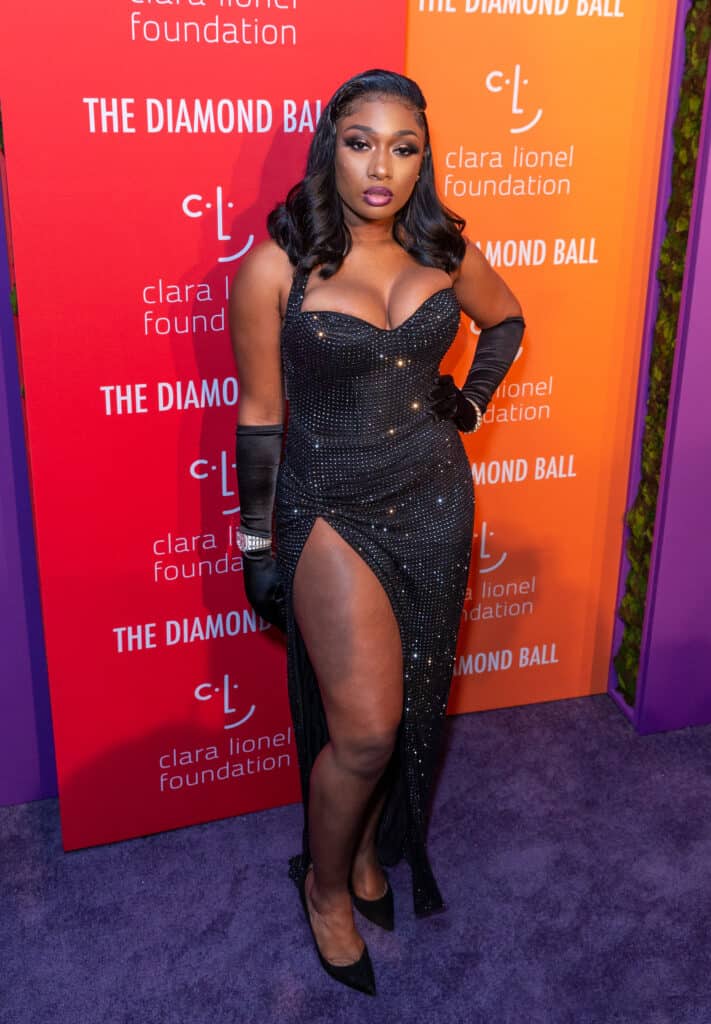 You can read more below about Megan Thee Stallion's eating habits, why she decided to eat healthier, and what she has been doing to stay healthy.
Megan Thee Stallion Was Vegetarian
For a while there, Megan Thee Stallion was a vegetarian. That means that she ate animal byproducts but didn't eat any meat.
At one point, she even considered a vegan diet. When she was interviewed by HotSpotATL she was asked about when it was that she first considered going green. It turns out that she had an environmental science class when she was in high school that helped her to learn about the environment, global warming, and climate change.
She told interviewers that she was vegetarian and that she had seriously considered a vegan diet. However, she wasn't sure she could ever do it because she likes cheese too much.
Since then, Megan Thee Stallion never went full vegan and she also stopped her vegetarian diet. This was confirmed in January 2021 when she was having her last cheat meal before starting a healthier diet and focusing on fitness.
She started a YouTube series on her channel called Hottie Bootcamp. The series was to not only focus on her own personal fitness journey but to motivate others and show them what they can do to eat healthier and get in shape.
In her very first video titled "Hottie Bootcamp – Thee Last Cheat Meal [Episode 1]" Megan Thee Stallion ate her last junk food meal. Included in that meal was eating some fried chicken which means that she was no longer a vegetarian.
You can watch episode 3 of Megan Thee Stallion's Hottie Bootcamp titled "Hottie Bootcamp – Grocery Haul with Tim and Thee First Workout" in the below video.
Her Decision to Get In Shape
In that very first Hottie Bootcamp that Megan Thee Stallion posted to her YouTube, she explained why she had decided to focus on her health.
She said that because of the Covid-19 outbreak it was a crisis time where everyone has to stay inside more. Since she was inside so much she felt that the fridge had been calling her name more and more.
Megan Thee Stallion elaborated that she likes to snack and eat what she wants to eat but that food was starting to be really unhealthy. She felt like the food she was eating was slowing down her ability to perform and have energy. She also said that this wasn't to lose weight but more to have energy.
So she decided to start Hottie Bootcamp and started to work with Tim Boutte. Boutte is a former pro-athlete who trains NFL and NBA players along with big celebrities.
Megan Thee Stallion's New Lifestyle
Under the guidance of Tim Boutte, Megan Thee Stallion has made some big changes to her diet and lifestyle. On her very first day, Boutte started by getting her fresh food from Whole Foods and said that they would be buying groceries every two days to keep it fresh.
Boutte made her a "Hot Girl Smoothie" that she now drinks before every workout. The smoothie has fresh strawberries, blackberries, bananas, kale, peanut butter, almond milk, and ice in it.
On Tim Boutte's Instagram page, he posts a lot of his food recommendations which are some of the foods that Megan Thee Stallion could be eating as well. They are foods that are mostly high in protein, fat, and fiber, and usually consist of mostly veggies and meat.
As for the 'Wap' rapper's exercise routine, she has done a huge variety of workouts. Her first workout had her doing a lot of bodyweight training without any weights only using resistance bands.
From there she went and tried out a pole dancing class for the first time ever. That's one of the best parts of starting a new active lifestyle, you can make it fun by trying out new things that aren't just lifting weights.
Of course, Megan Thee Stallion has done some weight lifting. She also tried out boxing and high-intensity interval training.