Megan Pete, or Megan Thee Stallion, is one of the very few female rappers who have overcome stereotypical barriers and made it to the mainstream music sector. The singer, songwriter, and rapper is known for her sensual voice, explicit lyrics, and incredible confidence — in and out of her dresses.
Megan Thee Stallion wears a US size 8 dress and is known for her "thicc" body. She frequently mentions her body, and how fond she is of it, in her rap songs. In "Body" she describes herself as a "hot ebony" with "big titties" and a "lil' waist."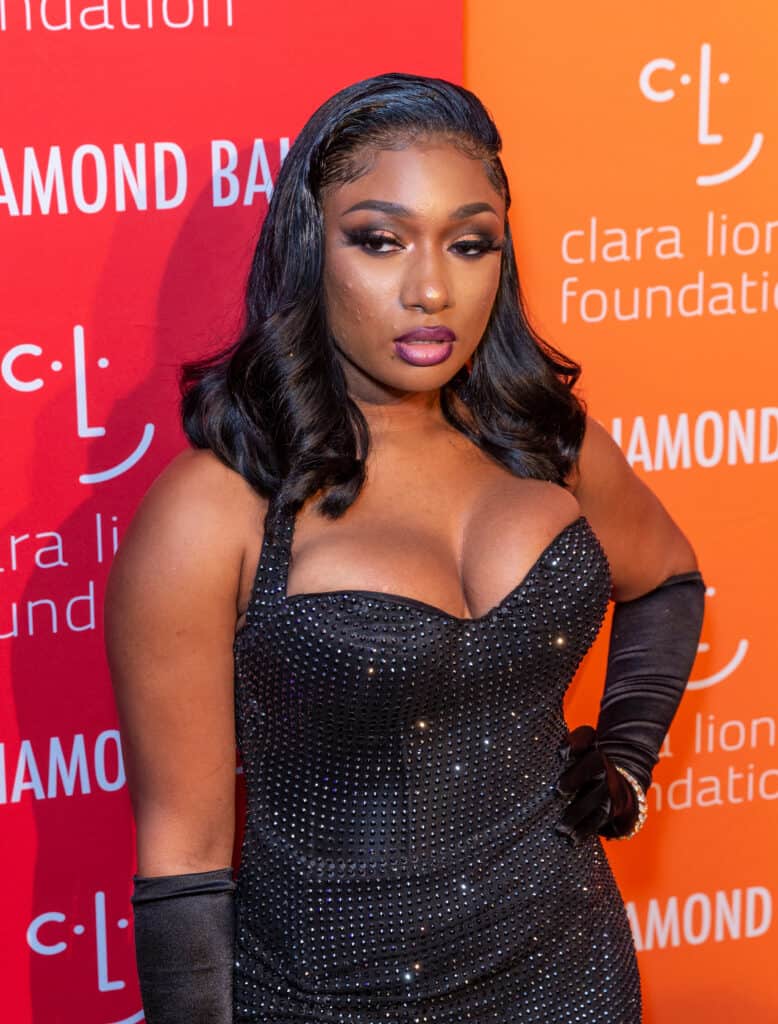 Ever wondered how Megan got the name Thee Stallion? Or what dress size she wears and how she prefers to dress? How about what kind of relationship she has with her body? For the answers to those questions, as well as the lowdown on the rest of her measurements, keep reading.
Megan Thee Stallion Dress Size and Style
On 15 February 1995 Holly Aleece Thomas, a rapper by the name of Holly-Wood, gave birth to her first and last child; a daughter she named Megan Jovon Ruth Pete. During Megan's childhood, Holly took her to the recording studio instead of daycare.
Given her unusual upbringing, it came as no surprise when Megan began writing rap songs at the age of 16. On her mother's request, who thought the lyrics were too sexually suggestive for someone of her age, Megan waited until she was 21 years old before pursuing a career in rap.
She began uploading videos of her freestyling to her social media channels and garnered a loyal following of "hotties" whose support propelled Megan to stardom. Explicitly lyrics and wearing clothes that "hug in all the right places" have always been part of her image.
Megan wears a US size 8 dress and prefers her clothing to be of the skin-tight variety. She generally mixes bespoke designer pieces with clothing from affordable retailers. Megan doesn't stick to one style but enjoys trying out current trends and coming up with her own.
While she's chilling at home she'll usually don a sweatsuit, swimsuit, or bodysuit. When she's performing she wears clothes that are curve-hugging and eyecatching. The body-positive star also has her own inclusive clothing collection which she released with Fashion Nova.
Megan Thee Stallion's Relationship With Her Body
If there's one thing that Megan has in spades, other than Instagram followers, it's confidence in her skin. Megan loves sharing sexy snaps of her wearing bikinis and hotpants to her social media pages and often puts accompanying captions such as "When it comes to body nobody bodying me."
She dresses sexily and opts for skin-tight clothing because "it's not just about being sexy, it's about being confident and me being confident in my sexuality." Megan encourages her fans to celebrate their bodies and hopes that her song Body helps them to do so.
At the 2020 AMAs, where she performed the chart-topping hit and nabbed numerous nominations, she said "I love my body. Every curve. Every inch. Every mark. Every dimple. It's decoration on my temple…You may not think my body is perfect, and it probably never will be. But when I look in the mirror, I love what I see."
While she mentions her body in most of her songs, specifically her genitalia, her song Body is a tribute to her body that went viral and has turned into a successful TikTok challenge. In January 2020 Megan expressed a new interest in health and fitness and has drastically changed her diet since, although it's not clear whether her goal is to lose weight or not.
Megan Thee Stallion's Measurements
Ever wondered why Megan Pete adopted the stage name Megan Thee Stallion? It's because of her impressive 5'10" height and "thicc" body frame earned her the adolescent nickname "the stallion", which is a term of endearment given to statuesque women in the South.
While 5'10" might not sound like much, the average US woman measures in at just under 5'4". Megan weighs approximately 148 lbs, wears a 36A bra, and a US size 8 shoe. The raunchy rapper has a 26-inch waist and 28-inch hips.