Megan Thee Stallion, a Houston-born American rapper, has been making waves since the release of her second extended play, Tina Snow, featuring the hit song, Big Ole Freak. It ranked 99 on the Hot Billboard 100 and accelerated her rise in the hip hop scene. Apart from her music, the female rapper's claim to fame has got something to do with her physique. So, what is Megan Thee Stallion's height, exactly? Let's dive in.
Multi-awarded rapper Megan Thee Stallion confidently stands 5 feet and 10 inches (1.7 m or 177.8 cm) tall. She's proud of her statuesque figure and isn't afraid of the haters commenting on her taller-than-average height. In fact, she claps back at one commenter by saying: "Y'all be thinking y'all insulting me by calling me tall. B***h I been tall all my life and still get any man I want."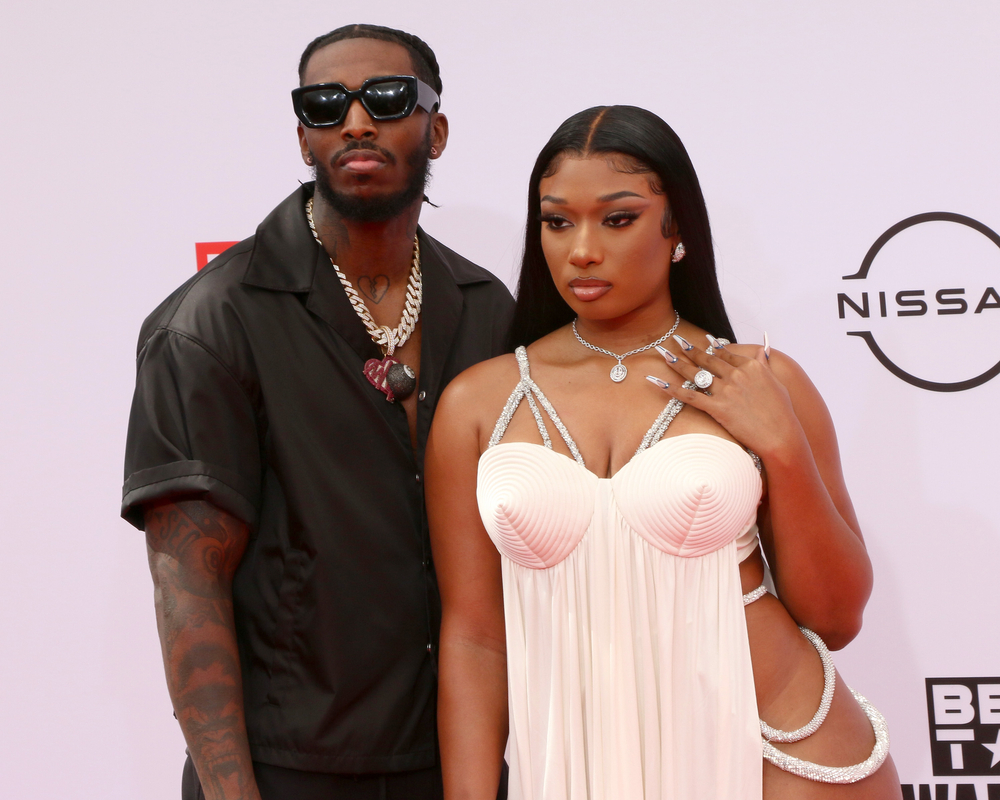 Sizzling and looking hot in all her 148-pound glory, Megan is proud not just of her height but also espouses body positivity. She once posted a photo of her showing stretch marks on her upper thighs, something that a lot of women secretly struggle with.
Who is Megan Thee Stallion's mom?
Megan's height has never gotten in the way of achieving her dreams. She's known music all her life, thanks to her rapper-mom, Holly Aleece Thomas, who instead of keeping her in daycare, tugged her daughter along to recording studios. Megan shares how she would constantly put her ear against the door while her mom was recording and said to herself, "I'ma do that, too."
Sadly, her mother passed away from a brain tumor in 2019, when Megan's star was beginning to rise. She continues to draw strength from Holly's advice as she continues on her music career.
What's Megan Thee Stallion's real name?
Megan Jovon Ruth Pete was born on February 15, 1995 and grew up in South Park, Houston, Texas, USA. She studied in Pearland High School, where she was once crowned Ms. Pearland in 9th grade. There's no stopping the budding star when she showed everyone at a college party her freestyle rap that became viral on Instagram and YouTube in 2013. 
Megan Thee Stallion's age as of 2022 would be 27 years old. Her writing began at the age of 14, but she only started showcasing her rhymes when she turned 18 by joining freestyle rap battles where she emerged victorious over her male competition. The young rapper gained a lot of attention when she signed with 300 Entertainment and became its first female rapper.
How did Megan Thee Stallion become famous?
Megan's career took off in 2019 with a critically acclaimed debut mixtape called Fever. She hit it big with the party song Hot Girl Summer, featuring veterans Nicki Minaj and Ty Dollar $ign. The mixtape sold five hundred thousand copies.
In 2020, she released an extended play, Suga, that includes the widely popular hit song, Savage. Social media (particularly TikTok) and some content creators made it viral by using it as a dance challenge. Megan did a collab with Beyonce that made the song's remix climb to number 1 in the Billboard Hot 100.
Stallion recorded her debut studio album, Good News, which includes hits like Body, Savage (ft. Beyonce), and Girls In The Hood. The album hit the record chart Billboard 200 and scored high on Metacritic. More recently, Megan was part of Dua Lipa's The Future Nostalgia Tour and appeared in Coachella in 2022. 
Were Megan Thee Stallion & Tory Lanez in a relationship?
As fame came rushing in, Megan got entangled in a controversy with Tory Lanez, a Canadian rapper arrested for carrying a concealed weapon in 2018. Turns out, when police flagged down Lanez' car in the Hollywood Hills, Megan was inside with gunshot wounds instigated by Lanez.
For fear of her life, Megan never spoke up during the incident but has since been in possession of a restraining order against the Canadian rapper.
Who is Megan Thee Stallion's boyfriend?
In 2019, Hot Girl Meg suffered a great loss when her mom passed away due to a brain tumor. The following year, she and former boyfriend Moneybagg Yo called it quits.
Rumors circulated that she started seeing her songwriter, Pardison Fontaine. The two became Instagram-official in an Instagram Live where she called Fontaine her "boo" and "boyfriend." The couple celebrated their second anniversary in October 2022.