As the frontman of one of the world's most well-known rock bands, Mick Jagger has shown us all his moves over the years. But does the aged rocker only sing or can he play some instruments too?
Mick Jagger plays guitar. At the beginning of his career with The Rolling Stones, he only sang and would occasionally play the harmonica. Eventually, though, he did start to play guitar on-stage and in concert with the group. Jagger is credited on most Stones songs as a guitarist.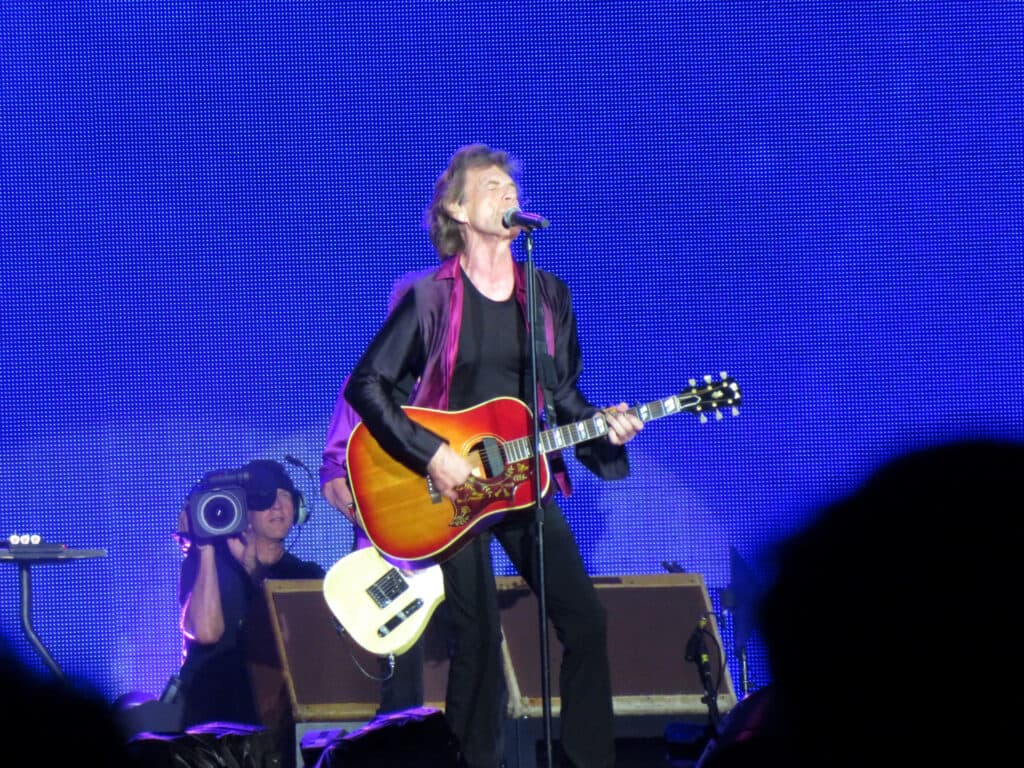 Scroll down to read more about Mick Jagger's role in The Rolling Stones, his guitar playing, and his stage antics.
Mick Jagger on Vocals, Keith Richard on Guitar
The Rolling Stones officially became a rock band in London in 1962, however, the forming of the group started well before then. Brian Jones was the official founder of the group when the five members who had met through the Ealing Jazz Club formed a band.
The original members were Brian Jones, Mick Jagger, Keith Richard, Dick Taylor, and Ian Stewart. Dick Taylor left after only a few months with the group and was replaced by a few different bassists before Bill Wyman permanently took over the role. The group also went through a few drummers before Charlie Watts became a permanent fixture in the band.
However, long before The Rolling Stones were formed, Keith Richards and Mick Jagger were friends. They had grown up together in the same neighborhood. They lived only one street away from each other and attended the same primary school from the ages of 7 to 11. Their moms also happened to be friends.
Mick Jagger did a very rare interview with Rolling Stone Magazine in 1995 where he answered a lot of questions that he had refused to talk about in the past. The interview gave fans insight into the relationship between Mick Jagger and Keith Richards, their longtime friendship, and the partnership that labeled them the Glimmer Twins.
In the interview, Jagger elaborated how they went from friends to bandmates. The two had run into each other on a train platform and he had been carrying some rare blues records that weren't available in England. Richards and he bonded over their love of blues and they started to form a group.
He goes on to say that "Keith always played the guitar, from even when he was 5. And he was keen on country music, cowboys. But obviously at some point, Keith, he had this guitar with this electric guitar pickup. And he played it for me. So I said, 'Well, I sing, you know? And you play the guitar.' Very obvious stuff."
So it was that Mick Jagger got his start as a singer while Keith played guitar. When they joined up with Jones and Stewart to form The Rolling Stones, Mick Jagger was the lead vocalist. And although it is unknown when, Mick Jagger did learn to and eventually started playing guitar on-stage in 1969.
Watch the below video to see The Rolling Stones performing 'Midnight Rambler' at a rare and intimate club show in 1971. In the video, you can see Mick Jagger playing the harmonica.
Jagger's Ability to Play Guitar
Mick Jagger has always maintained that he is not a great musician. He has praised Keith Richards for his ability to play the guitar and he has said in interviews that Brian Jones was miraculously good on guitar although he couldn't write lyrics to save his life.
On December 8, 1969, the frontman famously said "I don't really like singing very much, I enjoy playing the guitar more than I enjoy singing and I can't play the guitar either."
Since he has been playing and singing for over fifty years, we doubt that this statement rings true these days. He wouldn't have stuck with it for so long and gotten so good if he truly hated it. With so many years under his belt, he is also a much better player than he would have been in 1969 too.
There is one thing that Mick Jagger seems to love above all else though and that seems to be putting on a show. Since he first showed up on the rock scene when he was just a teen, he was known for going into the audience and rolling all over the floors as the perfect personification of your stereotypical rocker.
Sometimes a band doesn't need a frontman who plays guitar, they need a frontman who can sing and make them stand out above all the other groups out there.