Rafael Nadal is one of the most famous athletes in the world who is largely regarded as one of the greatest tennis players to have ever hit the court. The King of Clay seems to have it all, but does he own a private jet?
Rafael Nadal is the proud owner of a private jet, a Cessna Citation CJ2+ to be exact. El Nino mainly uses his private plane to travel to and from tournaments and has even brought his competitors along for the ride.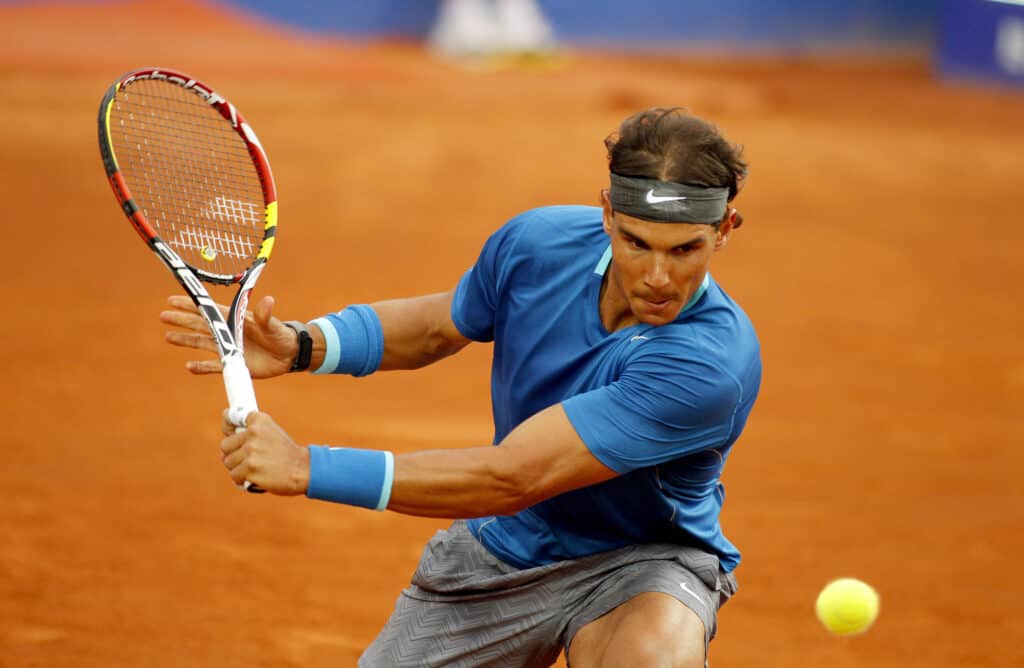 We all know that Rafael is rich, but just how rich is the international sports superstar? Let's take a closer look at what type of private jet Rafael owns, as well as how he makes — and spends — his significant wealth.
Rafael Nadal's Private Jet
Rafael owns a Cessna Citation CJ2+. This specific jet, of which only 223 were produced, can cost up to USD $3,595,000 to purchase and around USD $286,167 to maintain every year.
He joins the likes of Oprah Winfrey, John Travolta, Michael Jordan, Christiano Ronaldo, Lionel Messi, Roger Federer, and a handful of others in the exclusive private jet owner club. 
Though he owns a private jet today, it wasn't always that way. Once upon a time, the tennis legend flew coach like the rest of us mere mortals.
Back in 2010, Rafael was battling to find an available seat on a commercial flight and so Roger Federer, who was also invited to the 'Match for Africa', gave him a lift in his own private jet.
Just three years later, Rafael declined an offer to fly on a private jet from the Tennis Federation of Spain. Rafael said of the offer, which came just after Madrid's failed Olympic bid, "I don't think it's the right time to make the State pay for my trip."
Taking a leaf out of Roger's book, Rafael offered Viktor Troicki — who he had defeated in the Mercedes Cup final the day before — a spot on his private jet as the pair headed to London.
Viktor thanked Rafael in a Twitter post by sharing a selfie of himself, Rafael, Toni, and the pilot standing in front of the plane. He captioned the post "Thanks to great champion @RafaelNadal for giving us lift to London!"
The tweet not only went viral but also helped the public view Rafa in a more personable light.
How Rafael Nadal Makes His Money
Naturally, one needs to have a fair amount of disposable income to purchase a private jet and Rafael happens to have a lot of it. He has an estimated net worth of between USD $180 and $200 million, most of which he earned on the court.
Rafael went pro in 2001 and had earned himself a cool USD $121 million by 2020. He is also sponsored by numerous brands including Kia Motors, Nike, Lanvin, Emporio Armani, Tommy Hilfiger, Babolat, Richard Mille, and Helicore.
It's estimated that Rafael earns upwards of USD $40 million a year through endorsements, appearance fees, and his tournament winnings. So, how does this millionaire spend his cash?
How Rafael Nadal Spends His Money
In case you were wondering whether Rafael limits the spending of his hard-earned cash on private jets, wonder no more. Though the tennis superstar does have a penchant for purchasing luxury means of transportation.
Back in 2019, Rafael splurged on an 80 Sunreef Power Catamaran private yacht. This custom yacht, which boasts an on-deck bar, a spa pool with a waterfall, and a garage for his jet skis, replaced his 76-foot MCY 76 motor yacht.
He's also a petrolhead and a Kia Stinger, Aston Martin DBS, and Mercedes-Benz SL55 can all be found in his garage. A Gocycle electric bike — valued at a whopping USD $4,499 — also forms part of Rafael's collection of wheels.
Rafael has also invested in two properties, his USD $1.5 million Mallorca home and a luxury holiday home in the Dominican Republic.
But the Grand Slam champion doesn't only spend his money on himself. In addition to establishing the Fundación Rafa Nadal, he has publicly supported charities such as Elton John AIDS Foundation, Small Steps Project, and the Laureus Sport for Good Foundation.