Ever since he picked up his tennis racquet at the tender age of three, Rafael Nadal's tennis talent has been undeniable and today he has numerous trophies and titles to back this up. Rafael Nadal is undoubtedly one of the greatest players of all time, but is he the GOAT?
Rafael Nadal's tennis abilities are incredible, and he has gone down in the history books for being one of the greatest players of all time, but he's no GOAT. That title has been held by Roger Federer, who has 934 GOAT points, while Rafa has 850.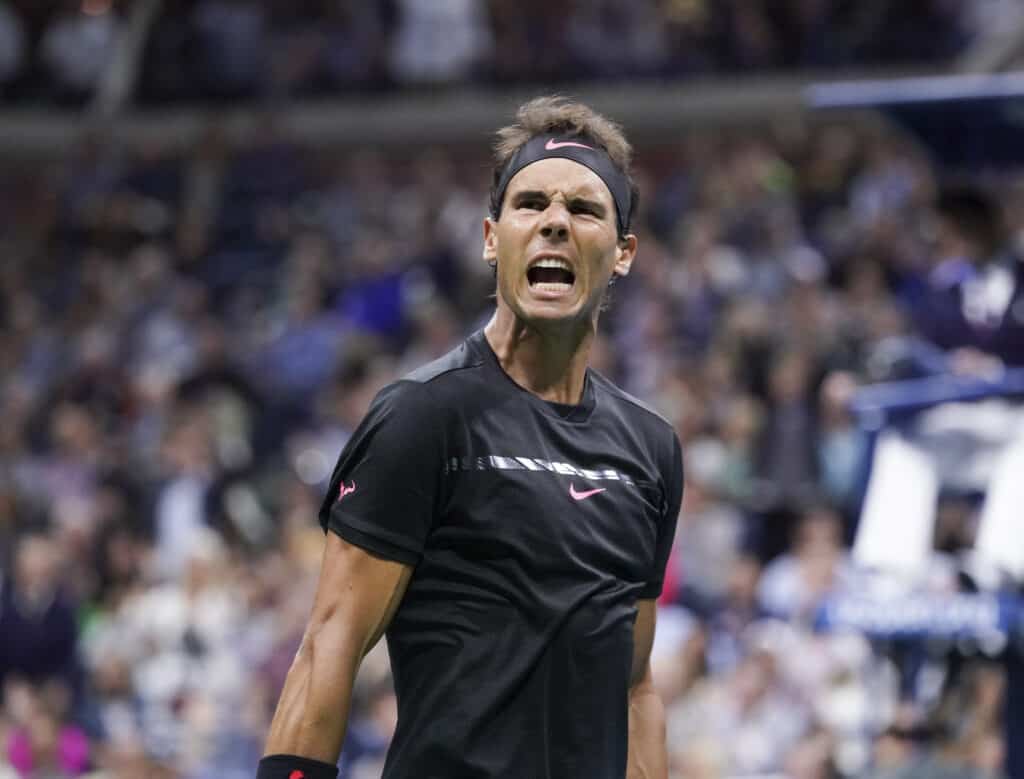 Despite not being the GOAT, Rafael is a GOAT and a living legend who has set and broken tennis records for many years. Let's take a closer look at how the King of Clay got started in tennis, what his biggest victories have been, and where he officially stands on the GOAT list.
Rafael Nadal's Early Tennis Journey
While other three-year-olds were playing with dolls or Lego blocks, Rafael was playing with his tennis racquet. His family was very sports-minded, with his uncles having ties to tennis and football.
Rafael told Tennis Head, "I started playing tennis because my uncle was a coach at the club in Manacor, which is my hometown. I started playing there with the other kids at the school, and well, I started to get good at tennis. I think that was when I was eight or nine years old, I already stood out"
He continues, "Life led me to keep playing tennis. I enjoyed playing, I liked to compete and thanks to tennis I made a lot of new friends. The truth is that I had a great time."
After dominating both the national and international junior circuit, Rafael went pro at the ripe age of 15 years old. His life was centered around training, competing, and learning English.
In the year he turned pro, 2001, he broke into the top 50 tennis players in the world. He also became the youngest player to win his first ATP match.
But he didn't miss out. He told Tennis World USA, "Honestly, I didn't miss the things that the rest of my friends of mine did. I did less times but yes I was not the kind of guy or person that I was just focused on tennis tennis tennis every single day."
He goes on to say, "I was practicing very hard yes I was focused when I was on court 100%. But outside the court, I would enjoy my life… I don't think I missed anything. The only thing I can say is if they did 1000 times I probably did 100 times."
Rafael Nadal's Victories
As of 2021, the sports superstar has earned USD $123,482,764 in prize money and has 86 career titles to his name.
Rafael also won 20 Grand Slam Singles Titles and has been awarded the prestigious Laureus World Sportsman of the Year Award in 2009, 2011, 2014, 2018, and 2020.
Some of his other achievements are that he was crowned the BBC Sports Personality World Sport Star of the Year in 2010, won the ESPY Award for Best Male Tennis Player in 2011 and 2014, and was the 2018 ITF World Champion for Men's Singles in 2018.
As if all of the above wasn't impressive enough, he was also an Olympic Gold Medalist in the 2008 Beijing Summer Olympics.
Who is the GOAT in Tennis?
Rafael is an incredible tennis player who has earned all of his awards and accolades through grit, determination, perseverance, and endless hours of training. He sits in the third position on the GOAT list with 850 GOAT points.
Novak Djokovic, who turned pro just two years after Rafa did, claims the second position on the GOAT list with his 902 GOAT points. He has won over USD $145,861,177 in prize money and has more than 82 career titles and 17 Grand Slam Single Titles to his name.
As of 2021, Roger Federer is the GOAT. He turned pro in 1998, so he has been at it longer than Novak and Rafael, and has won 103 career titles, 20 Gram Slam Single Titles, and has won more than USD $129,946,683 in prize money.
Even though the GOAT list is technically fluid and updates with every match, the current rankings are likely to remain as they are for years to come while all three tennis players are actively competing.