Tennis and sports have been Rafael Nadal's passions since he was a kid, and, today, is the greatest clay-court player in the world. One of the most disciplined and dedicated athletes of his time, Nadal has legions of fans who believe in him, but when it comes to matters of faith, what does he believe in? Is the tennis titan religious?
Nadal identifies as an agnostic atheist. When asked by Sports Illustrated if he believed in God, he shared that he didn't believe he existed, that it was a private matter, and didn't want to talk about it, quoting "If God exists, you don't need to do the cross or pray."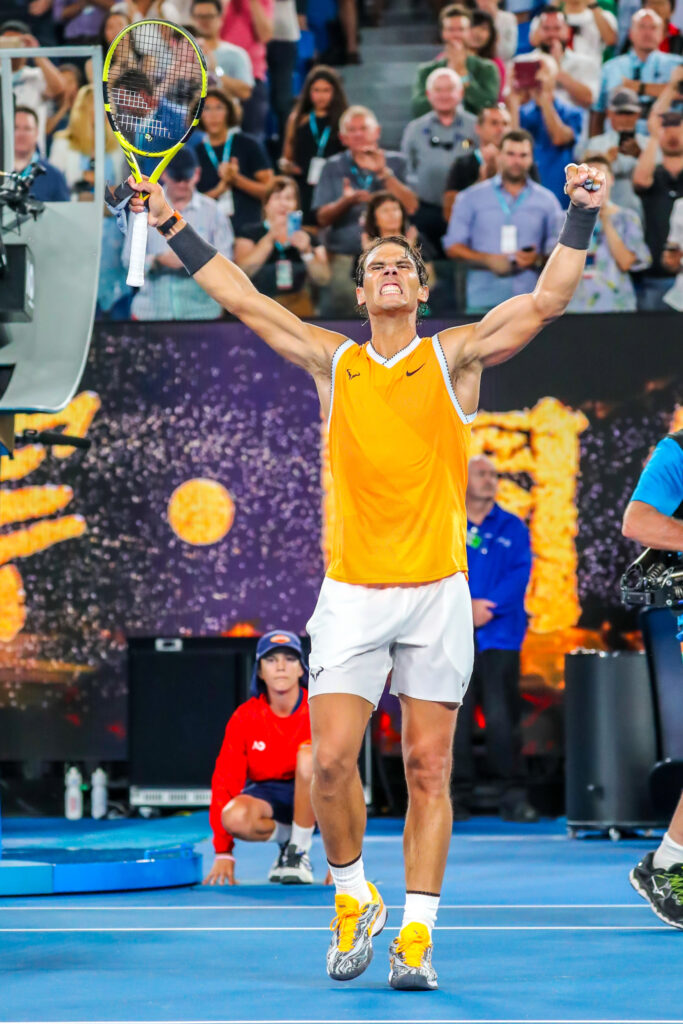 Even if the left-handed player doesn't hold deep spiritual beliefs, he has given back to his community by building a school to develop future tennis stars and numerous philanthropic work.
Rafa Nadal Academy
Located in the French Open Champion's hometown in Ctra. Cales de Mallorca in Manacor, Illes Balears, Spain, the Rafa Nadal Academy by Movistar is a high-performance tennis school where the player created a unique training system based on his experience through the ATP circuit.
While the Rafa Nadal Academy was being constructed in 2015, The King of Clay told Sky News that building an academy is not about legacy but the motivation for the next generation of good tennis players. It was designed to be a central hub where the youth can train for tennis and also go to school.
He recalled that when he was around 12 to 14 years old, his schedule was so packed that he'd go to school from 9 am to 12 noon then practice tennis from 12 noon to 2 pm, went back to school from 3pm to 5 pm, played football from 5:30 pm to 7:30 pm. and played even more tennis after. He'd only go home to have dinner but there was still homework to be done.
"Everyone I love is in Manacor" so it was the ideal place to build the site, the two-time Wimbledon Champion explained.
Amenities in the facility include a sports residence, museum, fitness center, spa, café, and a state-of-the-art health clinic.
Rafa Nadal Academy Course Offerings
The international tennis academy offers tennis and academic education so students can learn tennis without compromising their studies. Not only does the institution focus on children and young adults but also offers several programs for adults.
The team at the Academy includes Nadal's uncle, Toni Nadal, who was also his former coach, along with some of the best coaches in the world. Some of these coaches have been there for Rafa in his career such as former world #1, Carlos Moyá.
If one wishes to be a tennis champion, the academy has Junior and adult camps, and even one for language and sports. It has an annual and semestral program for players aged 11 to 19 years old, with Toni Nadal training the youngsters for their future in the sport to maximize their potential without compromising excellence in their academic journey.
All the values in building budding champions include physical and mental training and understanding the importance of nutrition.
But how much would it cost to enroll your child here? According to Reuters, in 2017, it would cost around 56,000 euros or $62,000 annually.
Casper Ruud from Norway and Iga Swiatek from Poland, ranked #8 and #1 in the world, respectively, are graduates of the prestigious school. Up and coming star Alex Eala from the Philippines also trained at the academy and is currently the top tennis player in Southeast Asia.
Philanthropy
Fundacíon Rafael Nadal was conceived in 2007 and was presented in 2008 at the Manacor Tennis Club in Mallorca, Spain, focusing on social work and developing aid for children in Spain and India through sport and education. The organization reinforces the social and personal integration and development of the youth.
Aiming to achieve equal opportunities for the kids to improve their talents and skills regardless of their social and personal conditions, the institution has 10 years of experience to date and has cared for 6,100 children and counting, more than 800 beneficiaries in 2020, and opened 23 schools in Spain and India.
"I'm always working for the same goal: to improve as a player and as a person." said the 22-time Grand Slam winner.
Other Charities
The two-time Olympic gold medalist also supports the Elton John AIDS Foundation, Laureus Sport for Good Foundation, The City Harvest, and Small Steps Project.
Nadal may not believe in God but with the amount of success he's had, he's surely been blessed by the divine because of his generosity and kindness. Despite a busy schedule, the tennis giant finds time to tend to his projects outside of tennis and recently addressed the graduates of the Rafa Nadal Academy in June 2022.