He's long been known as the King of Clay, but there is much more to Rafael Nadal than his tennis playing abilities. One of his many lesser-known skills is his ability to pick up languages, but what languages does Rafael Nadal speak?
Rafael Nadal speaks five languages. He is fluent in Spanish and Catalan, has been learning how to speak English since the age of 15, and is an intermediate-to-advanced speaker of both the French and Italian languages.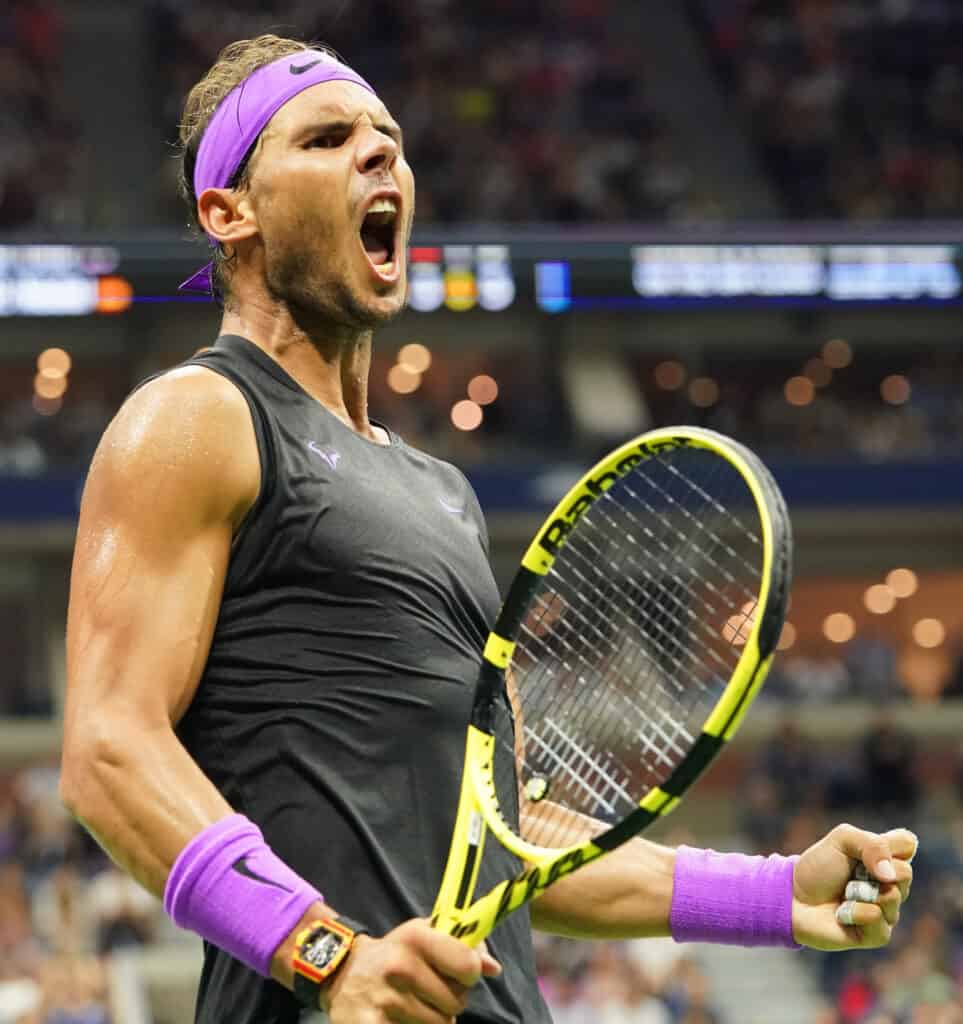 There's no denying that Rafael Nadal is an impressive gentleman, whether he's on the court and off it, and his determination to learn how to speak new languages is admirable. Let's take a look at these five languages, and how Rafael came to learn them.
What is Rafael Nadal's Home Language?
Many people are surprised to discover that Rafael has two home languages that he has spoken for all of his life. This comes as a result of his birthplace and upbringing.
Rafael was born in a Majorcan town called Manacor, which is in the Balearic Islands. His parents, Sebastián Nadal Homar and Ana María Parera Femenías were also born in this same town on the Spanish island.
The island has two official languages: Catalan and Castilian Spanish. Though Rafael speaks Castilian Spanish, which is a specific variety of Spanish that is spoken in northern and central Spain, he is also able to speak the type of Spanish that is spoken in areas such as Latin America.
It's important to understand that Catalan is not a dialect of Spanish, it is a completely different language. Technically, Spanish is classed as an Iberian-Romance language while Catalan falls into the Gallo-Romance category.
The Catalan language has eight vowel sounds whereas Spanish only has five. Another difference is that written Spanish is entirely phonetic while Catalan — like English — is not.
Much like Spanish and English, Catalan is spoken in various parts of the world. In particular, it's the official language of Andorra, and the co-official language of Catalonia, the Balearic Islands, and the Valencian Community.
It's also spoken in Ibiza and in eastern strip of Aragon. Away from Spain, it is spoken in the Northern Catalonia area of France.
Can Rafael Nadal Speak English?
Rafael's incredible tennis playing ability saw him traveling the world. With this immense honor came the need to learn English to be able to converse with his opponents and those around him.
Today, he is an intermediate English speaker who — despite his thick accent — has no trouble being understood when he speaks it. But he only began learning how to speak English when he was 15 years old so there is still a bit of a gap in his vocabulary.
He was quoted saying, "I have been learning English on the road since I started when I was 15, so it is a slow process but making some progress. Now I think I am much more comfortable with my English. However, it is difficult, still, when I speak about something that is not tennis."
When speaking to Rafael Nadal Fans, he was asked what challenges were presented while he was learning English. He responded, "For me was much more fun before. I don't care about what I was saying. I only had a few words, that's it. Was good fun but was not good."
Can Rafael Nadal Speak Any Other Languages?
It would appear as though learning new languages is a special skill of this tennis legend. He speaks fluent Spanish, Catalan, and English but that's not all.
Rafael can also speak French, although he doesn't flex his French-speaking skills too often. His proficiency in the language is undetermined, but video clips like the one below indicate that he is a either an intermediate or advanced speaker.
In addition to being able to hold his own in a French conversation, Rafael can also speak Italian. He has spoken the language on occasion and, much like French, he appears to be an intermediate speaker.
Though his linguistic skills are incredibly impressive, he's not the only multilingual pro tennis player. Roger Federer speaks five languages, while Novak Djokovic speaks 11 languages!