Reese Witherspoon is an award-winning American actress and producer. She has been a household name for decades, starring in numerous films and TV shows since she was 15 years old. While she's known to be brilliant at acting, her singing role as June Carter in the 2005 movie, Walk the Line made people wonder if she could actually sing.
Reese Witherspoon learned to sing for her role in the movie, Walk the Line. She performed all her songs in the film without being dubbed, which means she has a naturally beautiful voice.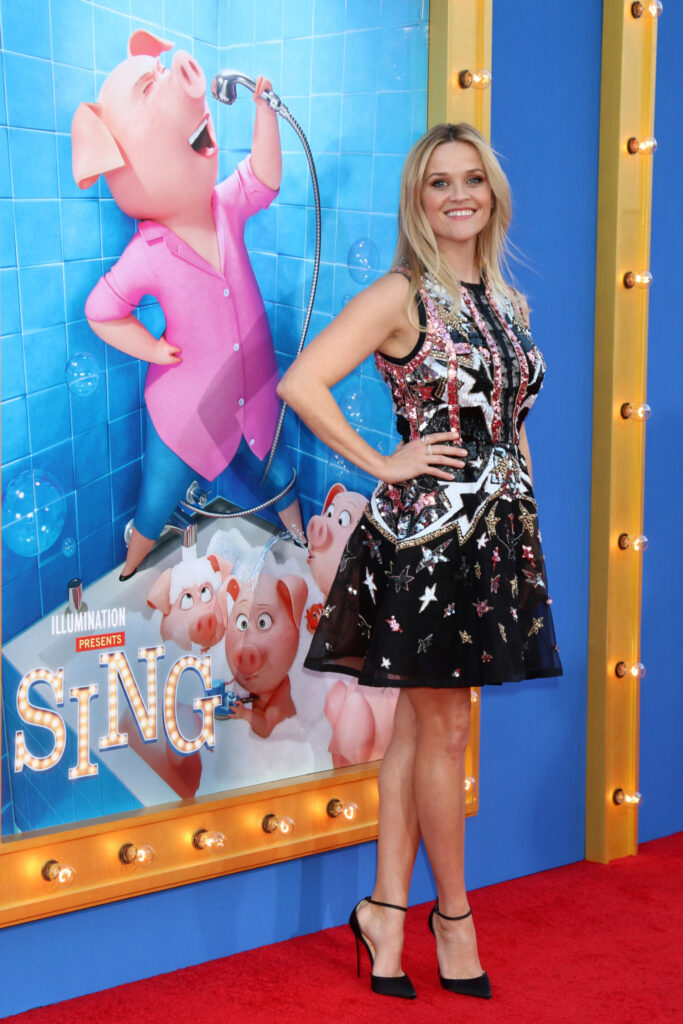 Read on for more details about the Walk the Line and Sing star's singing skills.
How Did Reese Witherspoon Learn To Sing?
Reese Witherspoon played the role of June Carter, the second wife of singer Johnny Cash, in the award-winning film Walk the Line. In 2006, the actress won the Academy Award for Best Actress for her role in the movie.
Reese Witherspoon admitted that she had to "do four months of rehearsals and learn to play the autoharp. I had to take singing lessons. I had to record an album, which was the most challenging, horrifying experience of my life." Reese also confessed, "It's been so hard; it's been really, really one of the hardest movies I've ever had to make."
In the animated movie Sing, Reese Witherspoon voiced the character of Rosita, an overstressed housewife with 25 piglets. She sang three songs in the film: Katy Perry's Firework, Bananarama's Venus, and Taylor Swift's Shake It Off.
In an interview on Late Night With Conan O'Brien, she said, "I've never sung before professionally. We practiced. We did six months of voice lessons, and then we recorded an album over six months. I got to learn how to sing, basically. This man, Roger Love, taught me how to sing."
Roger Love served as the actress' vocal coach throughout the filming. She also applied the lessons that she learned from him in Sing and Sing 2.
Ellen DeGeneres asked Reese Witherspoon on her show, "You sing a lot of Katy Perry and Taylor Swift. Was that harder to sing it this way?" To which Reese replied, "Oh, it was much harder. I grew up wanting to be a country music singer, so the Walk the Line stuff was more in my heart."
Reese added, "I actually ran into Taylor and Katy while I was doing the movie, and I was like, 'You guys, this is really hard.' And they were like, 'Yeah, we know.'"
Professional singers Jennifer Hudson and Tori Kelly were both Reese's co-stars for the Sing movie franchise. During their filming, Reese revealed that they would ask her to come back multiple times to perfect their musical numbers. "It took me seventeen days to record three songs," she said.
More Interesting Facts About Reese Witherspoon
Reese Witherspoon's full name is Laura Jeanne Reese Witherspoon. Unknown to many, "Reese" is actually her mother, Betty Witherspoon's maiden name. To give tribute to that, she also named her second child with actor Ryan Phillippe, Deacon Reese Phillippe.
Reese Witherspoon has three children, namely Ava Elizabeth Phillippe, Deacon Reese Phillippe, and Tennessee James Toth. Reese was 23 when she had her first child. She gave birth to Ava six months before shooting one of her most popular movies, Legally Blonde.
Reese and her ex-husband, Ryan Phillippe, are successfully co-parenting their two children, Ava and Deacon.
In an interview, Reese expressed her gratitude for Ryan, even though they had already parted ways. "I couldn't have done it without Ryan's support. I was worried that I wasn't getting enough sleep because my daughter Ava was sick quite often during the shoot, and there were a lot of days when I didn't think I could pull it off."
She continued, "Some nights, Ava would wake up screaming because she had the flu, and I would spend most of the night trying to rock her back to sleep and then have to be on the set at 7 in the morning for make-up! And then you throw in the fact that I'm supposed to be playing a very bubbly and energetic California preppy who is smiling all the time! I kept thinking, 'I'm going to kill myself! I'm never going to make it!," she told Cinema.com.
In 2015, Reese Witherspoon launched her clothing company, Draper James. On the clothing company's website, Reese wrote, "I started this company to honor my Southern heritage and in particular my grandparents who were, and still are, the greatest influences in my life: my grandmother, Dorothea Draper, and my grandfather, William James Witherspoon."
In 2017, Reese Witherspoon revealed that she was a cheerleader for wrestling and football. On The Tonight Show with Jimmy Fallon, Reese explained, "In the South, you have a cheerleader for basically everything."
Reese Witherspoon got her debut role in The Man in the Moon in 1991. In an Instagram video, she shared, "I learned everything I needed to know about being a film actor: how to hit marks, how to perform for a camera, how to get emotional."
In 2018, Reese Witherspoon published a cookbook, Whiskey in a Teacup, with Southern-inspired recipes.
Reese Witherspoon told Vogue in 2019 that she was suspended for selling hair accessories in third grade.
Witherspoon attended Stanford University, studied English Literature for one year, and dropped out to pursue an acting career.