Steve Harvey is an American television host, actor, author, comedian, and radio personality who is known for his self-help advice, his comedic timing, and his impeccable selection of suits. There's no denying that Steve is as stylish as can be, and he clearly has a passion for fashion, but does he have a clothing line?
Steve Harvey has a clothing line called the 'Steve Harvey Collection' which is sold at major department stores and specialty store suits. The collection includes four men's suit ranges, one range for boys, and a variety of handmade shoes.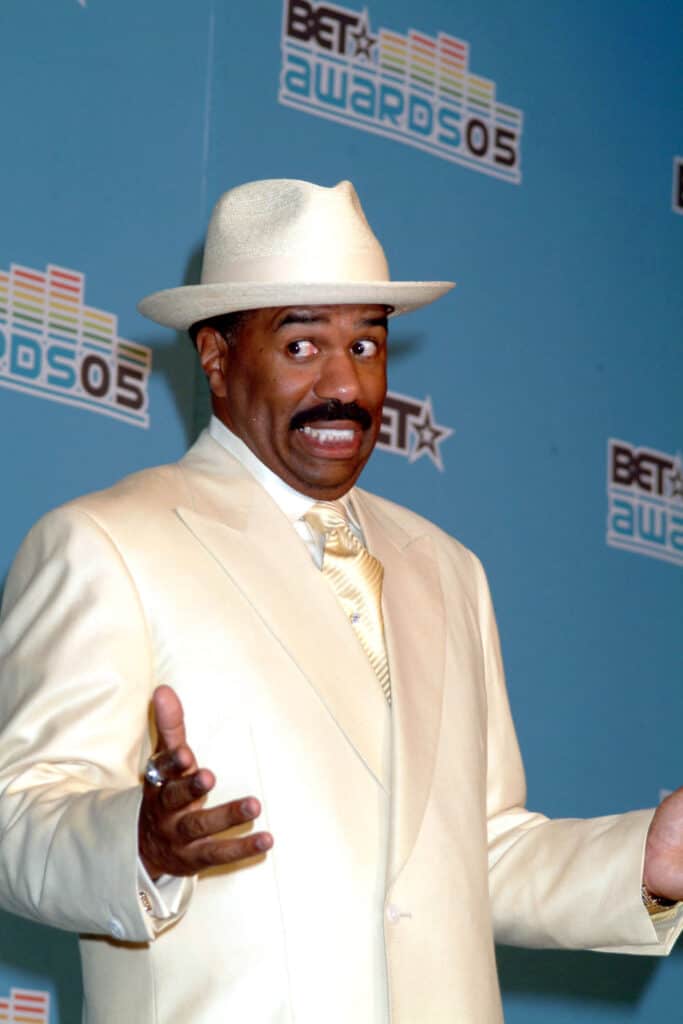 His style of dressing can be described as suave, stylish, dapper, and dressy — but can the same be said for his clothing line? Let's find out more about Steve Harvey's clothing line, his sense of style, and his official merchandise.
Steve Harvey's Style
Over the years Steve has become known for his incredibly suave sense of style. He is considered to be something of a fashion icon, and for good reason.
Steve is fashion-forward and has a penchant for wearing tailored suits of every style, color, and material. Excluding his iconic pants-and-blazer outfits, he has worn more than 500 different suits on air — and that's just on The Steve Harvey Show!
In all likelihood, Steve probably owns around 1,000 suits. On top of his suit collection, Steve also has an impressive collection of ties and shoes.
When asked why he wears suits so much, Steve said, "The first year we did Kings of Comedy, they didn't wear suits, I'm the only one who wore suits. D.L. used to say, 'Man, why you wear a suit all the time?'. I don't know no other way to be, dog.
He continued, "People paying all this money to see us, might as well give 'em something to look at." Steve also said his mother told him, "Son, every woman likes a well-dressed man."
Does Steve Harvey Design Suits?
Because Steve loves suits so much, it should come as no surprise to hear that the star has created an entire fashion line around suits, dress shirts, and formal accessories.
It's called the 'Steve Harvey Collection' and consists of suits, ties, and dress shirts for men and boys alike. The collection consists of five different lines being 'The Boardroom Collection', 'The Signature Collection', 'The Couture Collection', 'The Custom Collection', and 'The Young Kings Collection'.
The 'Steve Harvey Collection' is sold at most department stores such as Kohl's, Belk, and JC Penney as well as in online suit stores such as Upscale Menswear.
The suits in the collection feature either double or single-breasted 2-button classics, notch lapels, offset interior waistcoats, and a matching tie and pocket hanky.
The 'Young Kings Collection' is the children's line and it consists of suits, dress shoes, neckwear, cufflinks, dress shirts, headwear, and anything else a growing gentleman would need.
In addition to the suits for boys and men, the 'Steve Harvey Collection' also boasts an impressive assortment of shoes. These shoes are handmade from materials such as calfskin and range from casual loafers to driving shoes.
Steve found his passion for fashion way back in 2006 when he launched his first line: a collection of hats. The line did so well that he established 'Steve Harvey Products', which is part of the 'Steve Harvey Global' umbrella.
Does Steve Harvey Sell Clothing?
Away from the suit and shoe side of his empire, Steve also sells regular clothing and official merchandise through the 'Steve Harvey Store'.
Through this online store, you can purchase items that have been hand-picked by Steve and his right-hand team.
Fans of Steve — including men, women, and children — can purchase Steve-approved products from this store. The store stocks T-shirts, tank tops, crop tops, baby onesies, long-sleeved T-shirts, hoodies, jackets, and sweatshirts.
Branded baby bibs, snapback hats, dressing hats, beanies, face masks, bean bag chairs, left-handed coffee mugs, throw blankets, and aprons are also available at the store.