The affable, ubiquitous, and sometimes mischievous Steve Harvey has been around for quite a while, to say the least. His decades-spanning career includes stints as a stand-up comic, bestselling author, radio personality, and host of shows like the inimitable Family Feud.
Steve Harvey has had a myriad of milestones in his life – both public and private. One such milestone is his long-standing romance with wife Marjorie Harvey. Their marriage now spans more than a decade, with a love story that had a random and rough start in 1990.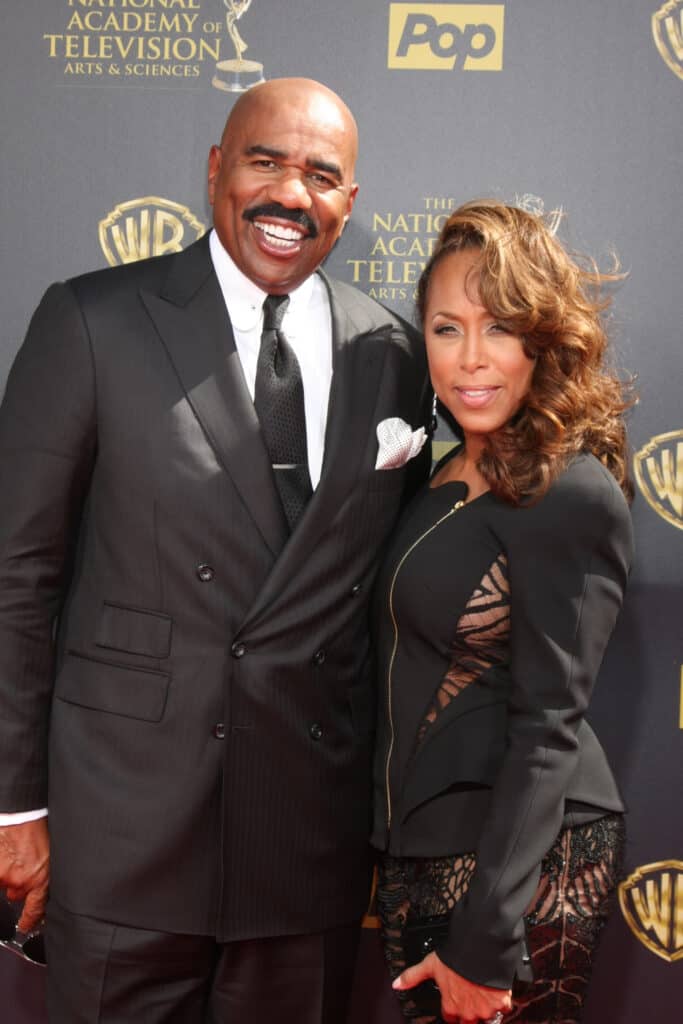 How Harvey Met Marjorie
A gig in a Memphis comedy club served as the backdrop of their fateful introduction.
As Marjorie walked to her frontrow seat, Steve fell silent, abruptly stopped his show, and stared at the erstwhile stranger. Awaiting a reprimand from the then-fledgling comic for the interruption, the stunned Marjorie instead heard Steve portend their future nuptials despite not knowing who she was.
Steve's vision of the future turned out to be true, but it would take some time before marriage was in the cards.
Marjorie said that Steve dropped off the map shortly after their initial encounter in Tennessee; both victims of circumstance as the funnyman was still married and, according to himself, not in the best of shape professionally or financially.
2005 saw the formerly star-crossed lovers back together, just as The Steve Harvey Show and the comic's marriage came to a halt.
Marjorie's children from a previous marriage had to coexist with Steve's children from his two prior marriages shortly after a wedding ceremony that brought the two together (officialy) in 2007.
(Blended) Family Matters
The new family comprises kids from their previous marriages.
Steve sired four children from his two marriages: Wynton and Broderick Jr. with second wife Mary, and twins Brandi and Karli from his first marriage to Marcia. Marjorie's prior union brought forth three kids: Lori, Jason, and Morgan.
The blended family didn't take to each other easily from the get-go.
To the familial friction, husband and wife took entirely different approaches, with Steve simply telling his own kids to deal. On the other hand, Marjorie's mindset was somewhat more cerebral and heart-rending. "When you're dealing with a blended family, everyone is coming from a place of broken [sic]… [But] whatever you didn't have before, don't let that interfere with what you can have now."
This apparently resonated, and how. "Now, we're 'Mom' and 'Dad' to everybody," Marjorie reported.
Although the family "merger," has been on the ideal side, with videos of the Harvey grandchildren having made the rounds online, Steve somehow pines for simpler times with the woman of his dreams.
"I've been waiting years for my kids to get out of my house… I wanna be an empty nester." He addressed the busy, sometimes pleasantly chaotic domestic experience on his former eponymous talkshow.
Powering Through
The couple has managed to weather all the rumors and hearsay that come with being in the public eye.
These rumors include an article about an imminent divorce settlement costing upwards of a few hundred million due to Steve's close friendship with Keeping Up With The Kardashians matriarch Kris Jenner. A year later, the same publication alleged covert asset liquidation before a supposedly hostile divorce process.
In spite of that, the couple remains steadfast together.
They celebrated an anniversary – their twelfth – with a lengthy trip that included stops in France, Monaco, and Italy. Steve concluded the exhaustive European escapade with an Instagram post, waxing poetic.
Born the son of a coal miner, then later an insurance salesman and subsequently a comedian, Steve undoubtedly took many leaps of faith in his professional life.
The comedian now helms a multi-million dollar media entertainment empire – despite, at one point, being homeless and living in his car. The inimitable Steve Harvey is now arguably at the top of his game, what with multiple Emmy awards, dozens of multimedia projects, and a remarkable career that portends more accolades to come.
Behind his current endeavors and future success are undoubtedly the undying support of family, most of all from wife Marjorie Harvey.
Perhaps Steve Harvey's longevity and success in a cutthroat industry can be attributed to this: in a People magazine interview, he said the reunion that led to their marriage "was like being reborn. I messed up so many times in my life. She made all the difference. When you're happy at home, you can make a lot of things happen."
Indeed, Steve Harvey has made things happen – and then some.