You may know him as the goofy, deep-voiced, guitar-wielding musician he is today, or you may forever remember him as the sneering, platinum-haired, wand-wielding wizard Draco Malfoy, but will Tom Felton one day be known as a doting dad?
Tom Felton is not yet a father as he currently has no children, but he wants them when he's "a little bit older." Tom wants to have children someday, two of them to be specific, and plans on watching the 'Harry Potter' films that changed his life with them.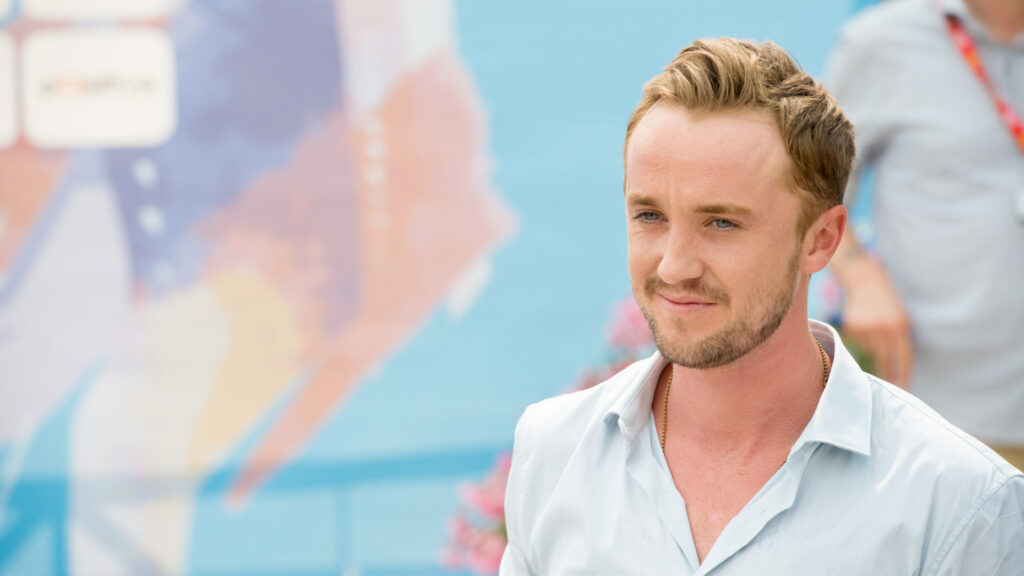 Let's find out more about Tom Felton and fatherhood. Is becoming a father in the cards for Tom Felton? Did he enjoy playing an on-screen dad to little Scorpius? Is he a non-related uncle to a bunch of magical children? Read on to find out. Accio, information!
Is Tom Felton A Father?
At the time of writing, Tom Felton is not a father, and as far as the public is aware, this is not set to change anytime soon as the 'Harry Potter' star has not been in a serious relationship since 2016, when he and his long-term love Jade Olivia Gordon called it quits for reasons unknown.
That's not to say that the rumor mill doesn't occasionally turn, fuelled by rumors of Tom fathering love children. According to Marie Claire, one such rumor surfaced in 2010 when an anonymous user posted to Post Secret that she was the mother to 'the most amazing little girl' and that one of the male 'Harry Potter' cast was the father.
The text, which claimed that the father of her child likely didn't even remember her name, accompanied a sketch of Tom Felton, Daniel Radcliffe, Rupert Grint, Jason Isaacs, Alan Rickman, and James and Oliver Phelps, indicating that one of the men was the father.
Tom was quick to remove his name from the possible paternity debate, saying, "My friend just found this on the web! Just to confirm that I can be cancelled out of this equation lol."
Does Tom Felton Want To Have Kids?
During his Draco days, Tom had the opportunity to briefly play a father. In the last installment of the 'Harry Potter' films, 'Harry Potter and the Deathly Hallows: Part 2', the world was introduced to Scorpius Malfoy, Draco's son.
Tom and Bertie Gilbert, the actor who portrayed Scorpius, remained in touch over the years. While Bertie wishes his "on-screen father" a happy birthday, Tom is quick to promote Bertie's content when he gets the chance.
But, on-screen fatherhood aside, does Tom want to have a real-life child of his own someday? Absolutely! In fact, he wants to have two children. In 2018, after revealing that he had never (at that time) rewatched any of the 'Harry Potter' films, he opened up to People Magazine to explain why.
He said, "I have seen the Potter films during the premieres, but other than that no – never! I'm saving that for a sacred day. I have visions of doing that with my two kids, when I'm a little bit older."
Do Any Of The Harry Potter Kids Have Kids Of Their Own?
Though they're far from being kids today, many people will always remember the stars of the Wizarding World as children. In fact, many of them have children themselves – even if Tom isn't part of the Harry Potter Parents group just yet.
Rupert Grint, who played Ron Weasley in the films, welcomed a daughter with his partner Georgia Groome in May 2020. Devon Murray, who played Seamus Finnigan, welcomed a son in January 2021. In addition, Scarlett Hefner (who played Pansy Parkinson), Jessie Cave (who played Lavender Brown), and Afshan Azad (who played Padma Patil) are all mothers to adorable little Muggles.
Tom's co-star, Daniel Radcliffe, who played Harry Potter, is also keen to become a father. Daniel told the Mirror, "in a few years from now, I'll probably be thinking about starting a family. So to get to my 40s and be a dad and have directed one film, I think I'd be very happy."
Like Tom, Daniel also plays on introducing his future children to the magical world of Hogwarts. He said, "I'll make sure they read the book first before they start watching their dad in the films. I'd like to think they'll watch the films when I'm older. Or there's a chance that somebody would've remade the films by then and there's a whole new Harry Potter to watch."