Willie Nelson is an American country singer, songwriter, and guitarist. He is considered one of the most famous country singers of the late 20th century. In 1993, Willie Nelson was inducted into the Country Music Hall of Fame, and in 1998, he was recognized at the Kennedy Center Honors. Does he also have the honor of being a dad?
Willie Nelson has eight children from several relationships.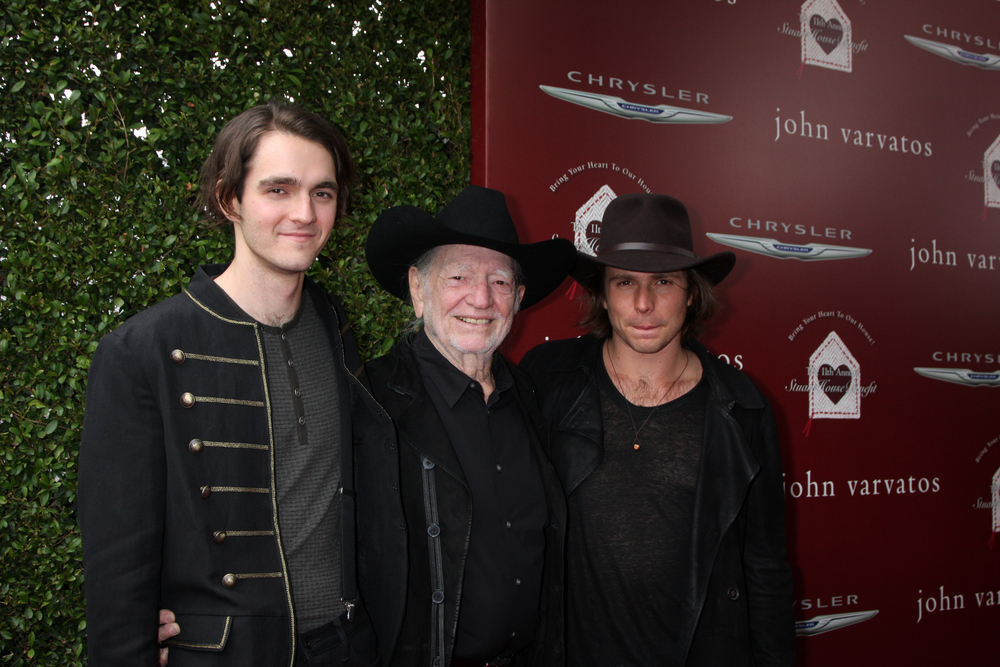 Who Is Willie Nelson?
Willie Hugh Nelson was born April 29, 1933, in Abbott, Texas during the Great Depression. He is an American musician, actor, and activist. His grandparents raised him.
Does Willie Nelson Have Children?
Willie Nelson has eight children. He has five daughters, including Lana, Susie, Paula Charlene, Amy Lee, Renee, and three sons, including William Hugh, Jr. (aka 'Billy'), Lukas Autry, and Jacob Micah.
He had seven children over the course of three marriages. He only learned about the eighth child, daughter Renee, in 2012 after meeting his old, dear friend Mary Haney on a movie set several years after their brief relationship.
Here are more details about Willie Nelson's children:
Lana Nelson
Lana Nelson, born on Nov. 11, 1953, is the eldest child of Willie Nelson and Martha Mathew. She is an actress and costume designer. She is seen a lot on her father's Instagram account.
Susie Nelson
Susie Nelson, born May 23, 1956, is an author, coach, trainer, and business growth strategist for direct sales consultants and starting companies. She released an autobiography titled Heart Worn Memories: A Daughter's Personal Biography of Willie Nelson. She paid tribute to her father and shared what it was like being his daughter.
How to Book Patties at Vendor Events: Fill Your Calendar With Ease At Your Booth is also one of her popular books.
William Hugh, Jr.
Born May 12, 1958, he was a talented musician but died on Christmas Day in 1991 at the age of 33.
Paula Nelson
Paula Nelson is his first child from his marriage with Connie Koepke. She was born in Houston, Texas, on Oct. 27, 1969. She is a singer and songwriter with a distinctive melodic voice.
Amy Nelson
Nelson and Connie Koepke have a second child, Amy Lee. Amy also has musical talents and even joined her dad on certain occasions on stage. Amy joined Paula and their father on stage to sing 'Have Ever Seen The Rain?'
Lukas Nelson
Lukas is the sixth child of Nelson and the first child with Annie D'Angelo. He is a musician and filmmaker.
Micah Nelson
Nelson and Annie D'Angelo have a second son, Micah. He plays music with his dad.
Renee Nelson
Renee brings the count of Nelson's children to eight. Nelson shares a daughter with an old friend, Mary Haney but didn't know until later.
In an interview, Willie Nelson said, "I have an old, dear friend, Mary Haney, who I'd lost touch with but recently met again after decades. Turns out Mary and I had a child together called Renee."
Interestingly, despite having different mothers, Willie Nelson's children reportedly stay in touch. They all share an amicable tie. Also, they come together to support their father on certain occasions.
Who Are Willie Nelson's Parents?
Will Nelson is the son of Myrle Marie (Nee Greenhaw) and Ira Nelson. His parents moved from Arkansas to Texas in 1929 to look for work. His father was a mechanic. Unfortunately, his parents divorced soon after he was born. Nelson and his sister, Bobbie, were left with their grandparents.
Early Life Of Willie Nelson
Willie Hugh Nelson was raised by his grandparents after his mother abandoned the family soon after he was born. Willie Nelson's grandfather taught him music and bought him a guitar when he was six years old. He had always shown aptitude in music.
Nelson, alongside his sister, sang gospel songs in the local church. Nelson wrote his first song when he was seven years old. He played his guitar for the local band Bohemian Polka when he was ten.
From age 13, Nelson began to earn money by singing in dance halls, taverns, and honky tonks, which he continued through his high school.
How Many Times Did Willie Nelson Marry?
Willie Nelson has been married four times and has eight children. His first marriage was to Martha Matthew in 1952. The marriage ended in 1962, after three children.
His second marriage was to a singer, guitarist, and songwriter, Shirley Collie, in 1963. They divorced in 1971.
In 1971, the same year Willie Nelson divorced Shirley Collie, he had his third marriage, this time to Koepke, but they went their separate ways in 1988.
Annie D'Angelo is the fourth and current wife of the country music legend.