Whether you are a golf fanatic or have never had a keen interest in the sport, the name Tiger Woods probably rings a bell in your mind. The Californian golfer is exceptionally great in the course, but has he ever shot a 59 in his golfing career?
Tiger Woods has shot a 59 in his home course while practicing for an upcoming Master's Tournament in 1997. However, on the official record, Tiger Woods boasts of a 61 as his best round on the PGA Tour, a feat that he has severally accomplished. Woods was playing the practice round with Mark O'mera at the Isleworth Golf Country Club in Florida when he shot the 59. Since the score was not in an official tournament round, it was never added to his already long list of achievements.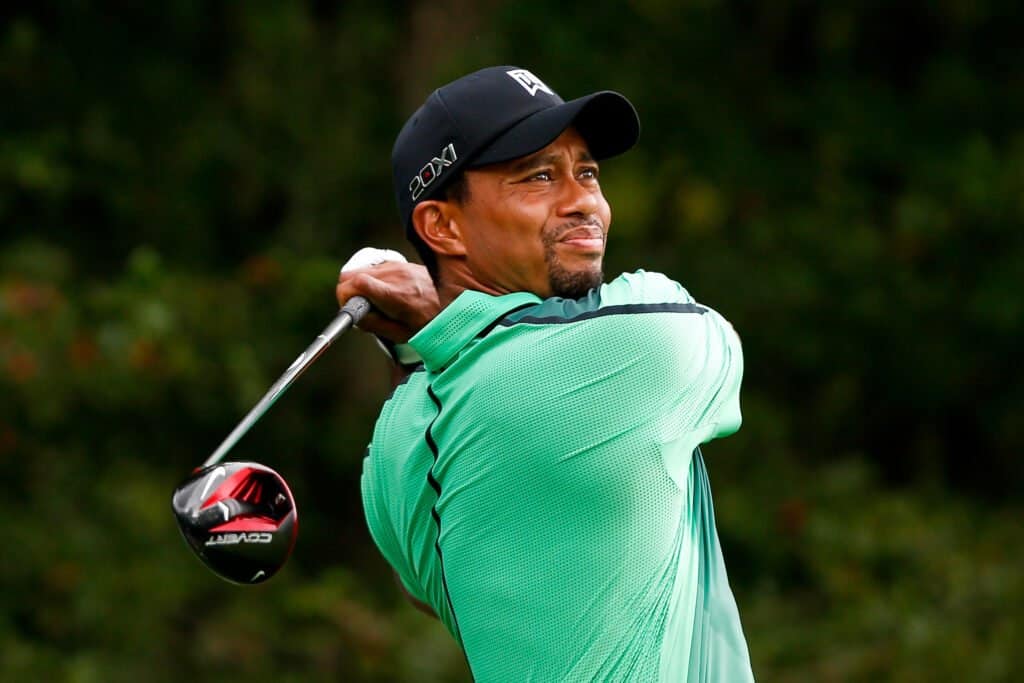 His First and Only 59
The 59 he shot while practicing on that course was the first one ever in his entire golf career, having scored 32 on the front nine and 27 on the back nine.
That day, he carded a 59, 13-under par on his home course. The next day was supposedly better, as he explained later on.
"We (Woods and O'Meara) played nine holes, and I was 5‑under through nine, and then parred ten and made a hole‑in‑one at 11. He just drove his cart home. That's actually a better story. He didn't say a word to me."
The Woods' scorecard from that particular day, however, seems to have disappeared without a trace. He did not get a copy, and neither is it hanging in the golf club as it should be.
The Isleworth Golf Country Club staff also claims ignorance on the scorecard's whereabouts is the only proof of Woods' record.
The 59 Club
Shooting a 59 is one of the greatest achievements you can accomplish on the golf course. Very few players in the world have ever accomplished that.
Only four players on the PGA Tour and the LPGA Tour have ever scored a 59 in a competition, officially making them members of the 59 club. These are Chip Beck, Al Geiberger, and David Duval, all from PGA, and Annika Sorenstam as the only one from LPGA who qualified to join this exclusive club.
Since he has never shot a 59 in a competition, Woods is not part of this highly coveted club.
Woods' Achievements
Despite not shooting a 59 in any of his competitions, Tiger Woods is one of the world's most decorated golf players. He has broken, set, and held different records for the longest of periods.
Tiger Woods has been PGA Player of the Year and PGA Tour Player of the Year a record eleven times, and his record is still unmatched.
He has also been the Vardon Trophy winner and has received the Byron Nelson Award for the lowest adjusted score, a record nine times, a feat that is far from easy to achieve.
He has also been the PGA Tour Money Leader a record ten times.
Among his other records was being the youngest to win the Career Grand Slam, which he did by winning the four major championships. What makes him even more outstanding is that he won all four in a row, completing the feat in the shortest timeline ever (2000-2001).
These championships are the Masters Tournament, PGA Championship, U.S Open, and The Open Championship.
His latest achievement in 2021 will probably be his pending induction to the World Golf Hall of fame. He became eligible after the most recent amendment to reduce the minimum eligibility age from 50 to 45.
2020 Crisis
Despite his prowess, previous wins, and being the defending Master Tournament Champion, the golf champion did not have the expected victorious 2020.
When asked whether he is worried that his career of triumph may fade away some time, Woods admits that he is.
"No matter how hard I try, things just don't work the way they used to, and no matter how much I push and ask of this body, it just doesn't work at times," Tiger Woods said. "Yes, it is more difficult than others to be motivated at times."
However, Tiger Woods has been practicing during the Covid-19 pandemic and believes that he is ready for all the tournaments he will be participating in 2021.
His practice sessions have all been in his house with the closest members of his family since the Covid-19 pandemic prevention measures restricted him from freely interacting with his fellow golfers.