Eldrick Tont Woods, popularly known as Tiger Woods, is an American professional golfer who has been widely regarded as one of the greatest golfers of all time. He has been elected to the World Golf Hall of Fame, is considered one of the most popular athletes in the world, and holds numerous golf records. Tiger Woods turned professional in 1996 and has been playing golf professionally ever since.
Tiger Woods' daily routine consists of waking up early to do cardio and weight training, playing golf and improving his skills in the game, eating healthy meals, and engaging in other fun activities to finish off the day with family and friends.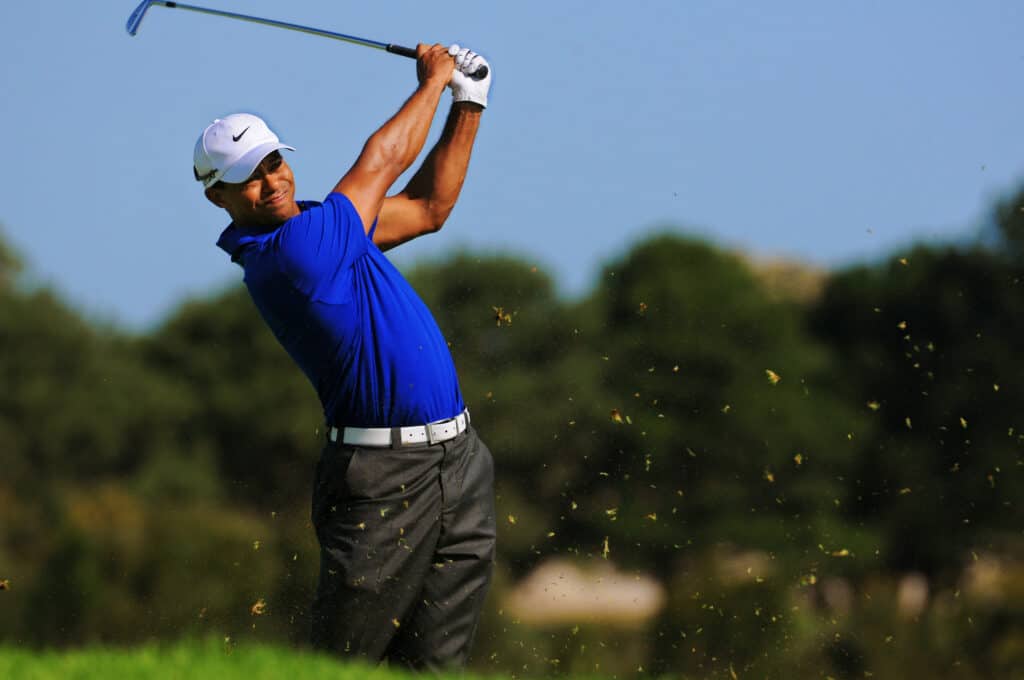 Just as any professional athlete, Tiger is adamant about improving his skills in the golf game, and knows the importance of always staying consistent with his training. Throughout his very long career in professional golf, Tiger Woods has been able to figure out the perfect routine to not only keep him in shape but to keep him as one of the top players.
Tiger Woods and His Professional Gold Golf Career
Tiger Woods was born in Cypress, California, and is the only child of his African American father and Thai mother. Although his real name is Eldrick Tont Woods, his father, an American Army officer, begun calling the young boy "Tiger" during his childhood after a fellow soldier.
The name stuck, and soon Eldrick was called "Tiger" full-time by friends and family.
Tiger Woods began playing golf when he was a little boy, and by the age of eight, he had developed major skills in the game. His father was his teacher and mentor, and Woods got to show off his skills on television as he became more proficient in the game, even being featured on "Good Morning America".
Tiger Woods attended Stanford University for his undergraduate studies and while he was a college student, ended up winning a number of U.S. golf titles before taking his golf career to the next level as a professional. He turned professional in 1996 and won the U.S. Masters the year after.
Winning the U.S. Masters at Augusta when he was only 21 years old earned him the title of being the youngest person to win, as well as being the first African American to win the game.
Later that year, Tiger Woods went on to the British Open and ended up tying for the course record of 64. He ended up winning four U.S PGA titles and having three Open Championship wins, three U.S. Open wins, and three U.S Masters wins within the first few years of his professional career.
In 2005, Tiger Woods was voted the PGA Tour Player of the Year for the seventh time, and continued to dominate the game of golf. His father passed away due to prostate cancer the following year and despite deeply mourning the loss and taking some time off, Woods returned to the game, winning the PGA Championship and British Open.
In 2009, Woods took another break from golf after accusations of infidelity. He was on blast all over the media about cheating on his wife, a Swedish model named Elin Nordegren, and after denying the accusations, more mistresses came to light and he was forced to tell the truth.
Woods returned to golf in 2010, although he was not on top of his game as he once was. He was not back on his A-game until 2013 when he started dating a professional alpine ski racer named Lindsey Vonn.
He continued to win numerous titles throughout the next few years and was involved in a number of scandals including a drunk driving incident and wrongful death lawsuit. In 2019 he received the Presidential Medal of Freedom from Donald Trump, and in 2020, took some time off for back surgery amidst the coronavirus-related PGA Tour shutdown.
The Golfer's Daily Routine
In an interview at the Genesis Open, Tiger Woods stated that he used to wake up super early and start the day off by running 4 miles, do some intense weight lifting and practice his golf skills for up to three hours at a time. However, with age, his flexibility is not as it once was and due to injuries, he's had to switch up some aspects of his daily routine.
Woods starts off his day by waking up around 6:30 am to do some light cardio for an hour or so, and then does another hour of lower weight training, as well as some stretching.
Around 9 am, he eats a high protein/ low-fat breakfast to refuel his body, and starts his two-hour long range session hitting balls and working on his swing. Tiger then heads out to play 9 holes before eating lunch.
After lunch, Tiger likes to do some more range work and plays a short gold game before doing another weight training session in the gym.
He slows his body down at the end of the day around 6:30 pm, makes dinner, spends time with his friends and family, and gets some sleep to do it all over again the next day.