The club-swinging golf maestro Tiger Woods enjoys the top spot as arguably the greatest player to have ever hit the golfing greens. In his long and illustrious career as one of the best to ever do it, what was the average distance that he was able to hit a 9 iron?
Tiger Woods, generally speaking, hits around 150 yards with his 9 iron. In comparison, with his driver, he will hit an average distance of 300 yards, all numbers which are professional-tier distances.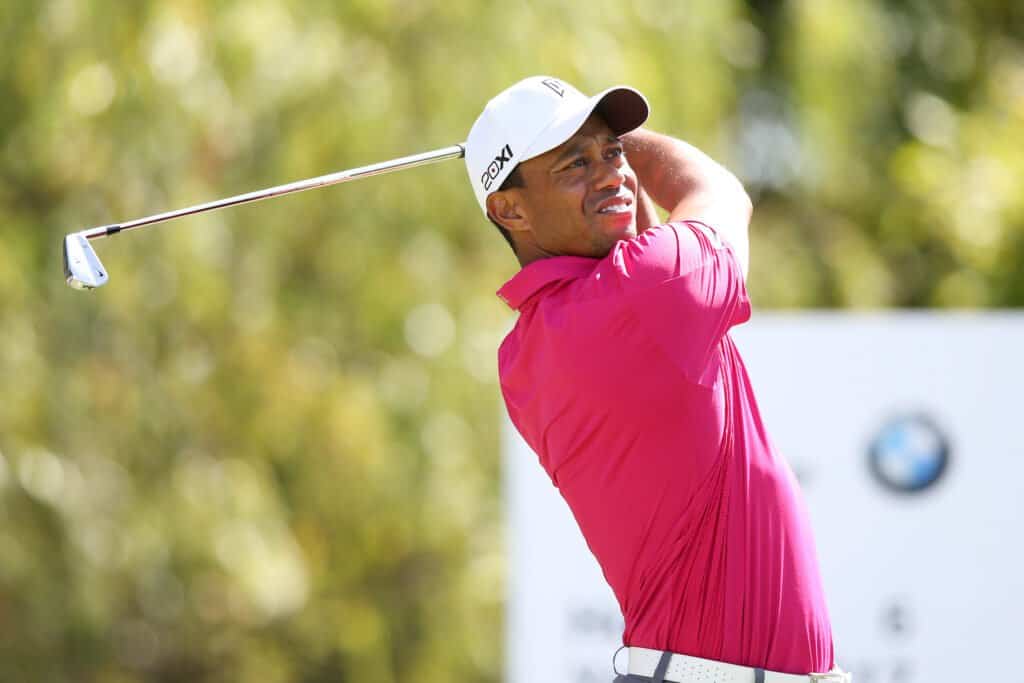 If you were looking to see how your own stats compared to Woods, then unless you're going professional sometime soon you'll probably be feeling a little inadequate in comparison. Don't feel too bad about it though, almost all of the statistics surrounding Woods are unassailable and top-tier.
Big Numbers
When we're looking at the numbers that Woods has achieved over the years, there are few better men to find out that information from than one of his caddies. Supplying the averages that we've got here for you today is none other than Joe LaCava.
If you don't know who LaCava is, he had been a bagman for Woods for quite some time, sticking with his golfer through thick and thin. Without any further adieu, let's see some of those numbers.
We've already spoken about the 9 irons 150 yards, and the incredible driver distance of 300 yards. On the lowest end of the spectrum is the club that deals with the one place that haunts every golfer's worst nightmares: the sand trap.
Equipped with his trusty sand wedge, Woods strikes a sand-clearing 120 yard average with each swing. Enough to get him out of any hellish golfing desert.
Don't be too glum if you aren't managing to produce numbers like this, especially since Woods actually had some words of wisdom for you on how to improve your own golf game.
Hit Like A Pro
As you'll no doubt have noticed from watching him play, it's not simply that Woods channels brute force and power through his shots. He's got certain artistry to the angles and the trajectory of flight that he sends the ball on.
What's the secret to his swing? According to Woods, he's not too overly concerned with specific swing mechanics.
For him, it's all about sticking to a few basic principles, rules of the swing that he learned from his father. According to Woods, the fantastically simple method just dictates that you just stop the swing based on your hands' position in relation to your head.
It's the kind of advice that probably makes the most sense to one born with a natural instinct for the game, but there's no harm in trying to incorporate some of Woods' sage advice when you hit the green this weekend.
In Hot Water
Perhaps if you were never born gifted with the club like Woods, and you just want to get a little closer to the game you love, then caddying is the answer. Whatever you do, don't make the same mistake that Woods' decade-long caddy did one fateful day in the Ryder Cup.
With all eyes across the globe watching the golf tournament, and Woods at what was arguably the height of his career and his fame, the whole world got to watch, half in horror and half in amusement as his caddy Steve Williams lost Woods' 9 iron in a lake.
He might have had a little trouble hitting that vaunted 150 yards shot underwater! Thankfully the club was able to be retrieved, and nobody was too badly upset about the aquatic fiasco.
9 Iron Magic
Swing technique and distance aside, Woods has performed some truly magical feats with his 9 iron over the years. There was even demand that a plaque be installed on a green to commemorate one of those career-defining moments.
In a moment that won't soon be forgotten by observers at the Mexico City's Chapultepec game, Woods managed to use his 9 iron to slice the ball straight through a tree line to the hole, refusing to allow the tree between them to get in his way.
Next time you've got a difficult shot to make, remember that moment and channel some Woods!