Elrick Tont 'Tiger' Woods, or simply Tiger as he's known the world over, is an American professional golfer who dominated the industry for decades — breaking records and winning championships along the way. What driver does he use to help him win round after round?
Tiger Woods uses a TaylorMade SIM (9 degrees) driver with a Mitsubishi Diamana D+ Limited 60 TX shaft. For most of his time on the green Tiger used Nike golf clubs, but switched over to TaylorMade when the company announced it was stepping out of the golf game.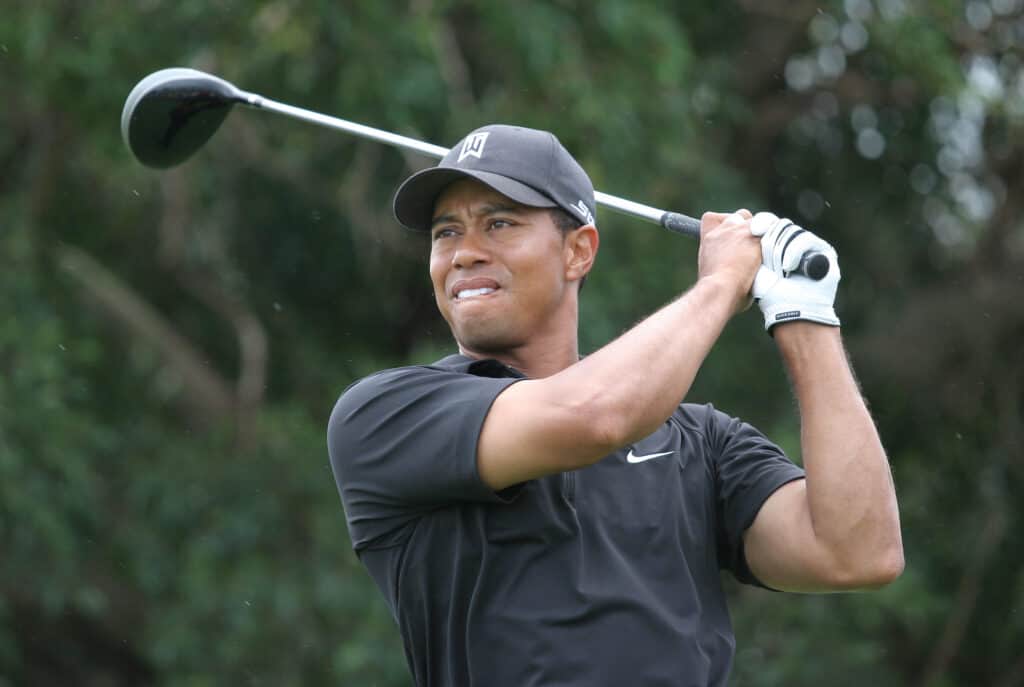 Tiger's skill and precision on the course is a thing of wonder that leaves many people wanting to play in the style he does. Let's take a look at what driver Tiger Woods uses as well as what other equipment he has in his bag — and which companies have put it there.
Tiger's Driver
Due to his relationship with the brands that sponsor him, Tiger is always seen sporting the latest golfing gear. This means that as soon as a new piece of equipment comes out it finds its way into his golf bag.
At the 2013 PGA Championship, Tiger used the Nike VR_S Covert Tour driver. At the 2015 PGA Championship, he opted for a Nike Vapor Speed driver with a customized 420cc head.
When Nike announced it would no longer be making golf equipment, golf companies lined up to join hands with Tiger. By January 2017, Tiger had signed a deal with TaylorMade that resulted in him being contracted to use its driver, fairway, irons, wedges, and woods.
Tiger began playing with a TaylorMade M2 driver as soon as the deal was finalized. He switched over to the TaylorMade M3 in early 2018 and in 2019, he began using the TaylorMade M5 driver.
These days, he plays with a TaylorMade SIM driver, complete with a Mitsubishi Diamana D+ Limited 60 TX shaft. This driver is a firm favorite for professional golfers with Dustin Johnson, Collin Morikawa, Jon Rahm, and Jim Herman all using it in 2020's PGA Tour.
What Else is in Tiger's Bag
So, what else can be found in Tiger's Vessel Prime Staff bag? It must be noted that while the contents of a golfer's bag change according to the conditions of the course, Tiger rarely switches things up.
Naturally, most of the space in Tiger's bag is taken up by TaylorMade clubs. Most often, he uses a TaylorMade Milled Grind 2 60 degree wedges, TaylorMade P7TW Prototype irons, a TaylorMade P790 UDI utility iron, and a TaylorMade SIM Ti Fairway Wood.
Tiger uses a Titleist Scotty Cameron Newport GSS putter with a Lamkin Deep Etched Pistol Cord grip, although he is known to alternate between this grip and the Golf Pride Tour Velvet Cord 58R.
Righty uses Bridgestone Tour B XS golf balls, KT Tape, and Nike Dry-Fit golf gloves. He is a fairly superstitious character and even keeps three lucky tees in his right pocket to bring him good luck.
Of course, a player needs to be prepared for not just the conditions of the course but the weather conditions too. Because of this, a Nike 62" Windsheer II Auto-Open Golf Umbrella is always in Tiger's bag for rain, and a Nike Jacquard Golf Towel for the heat.
Tiger's Relationships with Brands
Despite Tiger's personal affairs becoming public and negatively affecting his image, he is still one of the most profitable athletes of our time. From June 2019 to June 2020, Tiger made a whopping USD $62.3 million — making him the eighth highest-paid sportsman in the world.
This is not surprising, since he has been the highest-paid athlete 12 times in the past. But what is surprising is that USD $60 million of his earnings came from brand endorsements alone.
In that year, his sponsors were TaylorMade, Monster Energy, Nike, Bridgestone, Upper Deck, Rolex, Hero Motocorp, and Discovery Communications, Inc. He has direct and indirect agreements with each of these eight brands.
Bridgestone sponsors his golf balls, Nike provides all of his clothing used for golfing, Monster provides his energy drinks and casual golf bags, and — as you know now — TaylorMade supplies his golf clubs. The remaining brands aren't directly linked to his play.
Tiger's public image may still not be fully recovered but it's safe to say that, when it comes to his brand relationships and finances, that he is most definitely out of the woods.