Luke Combs is known for penning some beautiful love songs and most of them have been about his wife Nicole Hocking.
Luke Combs and Nicole Hocking met in Nashville through some mutual friends, but they really connected when at a songwriter's festival in Florida. The two saw each other at the event and Nicole invited Luke to hang out with her and her friends. Combs has written a few songs about his now-wife including 'Beautiful Crazy' and 'Better Together.'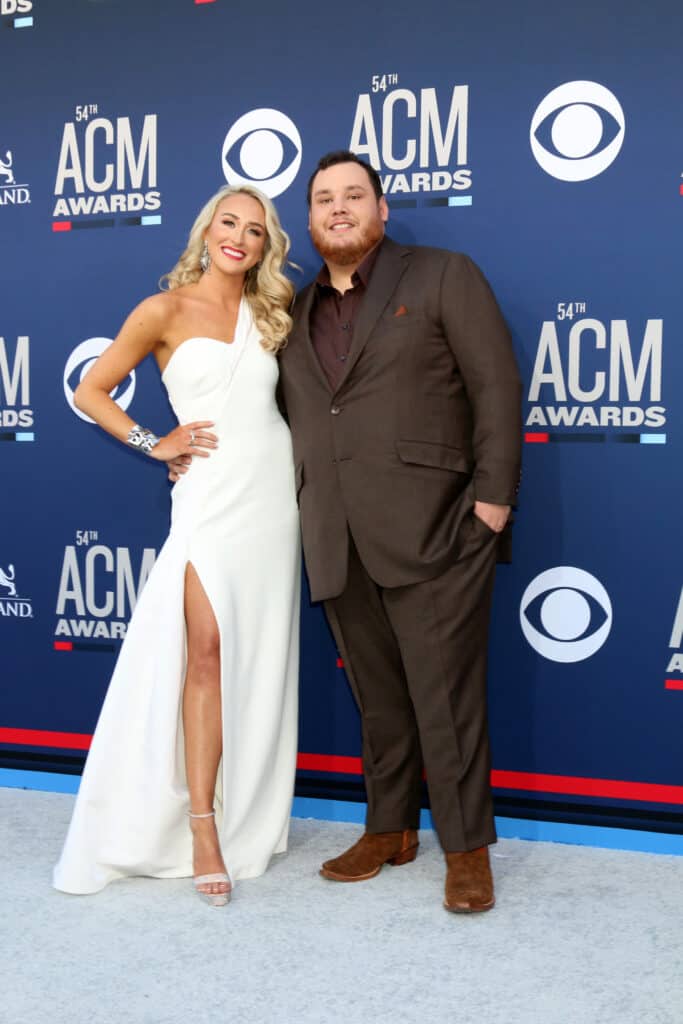 You can read more below about Nicole Hocking, the beginning of Combs and Hocking's relationship, and their wedding.
Who Is Nicole Hocking?
Nicole Hocking is from Florida and according to Country Fancast, she was born on July 22, 1992. She attended Florida Gulf Coast University for college and graduated with a Bachelor's degree in Civil Engineering.
From there, she moved to Nashville for an internship she had landed in the music industry. Now she is working for the same label that represents Luke Combs, Broadcast Music Inc. as a recruiting coordinator.
In an interview on the podcast Couple Things with Shawn Johnson and Andrew East, Hocking revealed that she and Combs had moved to Nashville around the same time. She recalled that the city five years ago was very different from now and that in the music industry "Everyone kind of knew each other."
Because of that, it would make sense that the two of them ended up meeting and then eventually hanging out.
Combs & Hocking's Relationship
It was back in 2016 that Nicole and Luke ran into each other when they were both attending a songwriter's music festival in Florida.
In that same Couple Things interview, Hocking recalled "we were down in Florida for a songwriter's festival — and we were both single — and I was leaving a songwriters' round and he was walking up late to it. By himself. I was like, 'Come hang out with us.'"
Combs goes on to add that he felt like he looked really bad at the time too. Saying that he was wearing a pair of $5 camo shorts from Walmart and the oldest t-shirt that he owned.
You can watch the two recall their meeting on Couple Things in the below YouTube video.
His appearance didn't turn Hocking off at all, however, because the two ended up driving back to Nashville together. Combs has even said that he had nothing going for him at the time, no label or record deals.
The two began dating soon after but weren't really official. Many of their friends thought that the relationship wasn't going to work and that the two would never in a million years end up tying the knot.
It was after Combs penned the song 'Beautiful Crazy' that the two cemented their relationship as boyfriend and girlfriend. That song ended up being Luke Combs' very first single and reached number one on Billboard's Hot Country Songs and number twenty-one on the Billboard Hot 100.
While 'Beautiful Crazy' helped Luke to get with Nicole, he didn't stop there and she seems to have become his muse. He also wrote the songs 'Better Together,' 'When It Rains It Pours,' 'Nothing Like You,' 'Hurricane,' 'She Got the Best of Me,' and 'Forever After All' about his relationship with Nicole Hocking.
Luke Combs & Nicole Hocking Tie the Knot
On November 29, 2018, Luke Combs got down on one knee and asked Nicole Hocking to marry him in the kitchen of their home: Nicole said yes. This wasn't how Combs initially wanted to propose though.
He told fans in an Instagram Live Q&A that he had originally planned to put the ring on Nicole's cat's collar but the cat had an accident on the way home so it wasn't possible. Instead, he just got down on one knee in the kitchen and proposed to her.
After being engaged for over a year and a half, Combs and Hocking were wed on August 1, 2020, at their house in Southern Florida. Not even the COVID-19 pandemic could stop the couple from sharing their vows and committing themselves to each other for life.
Their wedding was set on a beautiful beach with the setting sun and skies of pink and blue in the background. The two are planning a larger gathering with family and friends in 2021 once possible.