Luke Combs has been very vocal about his support of military servicemen and women and veterans. Did he happen to serve in the military himself?
Luke Combs was never in the military. He has always supported veterans though. In 2018, he even performed at the Military Appreciation Day that happens every year prior to the PGAs Players Championship. His song 'Even Though I'm Leaving' is one that has touched the hearts of many military families, however, it is what Luke calls a 'Dad song' and not originally targeted at military families.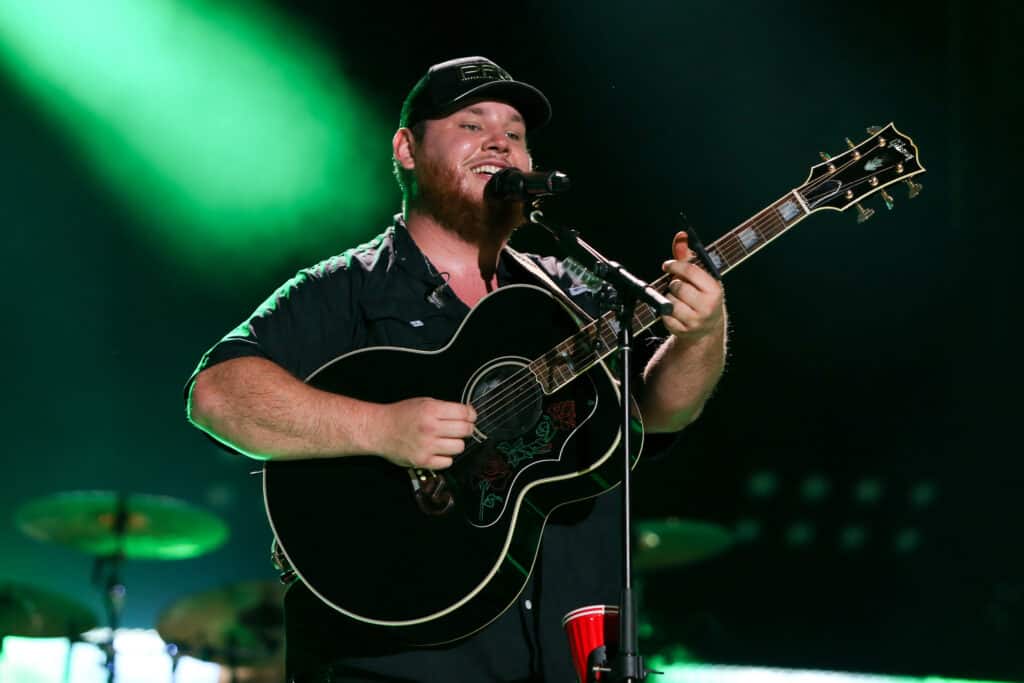 You can read more below about Luke Combs' performance at Military Appreciation Day, his support of veterans, and his song 'Even Though I'm Leaving.'
Luke Combs at Military Appreciation Day
In 2018, Luke Combs was given the honor of performing at The Players Championship Military Appreciation Day Ceremony and Concert. There is a ceremony that takes place on the famous 17th hole at TPC Sawgrass before the tournament begins.
This annual tradition began in 2010 with a performance by the massive country star Tim McGraw. The concert costs money for anyone who wants general admission but is free for military personnel and their families.
The concert has drawn a lot of big-name country stars to this stage. In 2011, Darius Rucker performed, 2012 drew in Luke Bryan, 2013 saw Dierks Bentley on-stage, 2014 was Jake Owen's turn, 2015 Big & Rich performed, 2016 Toby Keith, and 2017 Sam Hunt was the performer.
Those are some huge country stars! So it's no surprise that when Luke Combs was sailing up the country charts, he was invited to perform at the 2018 Military Appreciation Day.
When he was asked about his performance, Combs said "Performing at The Players, on the 17th hole, is one of those 'once in a lifetime' experiences. The fact that my performance is part of a ceremony that honors our men and women in the armed forces makes it even more special."
It's not only this concert that is free for members of the military though. All active-duty military members are offered free admission to the tournament for the entire weekend and veterans get discounted rates too.
In 2017, The Players Championship reported that they issued more than 35,000 complimentary military tickets. Luke Combs drew in huge crowds of fans for the day honoring military men and women.
In 2019, Jon Pardi followed in Luke Combs' footsteps. Then, for the 2020 tournament, the tradition of country music performers was broken to go with a different group, The Chainsmokers.
You can watch Luke Combs' performance of 'Tennessee Whiskey' at The Players Military Appreciation Day Concert in the below video.
Combs Military Support
Luke Combs doesn't just support the military with his performances at a Military honoring concert, he has also been very vocal about his support for veterans online.
Every year on Veterans Day, Combs sends out messages of support and gratitude to his countrymen. He has consistently vocalized his gratitude for the sacrifices made by these other Americans so that he can do what he loves.
And, Luke Combs doesn't just show support through his social media platforms. He actually puts his money where his mouth is.
In September of 2020, he donated $25,000 worth of guitars to help veterans who were managing post-traumatic stress disorder (PTSD). He teamed up with Ford and the organization Guitars 4 Vets to help get these guitars to veterans in need as a part of Ford's Proud to Honor Program.
On top of the donation, Combs met with one of the guitar recipients to give them a lesson on playing the guitar.
Combs Song 'Even Though I'm Leaving'
In 2019, Luke Combs dropped a song titled 'Even Though I'm Leaving' which seemed to really hit home for a lot of veterans and active-duty military personnel. Combs wrote the song along with Wyatt Durrette and Ray Fulcher.
The song was written about being a dad since Durrette was a new father and even though Combs and Fulcher are not dads they felt a connection to it. When the song came out it was a hit with military families because they felt they could really relate to it.
One lyric that really hit home was "Just 'cause I'm leavin' it don't mean that I won't be right by your side." That's a line that really sits with someone who has had to leave their family for active duty.