The relationship between Gosling and Mendes has been going well for quite some time now, with the bond between the two apparently stronger than ever, blessed by the birth of two daughters. Where did the celebrity couple first feel sparks flying?
Ryan Gosling and Eva Mendes first met on the set of The Place Beyond the Pines, a movie in which they co-starred together. It would be a short time after that they were spotted together as what appeared to be a couple.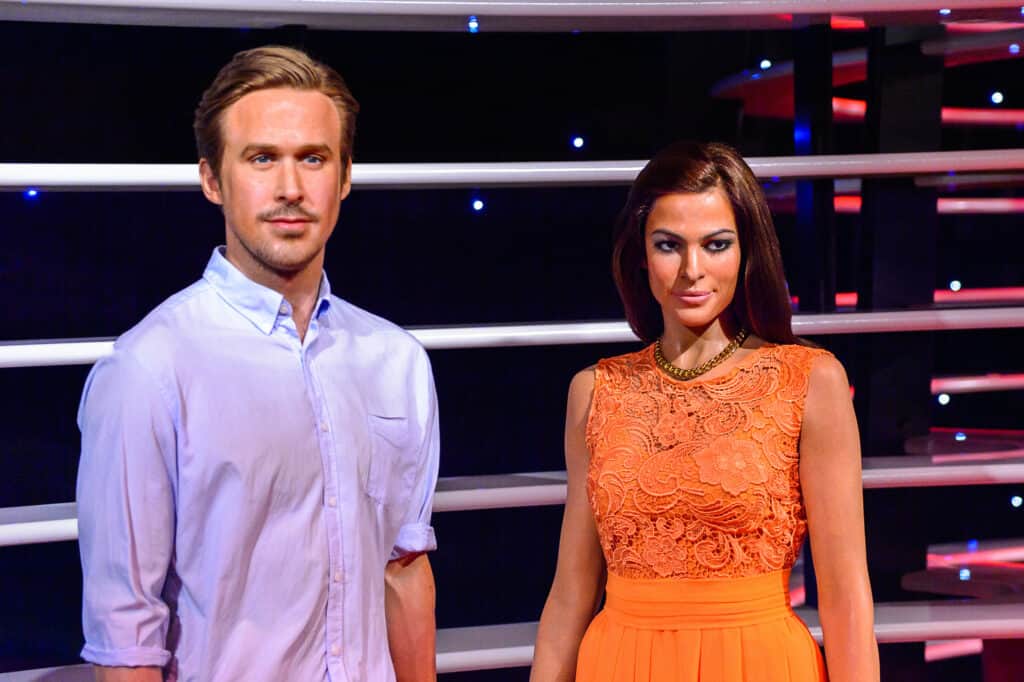 It's possible to find love in the strangest of places, so on a movie-set doing scenes that require emotional involvement and chemistry really doesn't seem like that odd of a place. Life imitated art, at least for the happier parts of the characters' lives that they played, as they portrayed an on-screen couple.
Beyond Beyond the Pines
A crime drama complete with all the expected strife and misery that comes with those genres, thankfully the relationship that Mendes and Gosling got to enjoy is a lot more successful than the one on-screen.
Although they were apparently very good friends before the filming of the movie that they worked on together, it did seem that this was the first time they had been together in any official or public capacity.
It was also here that the rumor mill began turning about the involvement the two were having offset. It wouldn't be long before we began to get a little bit of confirmation about what was going on, however, with the pair turning up at Disneyland.
News outlets snapped up the photographs that surfaced, photos that showed Mendes and Gosling engaged in some very public displays of affection towards each other. Looks like the pair hit it off wonderfully on their date.
That must be the power of having already built up and established a rapport from their time on the movie set together.
Snippets of their private life like that are incredibly rare though, with both of them preferring to keep their private life private, especially Mendes, who has expressed as much about a variety of topics related to her personal life.
Staying Under the Radar
It still might have slipped your notice that the two had managed to find that special click with each other if you missed the aforementioned 2011 movie, or the subsequent juicy gossip about their potential relationship.
They preferred to keep it that way, too. Even though it was becoming less and less of a secret as time went on, Mendes didn't exactly have the best poker face about the topic when it was brought up on Ellen DeGeneres' show.
Upon even the mere mention of the man who had captured her heart, Mendes was immediately sent hiding behind her hair. Even if it didn't gleam any solid extra information about their relationship, at the very least it did a good job of illustrating the clear affection between the two.
In keeping with the secretive nature of their relationship, they even kept Mendes' first pregnancy under wraps.
She quickly tried to debunk the rumors, attempting to shoo away the rumor with an excuse about how the rumor simply began due to her not wishing to expose herself to the hazards of the x-ray scanners at airports.
Of course, there's only a certain amount of time that you can hide a pregnancy, and in due course, it became very clear that Mendes was with child. Eventually, she gave birth to a baby girl.
It wouldn't be the last, either, with their second daughter coming just a few years later in 2016.
Secret Safe
Just like their initial meeting and all the questions after, the two Hollywood stars have never whispered a word about their secretive and seemingly solid relationship. There has been the odd shy look and endearing comment here and there, but never more than that.
Due to this, there has been all manner of rumors and stories about breakups, relationship troubles, and all sorts of mischief on both of their parts. There have even been talks of a secret wedding!
Doesn't seem like any of the gossipings has managed to get to them though, as they continue as they began, privately and happily.