Many Latinas have been making waves in Hollywood today, but few have made a mark like Eva Mendes. This American actress of Cuban descent is considered one of the most beautiful celebs in Hollywood. Let's learn more about this stunning actress and get to know if she speaks Spanish.
Eva Mendes was born in Miami and grew up in a lower-middle-class suburb of Glendale. Though fully American, Eva still carries her Latino heritage loud and proud. She speaks Spanish fluently as she was raised predominantly by her Cuban mom.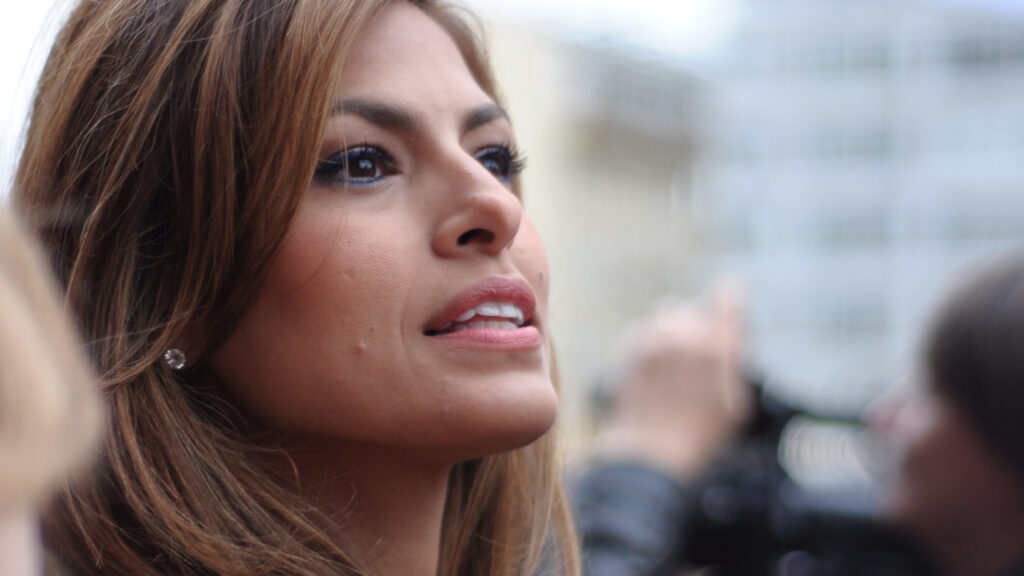 Not only does she speak Spanish fluently–Eva Mendes teaches it too! She has taught Spanish to partner Ryan Gosling and their daughters.
Is Eva Mendes Mexican?
Eva Mendes is actually Cuban. She was born to Cuban parents, Eva Pérez Suárez and Juan Carlos Méndez, who separated when she was very young. The separation brought Eva's mom and her kids to Los Angeles where she raised them as a single mother.
Despite the split, Eva and her siblings regularly saw their dad while growing up. She has remained close to her family even after getting famous. 
Fast forward to the present, Eva is now bringing up her two hijas with La La Land star, Ryan Gosling and have made sure they carry on with their Cuban roots. Though she initially didn't plan on having kids, all things changed when Gosling came into her life.
Are Ryan Gosling and Eva Mendes married?
Sparks started flying for Ryan Gosling and Eva Mendes during the filming of the movie The Place Beyond the Pines, which was directed by Derek Cianfrance. The lovestruck couple privately progressed in their relationship and in 2014 they welcomed their first daughter, Esmeralda Amada. Their second daughter, Amada, came two years later.
While Ryan and Eva are not shy to publicly express their love and support to one another whenever they can, none of them have officially announced or confirmed if they are married.
The family has been notoriously private about their personal lives their social media accounts are a testament to this. Eva does not see the need to post her kids' photos to the public. She'd rather wait until they're old enough to give consent to publicly sharing their photos.
Sometimes she pulls back the curtain a little bit more. Just a few perks of having an in-house makeup artist, she showcases a selfie with bright colored scribbles on her face from the styling genius of her daughters. 
With this platform, Eva also enjoys voicing her opinions on different parenting styles and shares glimpses of her life as a mom during the pandemic.
How do Ryan Gosling and Eva Mendes raise their children?
In an interview with British GQ, Ryan Gosling shared that he and Eva are hands-on as parents. Their children were homeschooled during the pandemic and one of their main tasks as parents was to keep the kids entertained while on lockdown.
But the pair has got the whole village to help out in raising their girls. Eva's mom, who lives 15 minutes away from their LA home at the time, comes over to cook Cuban food and speak to the children in Spanish. Eva reveals that she's had a hard time teaching the girls because she herself talks in Spanglish, which is not a real language at all.
What happened to Eva Mendes after she quit acting?
After her last movie role as Cat in Lost River (written and directed by Ryan Gosling), Eva concentrated to be a mom and homemaker, a decision that the couple agreed upon since the beginning. She hasn't said goodbye to acting completely – it's just that she's waiting for the right roles to come her way.
Though away from the spotlight, Eva has had other endeavors that have kept her busy for the past years.
Her partnership with the women's fashion retail brand, New York & Company, has brought together Eva's passion for fashion and keeping close to her Latino heritage. Eva Mendes Collection is her creative outlet to make glamorous clothes with a vintage touch. Recently, the company announced that they are expanding its collection to cater to plus-size clientele.
Aside from fashion designing, Eva excitedly announces her newest baby, Skura Style. She has partnered with fellow clean-freaks, best friends Linda Sawyer and Alison Matz, to bring a revolutionary cleaning aid to the homes of everyone – the smart sponge. Eva is co-owner and brand ambassador of the company.
Who in Hollywood can speak Spanish fluently?
While there are many actors and actresses in Hollywood who are of Latino descent, one would be surprised to know that not all of them fluently speak Spanish. Interestingly, there are some celebrities who have no Latino ethnicity but have a good command of the language.
Some Latino celebs who speak Spanish well include Javier Bardem, Penelope Cruz, Sofia Vergara, Salma Hayek, and John Leguizamo. Non-Latino celebs who are Spanish-speaking are Gwyneth Paltrow, Matt Damon, and Jack Black.