It's no secret that Jennifer Lopez has a killer core, after all, did you see those moves she pulled in Hustlers? So how does she do it?
Jennifer Lopez stays in shape with her balanced diet and a varied workout routine consisting of HIIT, strength training, and kickboxing. She has two personal trainers, one in New York and the other in Los Angeles. Lopez has said that using two trainers helps her to mix things up for her body so her workouts aren't always the same.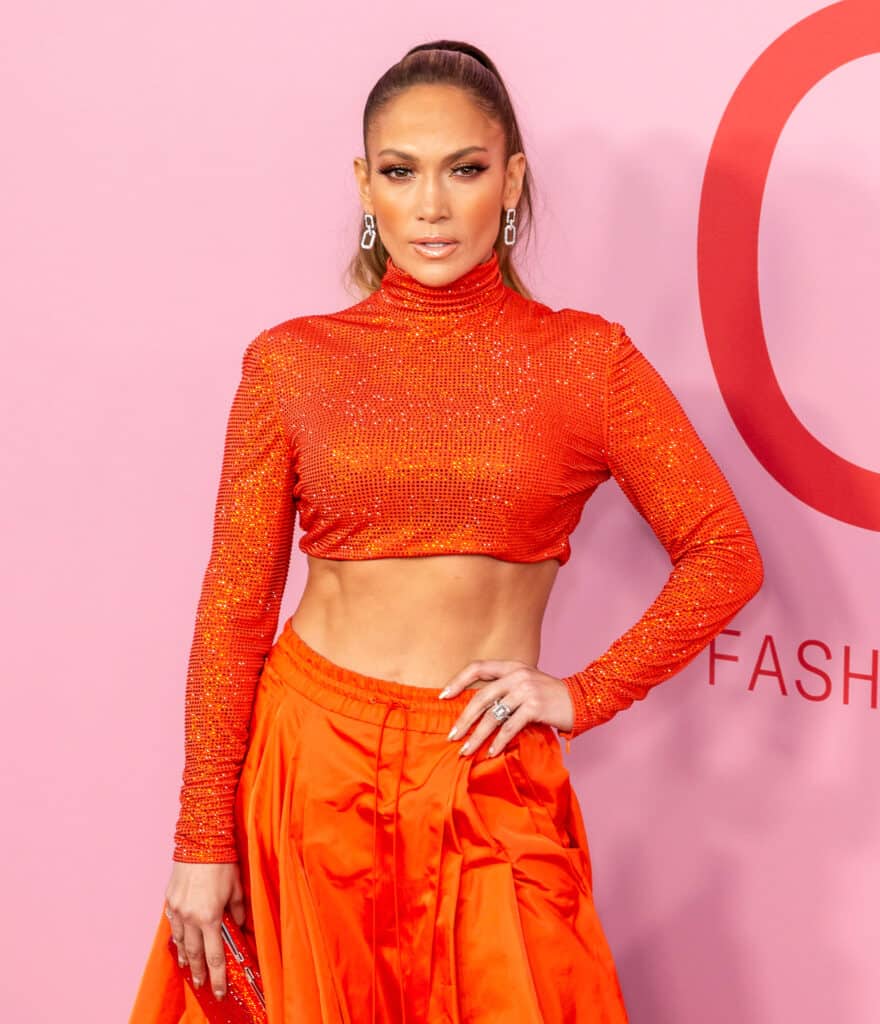 You can read more below about her two trainers and the different workouts they have used to help Lopez stay in shape.
Jennifer Lopez's Personal Trainers
With a body like hers and her reliance on her fit look, it's not a surprise that J.Lo has not one but at least two personal trainers. These trainers help to keep her on task and in shape so that she continues to have a six-pack and a booty to kill for.
So who exactly are the people behind the 'I'm Real' singer? One of the people on Jennifer's personal training team is David Kirsch and the other is Tracy Anderson.
David Kirsch has been a personal trainer for over twenty years and is the author of the book The Ultimate New York Body Plan. According to his website, he uses a holistic approach to working out and doesn't use a cookie-cutter workout for his clients.
He isn't just one of Jennifer Lopez's trainers either. On his website, he has testimonials from other A-list celebrities like Heidi Klum and Liv Tyler who both swear by his methods.
Tracy Anderson is a trainer who has created her own training method that focuses on the development of the smaller muscle groups to better support the larger ones. Her method is called the Tracy Anderson Method.
She has made her workouts widely available to the general public through her website that provides online classes and DVDs along with her studios throughout the US.
On her website, it states that after she had to put her professional dancing career on hold due to weight gain, she was determined to find a way to lose weight. It was while with her husband in Peurto Rico for his pro-basketball career that she met the doctor who provided her with the information surrounding smaller muscle groups.
Tracy Anderson has worked with tons of A-list celebrities as well including Gwenyth Paltrow, Victoria Beckham, and Robert Downey Jr.
J.Lo's Workouts with Kirsch
With two trainers, Jennifer Lopez has some pretty heavy workouts, and apparently, she hits the gym every day. She also never ever skips a workout.
What exactly do her workouts consist of though?
Well, both of her trainers have shared their tips on how they get their clients into the best shape of their lives.
In 2016, David Kirsch told Allure that with Lopez "We do a lot of circuit training and a lot of compound movements, like crossover lunges and single-leg squats. We do a lot of burpees. We also do a little bit of kickboxing."
He then went on to share his exercises that help give her killer abs. Those exercises are stability ball pikes and stability ball scissors.
You can actually do one of the workouts that David Kirsch has used with Jennifer Lopez by watching the below Popsugar video.
In 2018, Kirsch shared his top 12 workout moves for any woman to try out with Popsugar. Some of those exercises were jumping jacks with a resistance band, walking planks, and push-ups with hip extensions.
Lopez's Workouts with Anderson
In an interview with US Weekly, Tracy Anderson said that Jennifer Lopez's secret to staying in shape was that "She shows up no matter what, she takes the time seriously, she knows her body, she wants to be herself."
J.Lo's workouts with Anderson tend to be a little bit more varied than with Kirsch as she takes her time with Anderson to play around more with free weights. She has said that she likes the variety that both the trainers provide her.
While most of what Jennifer does during her workouts with Anderson is unknown, they definitely incorporate dance because that is one of the key training methods that Tracy Anderson uses with her clients.
And, if you're J.Lo you definitely have to keep your dance moves on point.