Every time Jennifer Lopez hits our screens, she never fails to dazzle with her perfect makeup. From her magical eyebrows to excellent lips, the Selena and Gigli goddess always has the right look for the right moment, which begs the question: What makeup does she wear?
Jennifer Lopez uses several makeup products: Rose Day Cream, True Match Lumi Glotion Natural Glow Enhancer, Dior Diorskin Forever Perfect Foundation, The Method: Polish, Creme de la Mer Moisturizing Cream, and Revitalift Bright Reveal Brightening Moisturizer SPF 30. Each emphasizes her ageless look.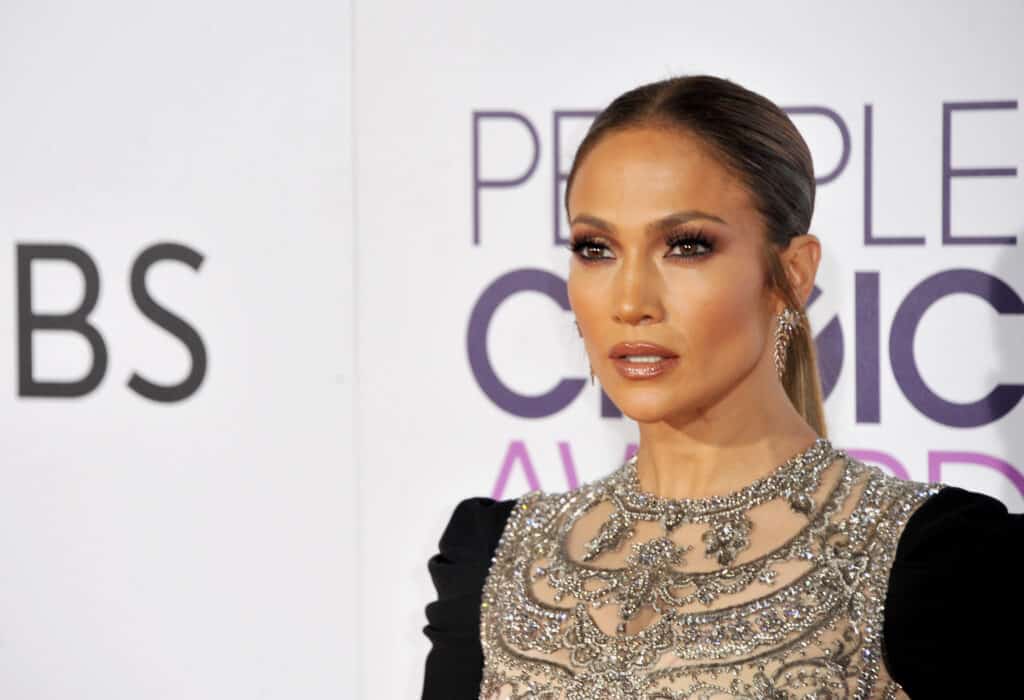 Anyone can apply makeup, but the level of commitment to making it work for you and the level of skill when wearing it makes all the difference. It takes more than the right makeup to achieve that unrivaled appearance for the glowing mother of two, as we shall see below.
What's Her Makeup Routine?
J.Lo's quite the committer when it comes to looking after her youthful skin. For starters, she wears little to no makeup when she's just chilling at home.
The reasoning being that she needs to let it relax after pampering it with luxurious makeup for work.
Aside from keeping her flawless skin away from the good stuff during free days, she also rarely goes out in the sun for a long while and relies on SPF to keep it at its best.
What's more, though it may seem obvious to some, the beauty never goes to bed with makeup on. Additionally, she uses night creams to maintain the ideal hydration level of her skin.
Finally, after working up a sweat, the icon washes her face to clear her pores and revitalize her complexion.
She Doesn't Do Her Makeup Most of the Time
There are times when the talented musician cum dancer cum actress does her makeup on her own, like when she put some final touches on her makeup while prepping up for the Time 100 Gala and when she did some of her own makeup for the Hustlers movie.
However, she heavily relies on makeup artist Scott Barnes, responsible for nearly all her best makeup looks- the famous pale, pinky-nude lips and bronzed-all-over complexion being one of them.
He has been her makeup genius for the past twenty years and based on the positive energy and reaction that Lopez gathers from crowds wherever she goes, it's no secret that he's doing his job really well.
One of the not-so-well-known techniques he uses to achieve that fierce and sexy look on our girl J.Lo is using long-wearing makeup products that are unlikely to get stuck in wrinkles and soft lines or creases.
He also combines oil into a foundation to keep her skin dewy and 100% moisturized. His selections are super-lightweight, look awesome on the complexion, and have a nourishing effect.
Hello JLo Beauty
Wait. Before you dismiss the skincare line as a cliche move that almost all high-end celebs make, what's special about this creation is Jenny gave it a long hard thought before bringing it to life.
All through her entertainment career, she always had the idea to produce her very own skincare line and the moment has finally arrived. She launched JLo Beauty on January 1st, 2020.
What's sweet about the whole thing is she wanted her fans to share in her unique skincare routine. That was her motivation behind her beauty line.
JLo Beauty consists of eight products, namely: That Inner Love In A Skin-Nutritious Dietary Supplement, That Hit Single In A Gel Cream Cleanser, That J. Lo Glow in a Multitasking Serum, That Inner Love In A Skin-Nutritious Dietary Supplement, That Big Screen In a Broad Spectrum SPF Moisturizer, That Star Filter In An Instant Complexion Booster, That Blockbuster In A Nonstop Wonder Cream, and That Fresh Take In A Fierce Eye Cream.
All the above products share the power of a personalized olive complex, which is a combination of leaf extract, fermented oil, hydrating squalene, and additional virgin oil. This, by the way, is the secret to her silky-smooth and glowing skin.
You Go, Girl!
From starring in our favorite movies to even setting the pace in the beauty industry, there's nothing that J. Lo can't do. If you've been wondering how you can be as graceful as Jennifer Lopez, well, now you know!
As for the well-established entertainer with a golden heart that is Jennifer Lopez, the least we can do is wish her the very best and try out her certified products that are transforming one skin at a time. Yay Jenny!