Beyoncé, one of the most successful singers of the 21st Century, married Jay-Z in 2008. How many carats was Beyoncé's engagement ring?
Beyoncé's engagement ring is an 18-carat flawless diamond, held in place by a split band. It was given to her by her partner, Jay-Z, in 2008 and is rumored to have cost $5 million. The music powerhouse couple were wed at a private ceremony and have been together ever since.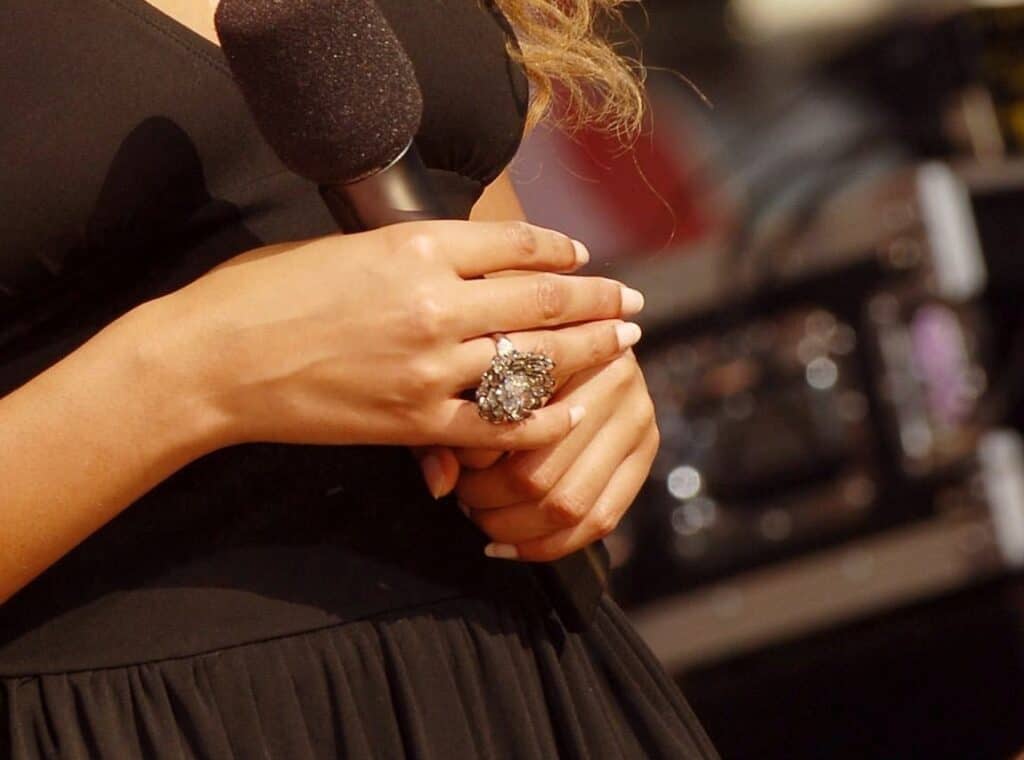 For more on Beyoncé's relationship with Jay-Z and her amazing engagement ring, read on.
Beyoncé & Jay-Z
Beyoncé and Jay-Z have known each other for decades. In 2007, a year before their private wedding, he said that he had first met Beyoncé ten years earlier when she would have been about 16. However, Beyoncé said that she was 18 when they first met, which would have been in 1999 or 2000.
The pair both appeared on the cover of a special music issue of "Vanity Fair" magazine in 2001, at which time they were first becoming romantically involved.
They first collaborated musically in 2002 when they released "'03 Bonnie & Clyde", portraying a couple in the song's video. Their onscreen chemistry led to rumors that they were actually dating and the song became Beyoncé's first Billboard top 10 single away from Destiny's Child.
Their next collaboration was "Crazy In Love", released in May 2003, which became a huge success, charting at number one in both the US and UK charts. The song is widely considered one of the iconic songs of the 2000s.
Jay-Z first acknowledged the speculation in 2003, complimenting Beyoncé but refusing to say that they were a couple. Even so, they began appearing together in public more frequently and attended the 2004 VMAs together, finally confirming that they were an item.
Marriage
The couple was married four years later in 2008 at a private ceremony in New York. Footage and photographs of the ceremony were not made public until Beyoncé and Jay-Z shared some of them during their "On the Run Tour" six years after their wedding.
It isn't clear whether or not the couple exchanged rings at their wedding, instead opting for matching tattoos on their ring fingers. Beyoncé also said that people put too much emphasis on engagement rings and that defining their relationship by a material object was strange to her.
However, Jay-Z did give Beyoncé an extremely valuable ring before their wedding. It's possible that the ring was a separate gift, rather than an engagement ring, but that Beyoncé rarely wears it in public. She has been spotted wearing it over her wedding tattoo on occasion.
After looking at the ring, it's easy to see why she might hesitate to wear it out. The ring, whichever role it performs, allegedly cost Jay-Z $5 million. It features an enormous diamond, which covers most of her finger from the first to the second knuckle.
This diamond is 18 carats and is considered flawless, making it exceptionally rare even among the most expensive diamonds. The ring also features a split band, a technique that results in the band looking smaller, thus making the stone look even larger in comparison.
Beyoncé's marriage to Jay-Z has not been without its struggles. In 2010, she suffered a miscarriage but the couple was able to have their first child, Blue Ivy, in January 2012.
It was hinted at numerous times in lyrics but Jay-Z admitted in 2017 that he had cheated on Beyoncé. They had twins, Sir Carter and Rumi, in 2017.
Beyoncé and Jay-Z have been through many ups and downs throughout their two-decade-long relationship but they have stayed together. In an industry where so many relationships end in heartbreak, in 2020 their marriage seems stronger than ever.
In 2018, they suddenly released "Everything Is Love" their first joint album as The Carters, earning positive reviews.