We all know Jeffree Star as an eccentric beauty vlogger. It is lesser-known though that he is a huge fan of fast and expensive cars.
Jeffree Star is the proud owner of many luxurious cars. He owns a total of 9 cars. Most of them are in his favorite color pink but he also has blue, white, and silver rides in his car fleet.
Read below to find out what cars exactly he owns, how important they are to him, and how he could afford such luxury.
All the cars the beauty queen owns
With an estimated net worth of $200 million, it's no surprise that Jeffree loves to flaunt his extravagant lifestyle. And what better way is there than cruising the streets of Hollywood in custom-designed, high-end cars such as these beauties?
Tesla Model X
BMW i8
MacLaren 570S
Lamborghini Huracan
BMW Z4
Rolls Royce Wraith
Lamborghini Urus
Aston Martin Vantage
As we can see the "Car Queen" as he likes to call himself has 7 pink cars which he chooses based on his clothes and accessories. Considering his love for pink outfits it makes sense to match his cars to the look of the day, which he shares with his fans on Instagram:
The Make-Up Entrepreneur also has one sporty white Jeep Rubicon Wrangler.
He also owns this quite special Vintage car from the year 1962: a vintage Rolls Royce.
The beauty guru plans on having it rebuild inside and outside which will take one whole year to complete.
His latest addition to his high-end car collection is this special custom made ride: a baby blue McLaren Senna with a price tag starting at 1,000,000 $.
Cars are one of his favorite things in life
Jeffree Star is without a doubt a colorful personality. His favorite things include dramatic makeup, tattoos, the color pink, getting all dolled up, and his six Pomeranians to which he refers to as his "babies".
But one of his biggest obsession is his beloved cars. As a child, he watched 007 Bond movies and dreamed of extravagant, lavish cars such as his Aston Martin and his fancy Lamborghinis.
Though at the beginning of his career he could have never imagined his childhood dreams would come through. After buying his Mac Laren 570S he wrote this inspiring message to his admirers on Instagram:
"When I used to sleep on my friend's couch and drive my 1991 Nissan Sentra to work every day, I never imagined in my wildest dreams I would become a car collector."
Seems like dreams do actually come true with a bit of luck and lots of hard work.
But what exactly did Jeffree Star do to be able to afford multi-million dollars worth of rides?
Continue reading below to find out how the Influencer became extremely wealthy.
The Los Angeles native tried out many different paths throughout his unique career. He started out being a freelance makeup artist at the age of 16.
He describes his first notable work experience in Hollywood like this:
"While other kids were studying and doing homework, Jeffree was in mansions and music videos, doing make-up and making tons of money."
Afterward, he moved on to gain popularity as an internet celebrity through the social platform MySpace.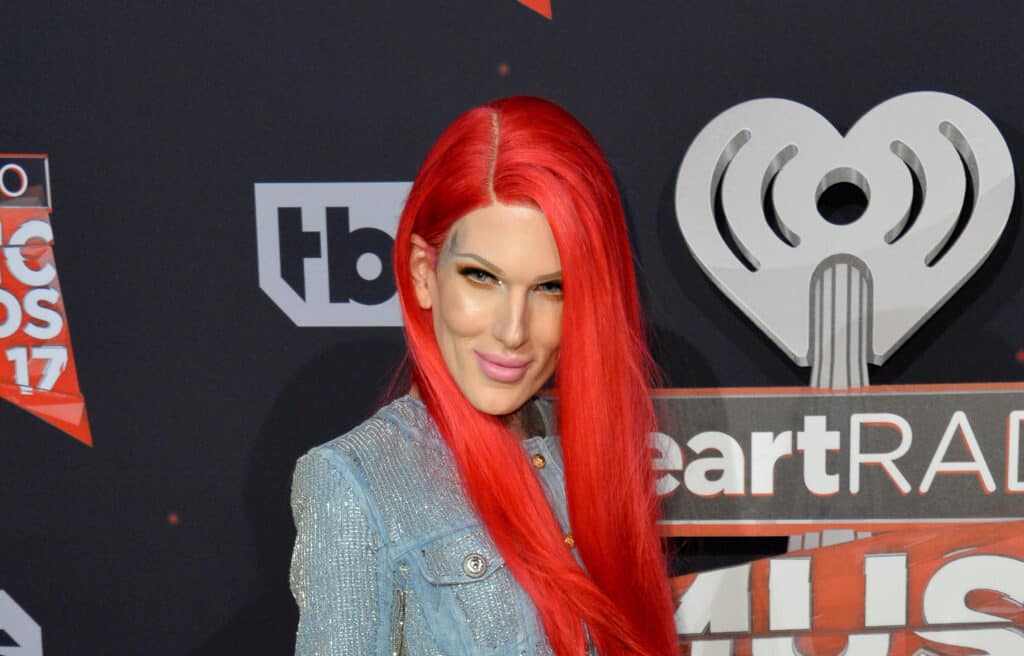 MySpace was massively popular in the early 2000s. Jeffrey took advantage of the hype by growing a huge following on the social media platform through his unique and extravagant photo shootings famous for the bold, dramatic hair and make-up looks.
His MySpace fame helped him launch a successful and profitable, albeit short music career. He released his only studio album "Beauty Killer" which featured well-established artists such as Young Money and Nicki Minaj.
In 2014 he established his celebrated company "Jeffrey Star Cosmetics" which became a huge hit. The Make-up brand brought in a revenue of almost 90 million dollars in 2019 alone.
What many don't know though: "Jeffrey Star Cosmetics" is only one of ten businesses that he owns, including a merch company, a shipping company, and a few marihuana businesses.
Additionally, he generates revenue from his real estate investments all over the world.
It is safe to say that Jeffree Star is a savvy, self-made businessman who can clearly afford all the luxury cars he desires.