A good question. Whether you're a fan of YouTube content, makeup, the music industry, or just keep up with the latest celebrity news and trends, you'll have seen Jeffree's name seemingly pop up here, there, and everywhere, for better or for worse. However, why is Jeffree Star famous in the first place?
Jeffree Star is most famous for his makeup product lines, his outspoken narcissistic attitude, and his social media pages. He also had a music career but is regularly in the media for controversial topics like making racist comments, abusing women in the street, and defiling other creator's careers.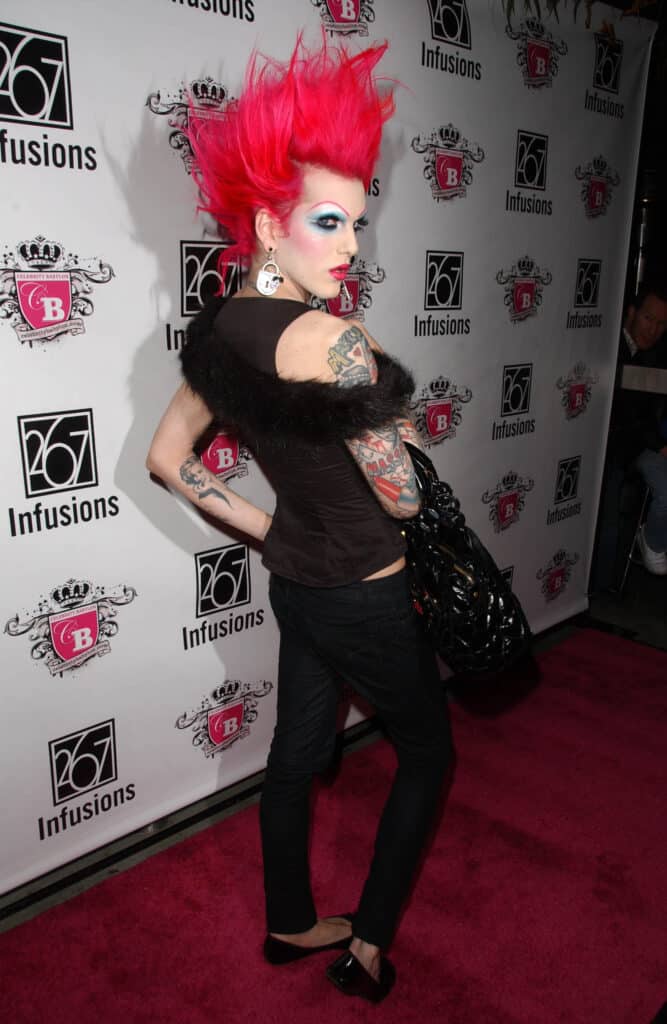 To clear things up and give you clarity on Jeffree, we're going to cover everything you could want to know about Jeffree Star's career, why he's famous, and how you know his name.
The Makeup Empire
There's no doubt that Jeffree's most famous claim to fame is his makeup line, which, to be honest, is nothing short of exceptional.
Jeffree has been a prominent figure in the makeup industry for nearly a decade with his Jeffree Star Cosmetics company, which regularly sells out just minutes after a line is released. He boasts honest five-star reviews from his loyal customers from around the world, and the figures tell all.
His annual revenue sits between $1 to $10 million per year, and with one palette he released on its own, he made over $20.8 million. That's just on one makeup product line.
The thing is, love or hate Jeffree Star as a person, the quality of the products he releases cannot be shunned. He is frequently compared with other celebrity creators, such as Kylie Jenner, and Star's products always come out on top with better reviews and more love.
Jeffree is also known for his reviews on YouTube of makeup products, which have helped him massively grow his audience. He reviews everything, from the most expensive makeup lines money can buy to budget makeup lines, like ones you could buy at Dollar Store.
And since Jeffree knows his stuff, you know you trust what he says when it comes to buying the right products.
The Man Behind the Mask
If Jeffree Star was famous just for his makeup lines, then our story would end here, but he's not. This is just the tip of the iceberg, so let's plunge deeper.
For over a decade, Star has been at the center of plenty of controversies that have plunged him back into the spotlight time and time again.
It starts back in the early 2000s when he created a makeup line called 'Lipstick Nazi,' which, for obvious reasons, didn't sit very well with a lot of people. He even used Nazi imagery within his branding.
Over the years, Jeffree has frequently been recorded for his racist actions, such as using abusive, racist slurs in public, 'joking' about throwing battery acid at a black woman, and using the N-word in a music video he uploaded to YouTube.
Fast forward to 2010, he has been recorded hitting women in public, abusing other music artists, and even tasing a man because they poured water on him. He also called 'gay people' in general, 'really f-ing annoying'. Smooth Jeffree.
A lot of these controversies came to light when Shane Dawson, a fellow popular Youtuber, created a documentary on Jeffree Star, detailing his life and breaking down some of the experiences he had been through, including addressing some of his controversies.
Many say this was an attempt to clean up his image before a new product launch, which was rather successful and 'broke' the internet since makeup sales sold out in minutes after launch, but are recently subject to further controversy over 'infected palettes,' which are caused retail outlets to drop the lines since people were finding hairs in the product back in 2019.
So much for quality.
If you haven't seen the YouTube documentary itself, you can watch it here;
What the Future Holds
It's uncertain what kind of future Jeffree Star has. He currently has a net worth of around $200 million, so if he was to drop out of the industry and retire quietly, he could probably do so quite easily, but we all doubt whether this will happen.
Instead, it seems as though he'll just keep finding himself in controversy after controversy, drama after drama, until something bad enough happens that he is forced to withdraw from the limelight for good.
Even as recently as October 2020, Jeffree was accused of several sexual assault cases and reportedly tried to pay the victims $10,000 to keep them quiet. Of course, Jeffree and his lawyers denied anything had happened and then leaked documents were released that showed that an accuser had been paid $45,000 by a JS Cosmetics executive.
Sooner or later, it's probable that something severe will happen and end it all, or Jeffree is going to get caught up in something bad. We can only hope he can learn his lessons and tone down before it's too late.