Jennifer Lopez has been engaged a total of five times now and had some fabulous rings given to her as a symbol of love. The most recent ring has been from Alex Rodriguez.
Jennifer Lopez's engagement ring from Alex Rodriguez is a 10 to 15-carat emerald cut diamond on a solitaire band valued anywhere from $3 to $4.5 million USD. This isn't the first emerald cut solitaire band engagement ring she has worn either. Her engagement ring from Cris Judd was a similar but smaller ring to the one she wears now.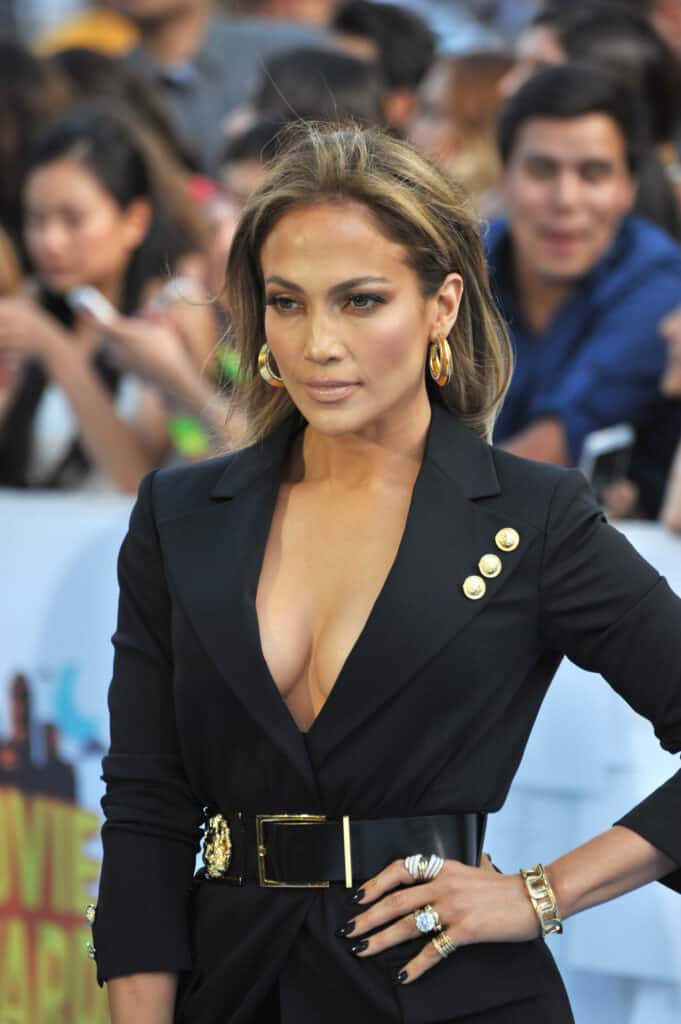 You can read more below about J.Lo's other engagement rings, how her relationship started with Rodriguez and more about her beautiful engagement ring from him.
Jennifer Lopez's Other Engagements
Jennifer Lopez has been engaged four other times and married three outside of her relationship with Alex Rodriguez. That means that Jenny from the Block has worn some very nice engagement rings.
J.Lo was first engaged all the way back in 1996 to Ojani Noa and the two married in February of 1997 before splitting later on that year. Wait, Ojani who?
Ojani Noa was a waiter when he and J.Lo first started dating and later managed her restaurant Madres, however, she fired him from the role after six months. After divorcing, he and Lopez signed a nondisclosure agreement preventing either from talking about the relationship.
The two weren't together for that long and J.Lo has said that she doesn't really count the marriage as it only lasted for seven months. As for the ring that he gave her, it was a pear-shaped diamond on a yellow-gold solitaire band with the cost or how many carats unknown.
It was in 2001 that Lopez was engaged to Cris Judd who met her when he was one of the backup dancers for the music video for 'Love Don't Cost a Thing.' They were only engaged for a month before tying the knot and they divorced only 11 months later.
Judd gave Lopez an emerald cut diamond on a diamond band when he proposed to her. The cost and carats of this ring are also unknown.
The next man to propose to Jennifer Lopez was Ben Affleck who began dating her after the two had met on the set of the flop movie Gigli. He gave her a 6.1-carat pink diamond solitaire ring from Harry Winston worth around $2.5 million, but the two split before ever getting married.
Finally, Jennifer Lopez was married to Marc Antony in 2004 and he proposed with an 8.5-carat blue diamond from Harry Winston. They had twins together and split in 2011.
Watch the video below from E! News Latinx Now where they have a look at all of J.Lo's engagements and weddings.
J.Lo & A.Rod's Relationship
Jennifer Lopez and Alex Rodriguez met at a Mets and Yankees game all the way back in 2005 when both were still married to other people. However, they didn't meet again until 2017.
Lopez told Ellen DeGeneres that in 2017, the two happened to bump into each other.
She said "I was having lunch somewhere and I saw him as he passed by. Afterward, I went outside, and for some reason, I felt like tapping him on the shoulder. [Later] He texted me, said, 'Let's go out to dinner,' and I said, 'OK.' We had a nice dinner."
From there the two started dating and over two years later, Rodriguez got down on one knee to pop the question. It was in March of 2019 while they were on vacation in The Bahamas.
Jennifer Lopez's Engagement Ring
The ring that A.Rod gave to J.Lo is definitely the most impressive of all of the rings she has been given in the past. It also fits right into her bold style as an iconic fashionista.
The ring features an emerald-cut diamond. Emerald-cut refers to a diamond that is in a rectangular shape with stair corners which allows for a table surface where you can see very clearly through the diamond.
Jennifer Lopez's ring is a solitaire ring meaning that this massive 10 to 15-carat diamond is the only diamond on it. While J.Lo maintains that 'Love don't Cost a Thing,' judging by the size of the engagement ring from Alex Rodriguez, he loves her the most.