Throughout the 1950s the term 'sex symbol' was first used and it was to describe Marilyn Monroe. One of the sexiest outfits she ever wore was the 'Happy Birthday' dress for John F. Kennedy's birthday in 1962.
Marilyn Monroe's dress sold for $4.8 million in 2016. The purchaser was the Ripley's Believe It or Not museum chain owned by billionaire Jim Pattison. The dress was first shown in Pattison's hometown in Saskatchewan, Canada. It is now touring the world at different Ripley's locations.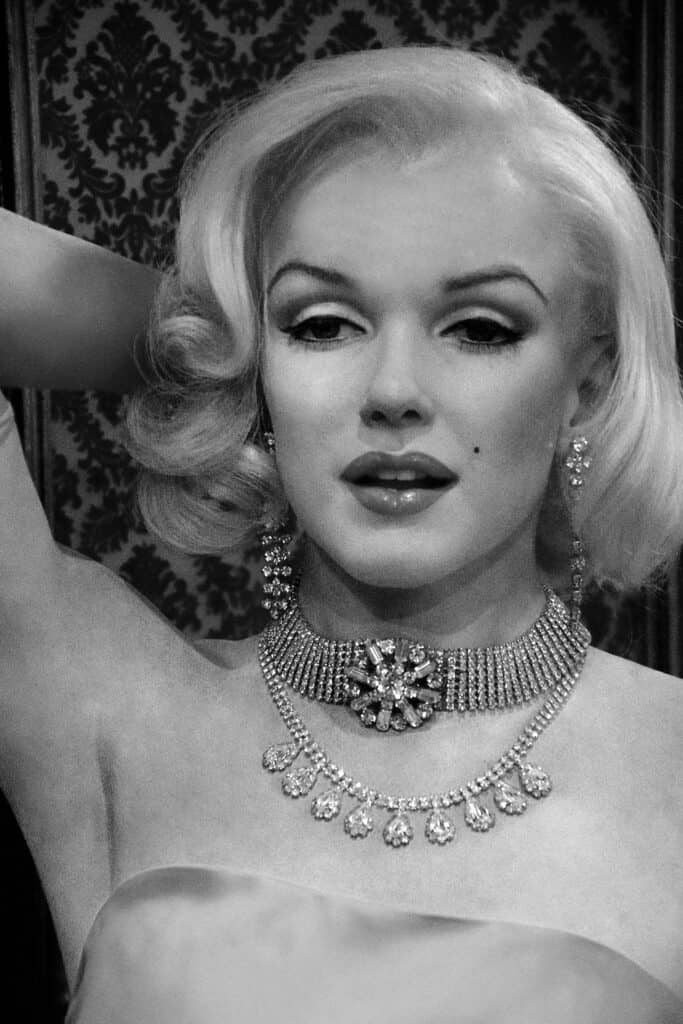 You can read more below about Marilyn Monroe's dress, the scandal it caused, and the repercussions the event had on her career.
Marilyn Monroe's Dress
The dress that Monroe wore to John F. Kennedy's 45th birthday bash at Madison Square Garden in 1962 dropped a lot of jaws. It is possibly one of the most famous dresses in the world.
The dress that she wore was created by the French designer Jean Louis. When Louis moved to the United States, he not only designed gowns but became a costume designer.
In fact, he won the Oscar for the costumes he designed in the 1954 film The Solid Gold Cadillac. He also had some very famous clients.
Jean Louis designed gowns for actresses like Katharine Hepburn, Lucille Ball, and Judy Garland. His most famous client of all was Wallis, Duchess of Windsor.
Wallis Simpson was the woman who King Edward VIII abdicated the British throne for in 1936. She was wildly famous in the mid-1900s.
It was Jean Louis' creativity that gave birth to a dress that was considered overtly sexual and scandalous. The actual dress was made of nude-colored marquisette fabric and had about 2,500 crystals and 6,000 rhinestones sewn into it.
The dress was so tight that Monroe had to actually be sewn into it too. She opted to wear nothing underneath it because she wanted it to have a flawless fit.
While its most recent sale was for $4.8 million USD, it wasn't worth even close to that when Monroe paid for it.
Her bill was only $1,440, which is roughly $12,000 today. It was her performance in the dress that made it worth so much money.
You can watch Marilyn Monroe performing 'Happy Birthday, Mr. President' in the below YouTube video.
Shock & Scandal Surround Marilyn's Dress
Compared to the outfits that have graced the red carpet in our days like Lady Gaga's meat dress to Emily Ratajkowski's 2019 Met Gala dress, Monroe's dress seems quite tame. However, it was just as controversial for its time.
As this article by David Thomson in The Guardian put it, the late 1950s and the early 1960s were a time when Hollywood was pushing the envelope in terms of women's sexuality. There was an uphill battle being fought between censorship and desire.
Thomson points out that scenes like Rita Hayworth's striptease in Gilda (1946) and Deborah Kerr rolling around on the beach in her bathing suit with Burt Lancaster in From Here to Eternity (1953) caused audience outrage at the time.
The point to be made is that Marilyn's performance for President John F. Kennedy was a culmination of years of scandalous scenes within Hollywood. It was also unfortunately at the hands of a woman who, since her death, has been the poster-child victim of sexual abuse at the hands of powerful men.
Either way, Monroe showed up onstage at Madison Square Garden after host, Peter Lawford, teased her entrance. She wore a white fur shawl to cover most of her gown until she stood at the microphone.
When she dropped it, audience members gasped at the dress she wore beneath. Some people were shocked, others angry, and even more were aroused.
Repercussions to Marilyn Monroe's Career
That performance had major repercussions for Marilyn Monroe's career. She was fired from the film Something's Got To Give and it's quite possible that these repercussions caused her to spiral.
While Henry Weinstein maintained that Monroe was fired from the film because she was never onset and always called in sick, film footage that was uncovered years later proved Weinstein's comments to be false. Leading many to speculate she was fired because of the dress.
Monroe was rehired to the film because Dean Martin refused to work with any other actress. However, it was all in vain because Monroe was found dead in her Brentwood home two months later on August 4, 1962.