Marilyn Monroe died a long time ago, but her legacy continues to influence pop culture, in America and around the world. There is just something about the platinum blonde bombshell that captivates audiences throughout the decades. Let's go over basic facts about this Hollywood icon, starting with answering "How tall was Marilyn Monroe exactly?"
According to her Department of Defense (DOD) ID, Marilyn Monroe's height was 5 feet 5 ½ inches (1.66 m or 166 cm).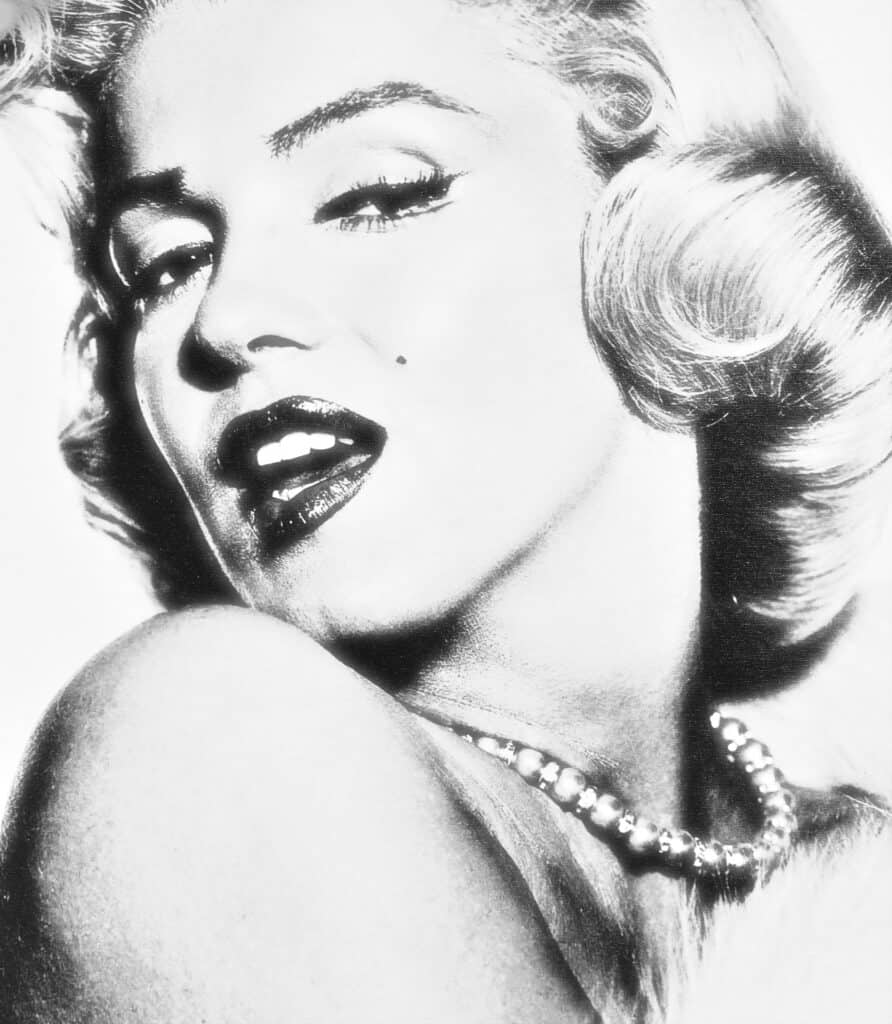 As to her other Marilyn Monroe's body measurements, figures tend to vary as the star went through weight fluctuations throughout her career.
Did Marilyn Monroe have any children?
While she always dreamed of having a family of her own, Marilyn Monroe never had children. She was married thrice and got pregnant three times as well, but all never progressed.
According to this writeup by Style Caster, Monroe's pregnancies occurred in 1956-1958 during her marriage to the American playwright Arthur Miller.
Marilyn Monroe was married twice before marrying Miller, first to James Dougherty and then to the baseball legend Joe DiMaggio. Her DOD ID referenced earlier in this article was issued in 1954 when she was married to the former Yankees player. According to the record, Marilyn
Monroe's weight at the time was 118 lbs (53.6 kg).  
What was Marilyn Monroe's true dress size?
Many claim that the Gentlemen Prefer Blondes star was plus size, but the measurements of her actual clothing seem to paint a different picture. She had an hourglass figure which measured 36-24-34 in 1945 when she was 19 years old.
Throughout her career, Marilyn did go through changes in her body weight (and measurements), as any normal woman does. In 1959, when she was 33 years old, Marilyn seemed to be at her heaviest according to her clothing measurements. According to speculations, she weighed around 140lbs (63.6 kg) with a waist line of 28.5 inches.
In 1962, in the year she would pass away, Marilyn got leaner at 35.5-23.5-33.25. This was the same year she wore the infamous "Happy Birthday Dress" that Kim Kardashian "borrowed" from Monroe 60 years after her death.
Who's taller: Kim Kardashian or Marilyn Monroe?
Kim Kardashian "channeled" the Seven Year Itch actress by wearing her famed Jean Louis gown to the 2022 Met Gala, and this got people wondering whether the two celebrities had similar body measurements or not. Kim, who is petite at 5'2", makes her significantly shorter than than Marilyn; additionally, Kim's infamous hips measures 41" which is a whopping 7 ¾" wider than Monroe's. 
The fashion designer who drew the sketch of the original gown, Bob Mackie, along with the International Council of Museums did not like this move by Kim Kardashian. Even though the reality star insisted on her respect for the dress, they believe that it must not be worn as it is now considered an important cultural artifact.
Who's taller: Ana De Armas or Marilyn Monroe?
Ana De Armas as Marilyn Monroe in the movie Blonde impressed many viewers even though the movie itself suffered bad reviews all around. The Cuban actress' height, which is 5'6¼" according to her IMDb profile, is much closer Monroe's.
Ana De Armas is known for her performances in movies like Blade Runner 2049 (with Ryan Gosling) and No Time to Die (with Daniel Craig).
Did Marilyn Monroe have plastic surgery?
Before transforming into her sex symbol persona, she was first a young woman named Norma Jeane Mortenson. She was naturally beautiful but with Hollywood's stringent beauty standards during the 50s, Norma had to undergo some surgical procedures to enhance her beauty.
According to some notes from Hollywood cosmetic surgeon Michael Gurdin, Marilyn had chin implants sometime in 1950. Another doctor, Norman Leaf, claimed that the Niagara actress had the tip of her nose done during the same year. If one would like to take a closer look, try watching clips of these Marilyn Monroe movies released in 1950: The Asphalt Jungle, The Fireball, and All About Eve.